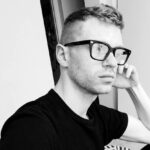 Tyler Farinholt
b.1986
Tyler Farinholt (b. 1986) is a portrait artist, arts-educator and curator, currently living in Baltimore City Maryland. Farinholt studied art history, theory and criticism at the Maryland Institute College of Art (MICA). He maintains a diverse involvement in the Baltimore arts community, producing numerous curatorial projects, working within museum education, and facilitating community-engagement programs throughout the city. He has curated exhibitions for the Baltimore Office of Promotion & The Arts, as well as co-curated major exhibitions for MICA. Farinholt is also passionate about art education. He worked within the education department of The Walters Art museum where he facilitated programs for diverse and first-time audiences. Education and access are his passions. Farinholt has become invested in creating opportunities to make art more accessible and collaborative for Baltimore communities. He currently teaches art to disadvantaged youth in East Baltimore as a member of The Maryland Institute College of Art's Office of Community Engagement.

Farinholt started drawing in earnest in 2012. His early works in charcoal evolved from smaller portrait-studies into large, emotional, chiaroscuro mixed-media drawings. Influenced by portrait artists like Kehinde Wiley, Toyin Ojih Odutola, Robert Mapplethorpe and Bill Henson, his artworks explore themes of masculinity, anxiety, isolation, and identity. His recent body of work focuses on the representation of African American males. Eroded textures and metallic surfaces have become staples throughout Farinholt's recent drawings on paper. His artwork has been featured in several group and solo exhibitions throughout the Baltimore-Washington metropolitan area. He is also a recipient of the 2016 Maryland State Arts Council Individual Artist Award in Visual Arts.
Read Less Read More


Tyler Farinholt
1631 Park Ave, Baltimore, MD, 21217• (443) 974-1922• tylerfarinholt.com • tylerfarinholt@gmail.com
Education
Maryland Institute College of Art (MICA), Baltimore, MD
Bachelor of Fine Arts: Art History, Theory, and Criticism, 2012-2014
Professional Experience
AmeriCorps member at The Club, Community Art Collaborative, Baltimore MD, 2015-Present:
Lead and facilitate after-school time arts-based learning experiences that serve K-5 Baltimore City students at The Club at Collington Square. Engage people of all ages in community art projects that strengthen surrounding communities
Education Assistant, The Walters Art Museum, Baltimore MD, 2013-2016:
Implement museum's mission through family, school and adult programs: festivals, art classes, tours, lectures and receptions. Sustain and develop interactive, engaging and informative environments for museum visitors to learn about and create art. Serve as interim lead education assistant in a team-based educational environment, creating and leading art-focussed lessons and educational programs. Lead educator for Start With Art program, providing adaptive and engaging art-focussed lessons to Early Head Start audiences. Assist with summer camp studio-teaching and gallery tours. Serve as lead educator for Home School Workshop programs. Provide excellent customer service to diverse visitor populations and partnering organizations.
Manager of Exhibition Development Seminar, MICA, Baltimore MD, 2013-2014:
Management team member for "Workin' the tease: The Art of Baltimore Burlesque" Responsible for budget, facilitating classroom discussion, assigning tasks, maintaining professional contact with artists and exhibition partners, evaluating community outreach, and implementing accessible educational programming.
Assistant Gallery Coordinator, Area 405, Baltimore MD, 2012-2013:
Assisted in solidifying exhibition concepts and implementing installation plans. Connected with the public and various art organizations in and around Baltimore. Responsible for gallery management, fund-raising, exhibition writing, and facilitating community outreach.
Curatorial leader of Exhibition Development Seminar, MICA, Baltimore MD, 2012-2013:
Lead the curatorial component of the exhibition "Preach! New works by Jeffrey Kent". Responsible for exhibition design, catalog content, editing, and didactic materials. Worked closely with the Frederick Douglass-Isaac Myers Maritime Park venue.
Gallery Assistant, Galleries at CCBC, Catonsville MD, 2011-2012:
Performed exhibition installation, lighting, mailings/shipping, newsletter design, event management, social media promotion. Maintained professional contact with exhibiting artists, and daily upkeep of the gallery space.
Select Group Exhibitions
What Next, Galleries at CCBC, Catonsville, MD, 2016
Perspective, Hillyer Art Space, Washington, DC, 2015
Erase Hate Through Art, Columbia Art Center, Columbia, MD, 2015
Expressions Portrait Competition, Art Space Herndon, Herndon, VA, 2015
Yes Please Thank You, Platform Gallery, Baltimore, MD, 2015
Disorder 2, Maryland Institute College of Art, Baltimore, MD, 2013
Sweet Art, Area 405, Baltimore, MD, 2013
Curatorial Experience
Workin' the tease: The art of Baltimore burlesque, The Lyric Opera House, Baltimore MD, 2014
Managed as a member of MICA's Exhibition Development Seminar. "Workin' the tease" celebrates both burlesque's rich history and its contemporary resurgence in Baltimore.
House Dignified, Area 405 Baltimore MD, June 2013
Co-curated an Artscape gallery extension site. House Dignified challenged the notion of home, pride and self through works that ennobled Area 405's alternative exhibition space.
ON LOAN: Formality, Area 405, Baltimore MD, 2013
Assisted with reviewing student applications, organizing and filing data, contacting accepted student artists, exhibition design and installation, event promotion, and reception management.
Preach! New Works By Jeffrey Kent, Frederick Douglass-Isaac Myers Maritime Park, Baltimore MD, 2013
Co-curated as a member of MICA's EDS. An exhibition of Baltimore-based artist Jeffrey Kent's works that discussed the conflict and interrelation between the Black Church and same-sex marriage within the United States.
Gathering Atmospheres, CCBC, Catonsville MD, 2012
Curated exhibition of five artists whose works explored elemental fusions through dynamic abstractions.
Things Fall Apart, CCBC, Catonsville MD, 2011
Conceptualized and curated an Artscape gallery extension site for CCBC. Six artists were chosen for their qualities of fragmentation, destruction, and disunity.