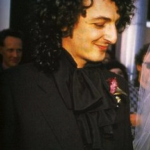 Vittorio Scarpati
1955–1989
Vittorio Scarpati was an Italian artist, political cartoonist and jewelry designer. He met Cookie Mueller in Positano, Italy, in the summer of 1983. Three years later they married in New York City. Scarpati died on 14 September 1989. He was 34.
-Excerpt from: Cookie Mueller and Vittorio Scarpati, Studio Voltaire, London, UK by Hettie Judah, 2017
'Putti's Pudding' (1989) – a series of pen, ink and felt-tip drawings on small notebook pages, 45 of which are on show at Studio Voltaire – is Vittorio Scarpati's last work. It is also, to curator Paul Pieroni's knowledge, the only work to survive him. In the months leading up to his death in September 1989, Scarpati and his wife Cookie Mueller shared a room at the Cabrini Medical Center in New York as they succumbed to AIDS-related illnesses. Plugged at the chest to a pair of pneumothorax suction pumps, each inflating one of his collapsing lungs, Scarpati started drawing when he could no longer speak.


Read Less Read More