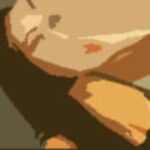 I have been a very creative person since I can remember. I excelled in art, creative writing, and in crafts throughout growing out. It was a method that I used that probably saved me from going crazy from being told of my AIDS diagnosis at 8 years old. I was one of the babies that was given transfused blood on the day I was born (came into the world a few months early). Early on, my best friends were my pets and my art. I was able to release my energy into a productive activity that allowed me to grow and reflect...and to be meticulous in my craft...and to express my love visually and to my pets. Having a life where I experienced stigma, internal and external, it was very difficult to be adherent to meds and to develop friendships without being fearful that someone would ask me the wrong questions ...and I would not know how to answer...or lie. The past 26 (not the 8 before I was diagnosed) years of my life have had such ups and downs...tears, crying, lack of self worth, discrimination...but also love, support, learning, and growth. I used to wish that I could have been born a different person in a different life....but as I sit here writing this at 34 years old, I'd say that these experiences have made me who I am...and I would not trade them if I had the opportunity.
Read Less Read More
HIV/AIDS/STD Prevention and Treatment Specialist
A top-performing Linkage to Care Specialist and HIV Treatment Educator well-versed in the identification, prevention, and treatment of AIDS. Experienced in gathering up-to-date information and statistics regarding HIV/AIDS, STD'S, and dispersing said information in order to increase awareness and treatment. Well informed of social and economic factors when best determining methods of care with a proven record of approaching treatment education with sociocultural factors/barriers in mind. Highly trained expert with an impressive work ethic and a demonstrated ability of organically building meaningful relationships and working well with others to achieve goals efficiently. More than five years of experience working with clients of diverse socioeconomic and cultural backgrounds in Public Health and Human Services.
Areas of Expertise
§Antiretroviral Medication §Stages of Change Theory §Crisis Management

§PrEP, PEP, and TaSP

§Presentations and Training §Patient Navigation and Retention §Social and Cultural Sensitivity

§HIV/AIDS Treatment Adherence

§Disease Management §HIV Testing Counselor Cert. §Clinical Research

§Motivational Interviewing
Professional Experience
AIDS HEALTHCARE FOUNDATION, Los Angeles, CA 2015 – Present
Linkage to Care Specialist
§Assessed clients' understanding and acceptance of their HIV status, applying principles of the Stages of Change Theory of Health Behavior, Motivational Interviewing and strengths-based counseling techniques.
§Met and/or spoke with clients at their convenience to discuss their HIV status, barriers to entering into HIV outpatient medical care and other services.
§Delivered all aspects of Linkage services including referral, provisional eligibility determination, assessment, and evaluation of consumer needs/services.
§Worked with AHF Client Retention Coordinators, Benefits Counselors, Office Administrators and Nurse Case Managers to ensure clients are directly linked to care and remain in care.
§Created outreach plans targeting specific areas or populations within the region to increase the number of clients receiving AHF linkage services.
§Established and maintained relationships with community leaders, various organizations, and public agencies to encourage participation, stimulate interest, and coordinate linkage into care.
§Attended and participated in program-related community activities and professional conferences and meetings concerned with the development and implementation of public health programs and services.
§Interviewed infected persons to determine contacts or other persons at risk.
§Counseled individuals who suffer from communicable or non-communicable diseases regarding the nature and control of their disease and to educate these individuals on risk reduction techniques and behaviors.
§Obtained departmental certification as an human immunodeficiency virus pre- and post-test counselor and learns to counsel persons infected with the human immunodeficiency virus and to offer and provide partner service to these persons.
AIDS PROJECT LOS ANGELES, Los Angeles, CA 2012 – 2015
Treatment Education Specialist
§Facilitated culturally tailored an African American behavioral modification intervention to 108 study participants which led to increased medication adherence and healthcare behaviors.
§Supplied up-to-date information about HIV disease, STD's, and related illnesses along with treatment options and available clinical trials, providing a noticeable positive impact on patients living with HIV.
§Provided treatment education through group sessions on a regular basis, resulting in rapport building and establishing trust with clients.
§Gathered and dispersed information about therapies targeted against HIV by staying abreast of the community updates and personal meetings with pharmaceutical community liaisons to be quipped with the information to deliver to my clients to make informed decisions.
§Assisted in the production of facts sheets and information packets on approved, experimental, and alternative HIV therapies, which increased HIV patient care and access.
§Implemented an evidence-based HIV risk reduction intervention for 8 HIV-serodiscordant, heterosexual African American couples that have risk conditions, which helped couples learn how to enhance and maintain their health.
§Assisted Principle Investigators with tracking and reporting of study progress.
CAMINAR (NON-PROFIT), Las Vegas, NV2008 – 2009
Residential Counselor
§Implemented and monitored behavioral and treatment interventions for HIV/AIDS client base.
§Provided incident reports and behavioral observation records.
§Safeguarded the accuracy, completeness, and confidentiality of residential living records and reports.
CHARLES DREW UNIVERSITY-SPECTRUM, Los Angeles, CA2002 – 2004
Community Specialist
§Completed monthly reports consisting of HIV client demographics, intakes, assessments, and counseling logs.
§Outreached to similar agencies to build client base, providing social, educational, and rehabilitation services.
§Evaluated and assessed goal plans including resource referrals; provided individual and group HIV counseling.
Education & Certification
Master of Science, Business, Full Sail University, Winter Park, FL
Bachelor of Science, Human Services Counseling, University of Nevada, Las Vegas, NV
Associate of Arts, General Studies, College of Southern Nevada, Las Vegas, NV
Education & Certification Continued
Advanced Medical Representative, CMR Institute-In progress
Treatment Education Certification, Pacific AIDS Education and Training Center, Long Beach, CA
ARTAS Certification, County of Los Angeles Department of Public health, Division of HIV and STD Programs
Human Research – Social & Behavioral Researchers and Staff (Certification #9060075), National Institutes of Health Office of Extramural Research
Human Research – UCLA HIPAA (Certification #9060076), National Institutes of Health Office of Extramural Research
Protecting Human Research Participants (Certification #1000591), National Institutes of Health Office of Extramural Research
Training & Affiliations
10th Annual Hepatitis C Summit, December 2012, Los Angeles, CA
USCA, September 2012, Las Vegas, NV
NAESM Conference, January 2013, Los Angeles, CA
EBAN II Training, February 2013, Oakland, CA
HIV Matters: Living Well over 50, October 2013, Los Angeles, CA
Prezista Training, March 2013
Egrifta Training, March 2013
Biomedical Forum, May 2013
Motivational Interviewing Training, October 2013
Stribild Training, December 2013,
Tivicay Training, September 2013
Los Angeles County Biomedical Summit, January 2014
Graduate-Millennium Momentum Foundation, Inc. Leadership Institute
Co-Chair – Community Advisory Board, AIDS Prevention and Treatment, Clinical Trials Unit
Member – Community Organization, Southern California Association of Non-Profit Housing
Member – Global CAB Representative Alternate, Community Advisory Board, AIDS Research Alliance
Production Liaison – LA HIV Women's Task Force
Member – Women's Committee, AIDS Project Los Angeles
Member – Hepatitis C Task Force, AIDS Project Los Angeles
Member – Venter for HIV Identification, Prevention, and Treatment Services CAB
Member/Speaker – Black Treatment Advocates Network
Selected Presentations
"Making the Personal Connection: Fostering Trust to Support Health Behaviors among African Americans Living with HIV," 2015 National African American MSM Leadership Conference on HIV/AIDS and other Health Disparities. Atlanta, GA, January 2015.