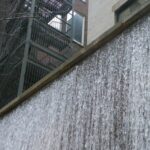 Born December 20th, 1977, in Belize/Belice being the Spanish spelling formerly British Honduras . Since the age of 10, Wayne has been residing in the United States Of America. His primary residence is New York City, Washington Heights. He lived in Bennington Vermont where he attended college and has traveled throughout the States. In addition he has traveled to Central America, Europe, and Northern Africa.


Wayne Young is a self taught mix media artist, photography being his latest adventure and focus, in addition to his three dimensional and conceptual works. He attended Southern Vermont College in Bennington Vermont where the only art course he took was watercolour. At that time he was pursuing an International Relations Degree. After moving back to New York City he would work in the fashion industry, primarily production. In this environment he was exposed to the sampling process. It is at this juncture that the artistic fire within him began to emerge.
Shortly thereafter he would work with Sylvia Hommert in her east village studio. There he learned to work with resin,wax,wood, and paint under her guidance. She would also encourage him to use the studio to explore his own ideas. He took full advantage of the opportunity for that brief two years. Thereafter he worked with Miltos Menetas, where he was taught very briefly how to work with canvases, applying oil and paint. Both these experiences added to his already innate sense of life and how he would later interpret it through his art.


His body of work is predominantly autobiographical. In it he is trying to provoke a dialogue, asking questions, about our phobias, stigmas, prejudices, ignorance and our individual motif. He hopes through his photographic, three dimensional and conceptual works that we can begin to reach a diplomatic understanding within ourselves and a resolve of humanity.

 In November 2010 at Art Walk NY, his photographic print that he donated made it's way into a prominent New Yorker's Collection. "Don't Litter", has now given him even more reason to "take life experiences and not only share them but expose their commonality".
Read Less Read More
It is only most recently that I have been engaging my artistic abilities, for the most part of my life I've been trying to prove myself to others. However, now I only seek approval from myself. Taking life back and and loving it. Pride! It's all about living in the moment! Exposing others to what is great within me thereby revealing what could be great within themselves. The human touch just dial love.
Education

Alpha Workshop Studio School, Introduction to Decorative Arts, March 31- June 4, 2014 NYC (Certificate and invite to Advance Workshop)
New School University, Continuing Ed
Apprentice/Studio Asst. to Miltos Minetas (spring 2010)

Apprentice/Studio Asst. to Sylvia Hommert (2007-2009)

Southern Vermont College major IR (2000-2004)

City College of New York, Model United Nation represented Panama 1st Place 2004

Georgetown University, Fund For America Program, (summer 2003)


Solo Exhibitions

November 10, 2011 Solo Exhibition, "UR-BAN Landshades", Highline United, Chelsea NYC 


Group Exhibitions

June 22, 2014 "Tolerance Is Respect Delayed", Uptown Art Stroll Open Studio, NYC
January 22, 2014 The March, The Asenal Gallery, Central Park, New York City

December 19, 2013 ART & AIDS: Perception of Life, Leslie-Lohman Museum of Gay and Lesbian Art

October 29, 2013 ARTWALK NY, 82 Mercer, New York City

November 7th, 2012, ARTWALKNY, 82 Mercer, New York City

November 10-11 & 17-18, 2012 14th Annual Art Show at Hudson View Gardens, New York City

June 30th, 2012 Blooming Arts Festival, New York City

March 10th, 2012 High Line Open Studios-Armory Show Art Week, Highline United, New York City

January 26th, 2012 Art Connects New York, New York City

January 6-8th, 2012 Postcards From the Edge, Cheim & Read, New York City

November 4th, 2011, ARTWALK NY, Skylight Studios, New York City

June 25, 2011 Emergence, Uptown Art Stroll, CLDS, New York City

June 12, 2011 Open Studio, Uptown Art Stroll, New York City

May 6-8, 2011West Chelsea Artist Open Studio, DDCLAB, New York City 
 November 4th 2010 Artwalk NYC, Skylight Studios, New York City

October 14-17th 2010 Highline Open Studio Chelsea 2010, Highline United Showroom, New York City

September 3 - October 4th 2010 9th Annual Small Works Exhibition, Boltax Gallery, Shelter Island NY

January 9-10th 2009 Postcards From The Edge, benefit for Visual AIDS, New York City 
 December 2008 Night Of A Thousand Drawings, Artist Space Soho, New York City
 

Bibliography

Poems The Character, Wayne Young: "THIS LITTLE WORLD OF
MINE", "THANKS AND GIVING", "SLIP BUT DON'T FALL"
Revolt Magazine, vol. 1, No. 2 May/June 2012, p. 4

 Artist Profile Edelman, Rachel: "Former Coalition Client Shows at
ARTWALKNY Safety Net, The newsletter of Coalition for
the Homeless, Autumn 2011 p. 3

 Collections
 Comunilife, Art Connects New York (ACNY)

Private collection,

Agnes Gund New York,
Bruce Bastain

 New York

Curatorial Projects

2012, "Photography & Mix Media" Blooming Arts Festival, co-curated by Mary Sauer