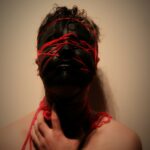 Wilhelm Vincent
b.1991
Wilhelm Vincent, conceptual artist and curator – waltzing with wolves, leaves a digital wake in his trek through the oceans and deserts of art. You'll find unpolished diamonds in most of the souls on his shoes. Having studied graphic art in Pretoria, he now finds inspiration and beauty in the vast, and whimsically harsh plains of the Karoo.
Read Less Read More
How do we define the roles ascribed to sex, sexuality and sexual personality? Can I challenge those I find limiting or repressive? When does the philosopher, the teacher, the lover or death manifest itself in me or through me; and do I have a choice?
A cycle of explorative, burning introspect that rather than self-immolates, is bold, masculine and energetic in shaking off bonds, perceived, implied or applied – self or otherwise. Simultaneously chaste and harrowing, the themes of bondage, hate, sensuality, intimacy and quietly even death resonate deeply, framed in exquisite monotone of light and dark, sombre and cheerful, lust and abandon.