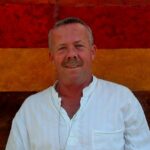 William Hartill
b.1957
What drives Bill to canvas is a desire to see color and texture evolve to reflect the image in his head.A life-long student of art, Bill started on the practical side of the canvas while working as an art framer.His gallery experience brought him into contact with interior designers who sought his input for color selections and attention to detail.That led to a successful enterprise as a design project manager.Influenced by the vast horizons of the Southwest and Mexico, he is back in his studio creating contemporary views of earth and water.His minimalist color fields are a fresh and bold point of view.
Bill grew up in southern California and is a self-taught artist.He has traveled the world and appreciates each place for its uniqueness, saying if it were all the same it wouldn't be worth the trip.He especially loves Mexico for its proximity to Arizona while feeling like a world away.Mexico's history and landscapes full of vibrant color and texture are a special inspiration.
Bill says, "At 58, I find the older I get the more I can learn from others."
Read Less Read More
Having lived over 30 years in Arizona, I have a deep affection for the desert with its big sky, incredible variation in landscape, and ever-changing shapes and colors. I am a self taught artist with no formal training and have since developed my own style of abstract painting.
Lines, shapes and paint stains can suggest to me some things I would never consciously designed. My paintings are also in a constant state of flux and suggest different things to each of us.
As an artist, I paint on many different supports developing my personal abstraction vision using acrylic paints, as well as textures and other mediums.I hope people see the color, texture and depth of the world we live in as reflected in my works in this exhibit.
Creating daily has become a natural exercise for me, all my works are intuitive, spontaneous, not planed at all, and I'm very curious myself to see what comes along next. Lots of trial and error ,no real concept, it's accidental for most of the time and therefore very unpredictable from the start to the end but beautifully rewarding.