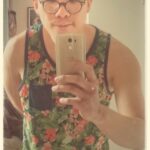 Decay and violence are not the usual adjectives one would use in scrutinizing, commenting nor verbalizing an artist's work. However, when seeing and experiencing the works of a young Malaysian artist these are the adjectives he uses with one critical modifier "of organic nature". Visualizing the natural ravages of age, nature, or the subtle unseen forces that are very much presence around us such as time and social issues, among other organic decay and violence through his own whimsical and unconventional perspectives, Wyatt Tan brings to life his fascination of exploiting opposites through the juxtaposition of conventional beauty.
His artistic instincts where first manifested through photography. It was his experimentation with altering images that would later influence his creative talents looking at objects, people and environment from unconventional perspectives. He discovered a kinship with street photographer Vivian Maier whose work exudes a charming but honest quality of the people and the streets of Chicago and New York, rather than style and fashion most contemporary street photography exhibited. Diane Arbus, another photographer whose primary interests in capturing the deviant, marginal or whose normality seem surreal or ugly to most people also resonates with Wyatt's interest in unconventional beauty in both organic and inorganic matters, especially how decay forges through the unseen brute forces of time.
Seeking more formal training he was accepted in the prestigious Parsons School of Design where he perused a master's degree in fashion studies. His interests being more academic and intellectual he wanted to understand how art history serves as a base platform in understanding the theory of clothing as a form of art. His time at Parsons was cut short when his father disinherited him and cut off all financial support having learned of his sexual orientation and recent HIV diagnosis.
Resilient and needing to distance himself from his family's action, Wyatt developed a deep passion for decorative arts and designs. He was accepted in the acclaimed Alpha Workshops in the trade of faux painting, traditional wallpaper design and printing, as well as other interior/exterior related faux finishes. Wyatt cites mid-century giants Gio Ponti, Bjorn Winblaad and Tapio Wirkkala as his favorite designers who influence his general concept in pursuing an interior decorating career. As a result of his passion in decorative objects, Wyatt learned how to identify even the most obscure of decorative objects and tabletops.
Wyatt's intellectual interest in better understanding his own creative path, especially with his newfound passion in working in the method of assemblage, lead him to the works of Robert Rauschenberg. His work is constantly evolving often incorporating photography, various mediums, decorative painting, and the incorporation of found objects; both organic and inorganic; not only utilizing his candid yet down to earth perspective, but also spinning a touch of whimsy and kitsch based on his personal understanding of different culture, religion, sexuality, and social pragmatism.
Through these interests and passion, Wyatt hoped to rope them in and translate them into a well-rounded career where photography, interior decorating and faux painting designs, while not only Utilizing his candid yet down to earth perspective, as well as spinning a touch of whimsy and kitsch based on his personal understanding of different culture, religion, sexuality, and social pragmatism, all of which are qualities that Wyatt chose to weaved into his interests and passions in photography, decorative painting, and assemblage art.
Read Less Read More
Artistic Experience
2012-2015 Jackson Hall Art Gallery at Metropolitan Community Church of New York (MCCNY)
Co-Curator with Bradley Curry
September – October 2013
Heart House by Les LaRue
October --November 2013
The Art of Math-You Namie by Math-You Namie
December 2013--March 2014
A Frtizmas Spectacular by Jonathan Fritz
April --June 2014
The Green Haired Lady by Hedda Lettuce
March 2015 – May 2015
Art by Java by Jorge Valdes
Shows
May 9, 2013 Jackson Hall Art Gallery
Through Their Eyes: Group Show/Silent Auction Benefiting Trans in Action (MCCNY Charities). Three (3) of four (4) donated 8x10 Photography Prints sold
December 15, 2014 Jackson Hall Art Gallery
Ultra Violence Pt. 1: Pop-up Installations and art works embodying the physical evidence of the onslaught of unseen, violent forces of organic nature (time, emotion etc.) as interpreted by the artist.
June 6, 2015-June 21 2015 Hugo's Restaurant, Peekskill New York
Same As It Never Was: Pop up Gallery in conjunction with the 2015 Peekskill Open Studios
Artworks exhibited comprised of photography, abstract art and assemblage art that seamlessly incorporated into the 3 decades old, raw, still under construction store front space which used to be a decade old restaurant; utilizing artifacts curated in the space itself and surrounding establishments, construction materials and waste in the space, to not only make the space practical with limited chance of liability while not sacrificing on aesthetic,, and also celebrate the space through the eyes of the artist.
July 2015 Visual AIDS Web Gallery
"Strap" Digital Photographs curated as part of the permanent online exhibition: Summer Streets. The only physical artist's print is currently under private ownership of Ray Thornton, M.D.
August 4 2015 – August 6 2015 Gateway Art Center
Arts and Jazz: 2 Assemblage Pieces and an Abstract oil painting for a group exhibition.
December 4th, "Petulance!!" at private residence in Yorktown Heights, Westchester New York.
December 5th, "Self Portrait of Artist" curated by Allen Frame as art of the 2015 Radiance Presence: Day withOUT Arts
December 21st, "Oppose Opposite" (Large scale abstract collaboration with the artist's husband, Mark Nomadiou), The Flatz, Peekskill New York
April 2016, Visual Aids Online Permanent Gallery
"Strap" Digital Photographs curated as part of the permanent online exhibition: Fashion, Fantasy, Freedom. The only physical artist's print is currently under private ownership of Ray Thornton, M.D.
June 2016 Original Design depicting Buddhist and Oriental influenced images archived at the Alpha Workshops sold to private collector benefiting a fund raising event for the vocational institution.
June 6th & 7th Peekskill Open Studios 2016
Allocations, Awards
2015 Certificate of Introductory to Fine Decorative Painting, The Alpha Workshops, New York City
2015 Visual Aids Materials Grant
2015 Youngest artist to be certified by the PAA (Peekskill Arts Alliance), Peekskill, New York
2016 Full Scholarships for the Chautauqua Institute VACI (Visual Arts at Chautauqua Institute ) 7 weeks Arts Residency.