Monday January 29, 2018
ALTERNATE ENDINGS, RADICAL BEGINNINGS Video & Artist Statement: Tourmaline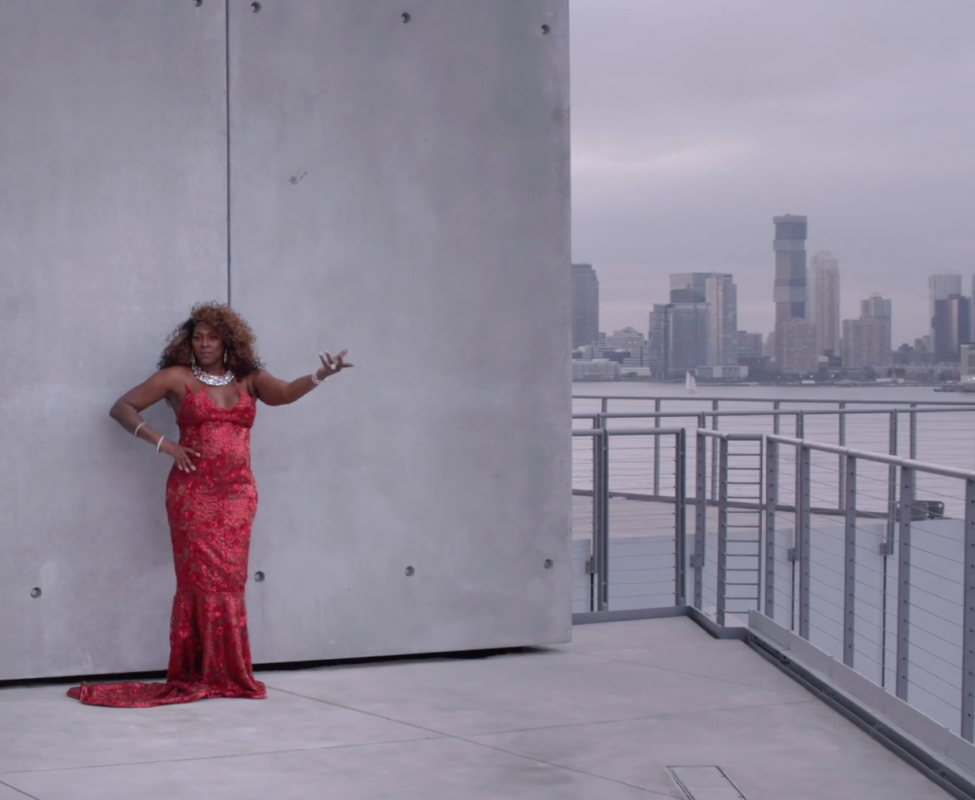 Tourmaline, Atlantic is a Sea of Bones, 2017. Still courtesy of the artist.
Tourmaline, Atlantic is a Sea of Bones
ALTERNATE ENDINGS, RADICAL BEGINNINGS is the 28th annual iteration of Visual AIDS' longstanding Day With(out) Art project. Curated by Erin Christovale and Vivian Crockett for Visual AIDS, the video program prioritizes Black narratives within the ongoing AIDS epidemic, commissioning seven new and innovative short videos from artists Mykki Blanco, Cheryl Dunye & Ellen Spiro, Tourmaline, Thomas Allen Harris, Kia LaBeija, Tiona Nekkia McClodden and Brontez Purnell.

Below, Day Wit(out) Artist Tourmaline discusses her contribution to the program, Atlantic is a Sea of Bones

All seven artist statements are also printed in our Day With(out) Art 2017 publication, available here.
The thread of my filmmaking is about how everyday people do everyday acts that have a tremendous impact on the world. Whether it's Marsha P. Johnson throwing the first shot glass at Stonewall (Happy Birthday, Marsha!), Miss Major changing all of her IDs back to male (The Personal Things), or Egyptt Labeija confronting feelings of loss through the AIDS epidemic and anti-black policing (Atlantic is a Sea of Bones), each film follows characters doing small things that are actually incredibly large. I have a deep desire to show how things that we are taking for granted as mundane are deeply beautiful. Everyday beauty is what feels really compelling, especially meeting people whose stories and lives have often been pushed to the background.
The idea for the Day With(out) Art video came about when I was working at the Sylvia Riviera Law Project and as part of Audre Lorde Project's TransJustice. At the time we were doing this organizing campaign around transgender and gender nonconforming people of color, low-income people and their access to welfare, because in this moment access to welfare is a survival issue. A lot of folks in our community are getting harassed at the welfare and HIV/AIDS Service Administration offices, being told, "No, we're not going to give you your benefits. Come back when you look like a man, or a woman." Egyptt Labeija was the coordinator of TransJustice and we did a lot of "study," meaning imagining strategies about how to make things better. One day, she came in with this coffee table book that featured her and others in the '90s in the West Village. She was talking about how every single person in the book other than her was dead, and how no one who made the book asked for her permission to be photographed. We were talking a lot about the extraction of black life, black trans life, black poor life that happens by artists who get public recognition and the feelings that surround that. We were also talking about loss, what it means to lose so much, and how that can haunt a place. Loss has happened through gentrification and HIV criminalization and really intense "quality of life" policing on Christopher Street, in the Meatpacking District, in Chelsea, and in the West Village. Egyptt is an incredible performer and an icon and I said, "I really want to work with you to figure out how we can share that story."
While that was happening, I was also listening to Alexis Pauline Gumbs reciting Atlantic is a Sea of Bones, a Lucille Clifton poem. The poem called out to me about the possibility of transformation offered by listening to the violence that is haunting a landscape from historical traumas that happened hundreds of years ago. I have also been thinking about sci-fi fantasy narratives surrounding the Middle Passage for a long time. More recently, I became interested in this electronic music group Drexciya, out of Detroit and their mythology of people who jumped and were thrown overboard in The Middle Passage starting underwater colonies and cities. I wanted to make a film about the lingering energetics and violences that shape a person's life and social space, from the transatlantic slave trade to HIV criminalization, which are all deeply, inextricably linked and bound up with each other, and not separate at all from Egyptt's story of being extracted from by these artists.
I wrote a script with this character Egyptt – who is based off of, but not actually Egyptt – working towards self-actualization, supported by Jamal, a Plutonian, Scorpio ghost figure whose self-actualization Egyptt also supports. There's an intentional, radical reciprocity. A lot of times in these stories you get the one character that is a magical figure who is just there for the main character. I really wanted to invert that narrative of care being one-directional.
Doing the bathtub scene was remarkably hard and amazing. The water kept pouring out of the tub. I thought that was a powerful form of spirit speaking. The message was that everything is overflowing; this is not something that can be contained. And I said, "Thank you for the reminder." This feeling was beautiful, haunting and lyrical, and water became a character incorporated into the film. We also shot on top of the Whitney. Because of its new location, it is one of the places implicated in what feels so fundamentally part of a very violent cleansing. The Meatpacking District and the Piers were spaces for HIV+ people, for Black and trans life, and these spaces still exist; they are not completely gone. Connecting that to Egyptt's story and to that broader life that happened alongside the water felt really important.
My community-organizing work was a way of building a sense of power that the people who are most affected by an issue are capable of transforming the world, and don't need some other person – who has maybe more access to resources or are in a different relationship to power – to swoop in and solve the situation. We are figuring it out. We're dreaming, we're speculating, and we're making it happen. For me that was a profound journey over a decade of doing that kind of work and learning. When I was doing it, I couldn't imagine doing anything else. Towards the end, I started realizing that art and story are so important to me. Everywhere I went, I wanted to talk about Sylvia Rivera and Marsha P. Johnson and Bambi L'Amour and Andorra Marks and S.T.A.R. (Street Transvestite Action Revolutionaries), who I was learning more and more about through their friends, and the traces and imprints they left all over New York City, whether in the archives or in someone's bedroom. I felt more in a creative power that I didn't necessarily feel in my organizing work. Working on organizing campaigns was both really invigorating and also, as a disabled person, I had no spoons left after that. My capacity was totally gone, and a lot of my friends were dying. It was this moment where I realized I couldn't keep working in the way that I was because I needed to be fed in a different way. I found that the connection was sharing these stories that were so impactful to me, like Marsha's.
I had no idea what making a movie would entail, but I was very determined. I started working with Sasha Wortzel on Happy Birthday, Marsha! and Arthur Jafa became our cinematographer. It was really beautiful to learn from him. I was in front of the monitor on the first night and I had this profound realization that directing is the only job that I ever wanted to do. Life has left and continues to leave a wonderful immaterial imprint throughout the city. There is something so beautiful to be able to make lives like Marsha's and Sylvia's material again, unfolding in front of me. I feel called to keep following that.
~As told to Vivian Crockett
Tourmaline is an artist and the 2017 Activist In Residence at Barnard College Center for Research on Women (BCRW). While at BCRW, she recently directed The Personal Things, an animated short starring iconic trans activist Miss Major and the everyday ways people fight back. Tourmaline often makes her art through collaboration. Along with Sasha Wortzel, Tourmaline directed Happy Birthday, Marsha! about legendary performer and activist Marsha P. Johnson. Tourmaline is an editor of the anthology TRAP DOOR about trans art and cultural production, to be published by the New Museum and MIT Press in October 2017. A longtime community organizer, Tourmaline worked as the membership director at the Sylvia Rivera Law Project, Critical Resistance, Queers for Economic Justice, where she directed the Welfare Organizing Project and produced A Fabulous Attitude, documenting low income LBGT New Yorkers. Tourmaline moderated Visual AIDS' 2015 event AGING FIERCELY WHILE TRANS and was a featured artist in Visual AIDS' Playsmart safer sex kit project, exhibited and distributed in The Brooklyn Museum exhibition Agitprop. Tourmaline lives and works in New York City, NY.