Friday January 5, 2018
ALTERNATE ENDINGS, RADICAL BEGINNINGS Video & Artist Statement: Kia LaBeija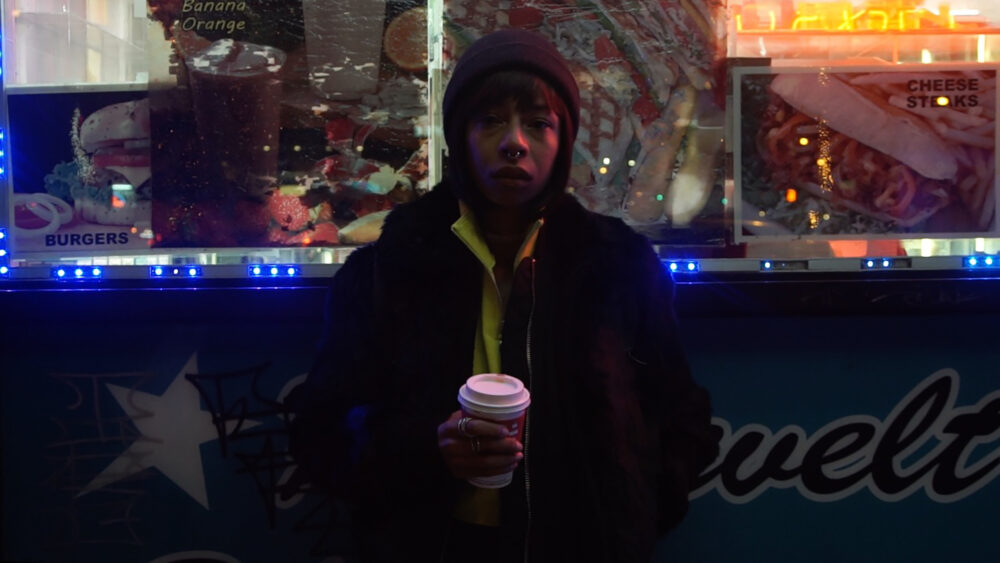 Kia LaBeija, Goodnight, Kia, 2017. Still courtesy the artist.
ALTERNATE ENDINGS, RADICAL BEGINNINGS is the 28th annual iteration of Visual AIDS' longstanding Day With(out) Art project. Curated by Erin Christovale and Vivian Crockett for Visual AIDS, the video program prioritizes Black narratives within the ongoing AIDS epidemic, commissioning seven new and innovative short videos from artists Mykki Blanco, Cheryl Dunye & Ellen Spiro, Tourmaline, Thomas Allen Harris, Kia LaBeija, Tiona Nekkia McClodden and Brontez Purnell.
Below, Day With(out) Art artist Kia LaBeija discusses her contribution to the program, Goodnight, Kia.
All seven artist statements are also printed in our Day With(out) Art 2017 publication, available here.
Even before I was practicing photography, I was shooting video. At thirteen or fourteen I got my first camera. I remember my mom saying how great it was. "I want you to tape me so I can tell you everything about my life," she said. But I never did it. I got the camera earlier that year, and by the fall she was gone. That stuck with me for a long time; a regret that kept me up at night for years.

My piece for Day With(out) Art is based on a recurring dream and the process of making sense of it. The dream takes place in the apartment I lived in with my mother before she passed away from AIDS-related complications. I guess I'm learning that the dream is about still being attached to a space that's no longer mine. It's about the things we leave behind and how trauma can sometimes leave us in limbo. As an act of defiance, I am re-imaging the dream on film, in order to process it. Sometimes having a tangible thing to sit with can open up the mind to its possibilities.
I lived in The Aurora on 57th street for about eight years. Just mom and me. It was our safe space. It was her safe space. I never imagined being forced to leave it. The experience was so painful that over many years I've blocked most of it out. I only have one or two memories of that time. I can recall sitting in my empty loft looking at friends and family, their faces unsure of what would happen next, slowly and carefully putting things in boxes. Any other thoughts exist only in the spaces in my mind I've chosen to keep locked up.
While working on my undergraduate degree at The New School, I read The Practice of Everyday Life by Michel De Certeau. He talked about space and how places don't become spaces without experience, without bodies, without events that happen. It changed something within me. Maybe change is not the right word. It awakened something within me. The way that I create has always been based on where I am and how I'm feeling in a moment. What I've realized over the past few years about my self-portrait work is that most of it is about an experience and its relationship to a space. I've developed this technique to save these spaces and keep them with me.
About six months ago, my brother reminded me about all of this footage he had of my old apartment. I was excited and nervous to see it. To hear my mom's voice and to see us in our home again — it's not every day you get an opportunity like that. Once you haven't been around someone in so long, you can begin to lose them a little bit. It's been beautiful reviewing the tapes, tapping into the memories that have seemed long gone. I turned 27 this year, so I've just fallen into the black hole known as "Saturn Return." I've heard that this is the time when you look back at your life thus far. So I guess this is all right on time.
I think in relationship to HIV in particular, I'm in a very strange place. Sometimes I feel really embarrassed talking to people about what I do and the subject matter of my art. I'm proud of the work that I do, but at the same time it's difficult to really talk about it. When I was younger I didn't have the space to speak on my experiences. Now, I think I've said too much, that the parts of my story that are public have become who I am. I know I am so much more.
Some days I don't feel like my story is my own, like it doesn't belong to me. I love having the opportunity to explore these feelings by producing new work. The archival footage in this piece is especially important. Most people see me as an adult living with the virus but how often do they get to see a full life with HIV. I think seeing ourselves as children always contextualizes who we are. By allowing viewers to take a peek into intimate moments of my childhood I am reclaiming who I am. I'm still that little girl, just a little bit bigger.
~As told to Vivian Crockett
Kia LaBeija is a contemporary artist who provokes awareness, acceptance and activism for HIV/AIDS through her portraiture and performance art. Her work explores the intersections of community, politics, fine art and activism. As a visual artist she stages digital portraits as theatrical and cinematic re-imaginings of non fictional events to spark conversation, complicating the way we view her subjects and the spaces they occupy. LaBeija's portraiture utilizes the medium of story telling, to preserve histories and make sociopolitical commentaries on current events. LaBeija was a featured artist in Art, AIDS, America, alongside Keith Haring, Annie Leibovitz, Nan Goldin and Robert Mapplethorpe and more; she was the only woman of color; the only woman living with HIV; and the only artist born with HIV included in the exhibition. A performer by nature, LaBeija is a member of the Iconic House of LaBeija and uses Voguing as performance practice and community based work. LaBeija lives and works in New York City, NY.