Tuesday August 8, 2023
Leadership Updates | Visual AIDS Seeks Executive Director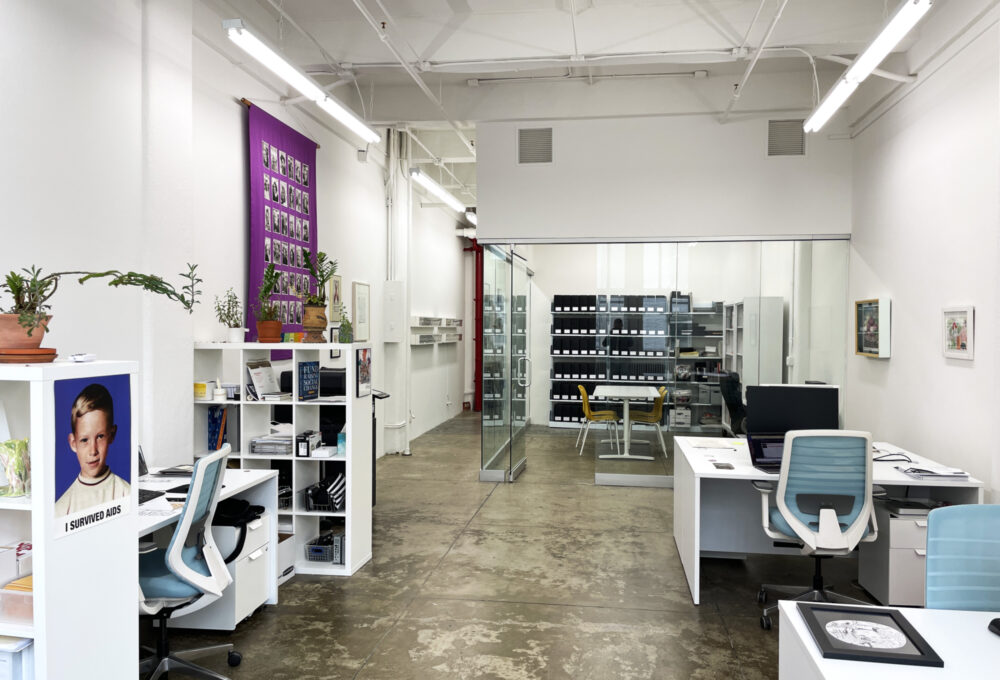 A message from Marguerite Van Cook, Visual AIDS Board President
Dear Visual AIDS Community,

On behalf of my fellow board members, I am delighted to provide an update on Visual AIDS leadership during this transitional moment. The board has engaged ALJP Consulting, an executive search firm, to guide and conduct the national search for a new Executive Director. We were impressed with AJLP's comprehensive search methodology, as well as their core commitment to equity. The search is now live and we ask your help in sharing the posting with your networks. All questions about the position and the search process should be directed to Dale Dorlin at dale@aljpconsulting.com. Our goal is to have a candidate named by early fall.

While the search for a new Executive Director is underway, the board has implemented a leadership plan to guide Visual AIDS over the next several months, and to ensure the stability and continuity of our programs. I am very pleased to share that Kyle Croft has been promoted to Deputy Director of Programs and Administration. In addition, Kyle has graciously agreed to serve as Interim Executive Director until a new leader is in place. Kyle began his career with us as an intern in 2015, before serving as a contracted Project Manager for Day With(out) Art from 2016–2018. He became Programs Associate in 2018, and was promoted to Programs Manager in July 2019 and then Programs Director in 2020. Throughout his time with Visual AIDS Kyle has helped maintain, evolve and create vital programming that has greatly enhanced our profile. We feel confident that Visual AIDS is in extremely good hands with Kyle and the rest of our dedicated staff during this transition.

The board of directors has unanimously endorsed this interim plan. I am confident that Visual AIDS will be in a strong position to welcome a new Executive Director, and to begin an exciting new chapter. We greatly appreciate your continued support for Visual AIDS and our vital mission.

Sincerely,

Marguerite Van Cook
President, Visual AIDS Board of Directors
Visual AIDS seeks Executive Director
Visual AIDS is seeking an ambitious and visionary new Executive Director to continue and expand our commitment to preserving and honoring the work of artists living with HIV and the artistic contributions of the AIDS movement.
Visual AIDS has engaged ALJP Consulting, an executive search firm, to guide and conduct the national search for a new executive director. Applications are welcome through this portal.
All questions about the position and the search process should be directed to Dale Dorlin at dale@aljpconsulting.com.

Who is Visual AIDS?
Established in 1988, Visual AIDS is the only contemporary arts nonprofit organization fully committed to leveraging the power of visual art as a catalyst to engage public response, dialogue, and scholarship around HIV/AIDS. Through presenting contemporary art exhibitions, public programs, an annual film program, and publications, the organization creates space for contemplation around the deep cultural history of AIDS activism and its impact. Visual AIDS is also known for its role in the creation of singular AIDS awareness projects, such as The Red Ribbon Project and Day With(out) Art.
The Visual AIDS Artist Registry and Archive is the largest database and registry of works by HIV-positive artists. Visual AIDS' physical and digital archive honors the art and legacy of artists lost to AIDS, while offering a wide platform for artists living with HIV to share their work.
The Role
The Executive Director will assume leadership at a time of change and opportunity for Visual AIDS, as the organization settles into its office and archival space in the vibrant Chelsea Art District. The Executive Director is expected to think creatively about partnerships, and, as the face of Visual AIDS, will be empowered to connect with industry and community leaders to bring new funding and bold and fresh ideas to the organization. This is an opportunity to be an imaginative leader and a champion for a staff that is eager to grow professionally and is committed to the organization's long-term success.
The organization currently has 4 full-time staff (including the Executive Director), one part-time staff person, and a current annual operating budget of approximately $775,000. Visual AIDS operates primarily in person.
Who is in Leadership?
Visual AIDS is governed by a rotating Board of Directors (https://visualaids.org/about-us). Its primary role is to steer the organization towards a sustainable future by adopting sound, ethical, and legal governance and financial management policies while contributing to the organization's culture, strategic focus, and effectiveness, as well as serving as ambassadors and advocates. The Executive Director reports to this body, which is led by board president Marguerite Van Cook (she/her/hers).
What will you do?
Visual AIDS is seeking an ambitious and visionary Executive Director to follow the very productive tenure of our previous ED. Last year, the organization conducted a leadership retreat to begin the development of a five-year strategic plan, including the expansion of our archives and a potential capital campaign to ensure its future. We look forward to candidates who have experience in and would bring enthusiasm to these areas.
Areas of Accountability
Board Relationship and Organizational Management
Oversee the organization's day-to-day programs/projects, operations, finances, facilities, grant management, and reporting; ensure legal, financial, and contractual obligations are fulfilled.
Supervise staff, contractors, volunteers, and interns; conduct quarterly staff reviews while supporting staff career development.
Develop a 5-year Strategic Plan, in collaboration with the Board of Directors, and monitor/provide bi-annual progress updates to the Board.
Meet regularly with board committees and prepare for quarterly board meetings.
Complete financial report and annual audit for each fiscal year, under guidance of the Finance Committee, as well as quarterly financial reports.
Manage budget, cash flow, and financial resources.
Prepare an annual organizational budget (detailed by department) for board approval and work to achieve a balanced budget each year.
Fundraising and Development
Lead two major annual fundraising events — including "Postcards from the Edge" and the Visual AIDS Vanguard Awards ("Vava").
Reinvision messaging and implementation of the year-end appeal for optimal results.
Devise, present and implement a fundraising strategy of revenue-generating activities, aiming to meet or surpass specific income target(s).
Develop a plan to build and manage stakeholder relationships, working creatively to establish new income streams from major donor sources.
Direct the coordination and management of all fundraising touch points, comprising community, trust, corporate, major donor and digital.
If necessary, manage and motivate a team of volunteers who engage in fundraising activities.
Prepare reports and give presentations on fundraising progress to the board.
Community Engagement and Programming
Coordinate with the Deputy Director of Programs and Administration on the planning, preparation, and execution of multiple programs and events throughout the year
Build friendly and productive working relationships with stakeholders, partners and larger community of artists
Maintain the organization's relationship and trust with the community
Develop and implement a successful outreach strategy to raise the Visual AIDS profile, particularly related to public-facing programs and events
Who are we looking for?
This role is ideal for a dynamic and visionary leader with experience working within arts and cultural organizations and proven leadership ability. This energetic and enthusiastic professional should possess knowledge of and familiarity with AIDS-related issues. They should have a proven understanding of inclusion, diversity, equity, and accessibility, and a demonstrated ability to effectively communicate and collaborate across differences. They should also be a highly organized, strategic thinker with experience establishing clear direction, operating against objectives, and meeting deadlines.
This individual will possess:
Experience working within arts and/or programmatic organizations is strongly preferred.
A successful record of achievement soliciting gifts, building and cultivating relationships, and leveraging a strong network of contacts.
Experience working successfully and collaboratively with a Board of Directors and high-level partners/collaborators.
Demonstrated ability to select, train, motivate, and inspire staff, incorporating measures of accountability for success.
Experience in developing and managing budgets.
Working knowledge of general office communications and management systems (e.g., Microsoft and Adobe Suite, etc) required along with fundraising/ticketing/CRM software systems.
Excellent interpersonal, verbal, and written communication skills and an ability to inspire and motivate stakeholders and potential partners to support Visual AIDS.
How much are we paying and what are the perks?
Annual Salary Range: $95,000 — $110,000/year, commensurate with experience.
Location: Primarily in person at our office currently located in the vibrant Chelsea Art District, near 10th Avenue and the High Line.
Benefits package: Full-time staff are eligible to receive health and wellness coverage (medical, dental and vision) that is fully paid by Visual AIDS.
Personal Leave: Full time employees are eligible for 10-days of paid leave per calendar year. In addition, full-time employees receive a total of 12 paid holidays, plus a winter holiday break between Christmas Eve and New Year's Day, when the office is closed.
Start Date
Ideally September/October 2023.
How do I apply?
Visit aljpconsulting.com/apply-for-jobs to submit your application. Application deadline is Friday, September 1, 2023.
At Visual AIDS, we recognize that the disproportionate impact of HIV/AIDS on Black lives continues to be ignored in conversations about both the past and the present of the epidemic. In recent years, we have worked to intentionally represent a greater number of artists of color in our archive and our programming more generally, and we recognize that there is much more to do.
Visual AIDS is proud to be an Equal Opportunity Employer. We are committed to providing equal employment opportunities to you without regard to race, creed, color, religion, national origin, sex, sexual orientation, pregnancy, marital status, age, veteran status, disability, or genetic information.
We know there are great candidates who may not have all of the qualifications and experience listed above but possess intuitive knowledge or other fully transferable skills. If that's you, don't hesitate to apply and tell us about yourself.