Past Event
Jack Waters & Peter Cramer: Fire Island Artist Residency Lecture Series
Cherry Grove Community House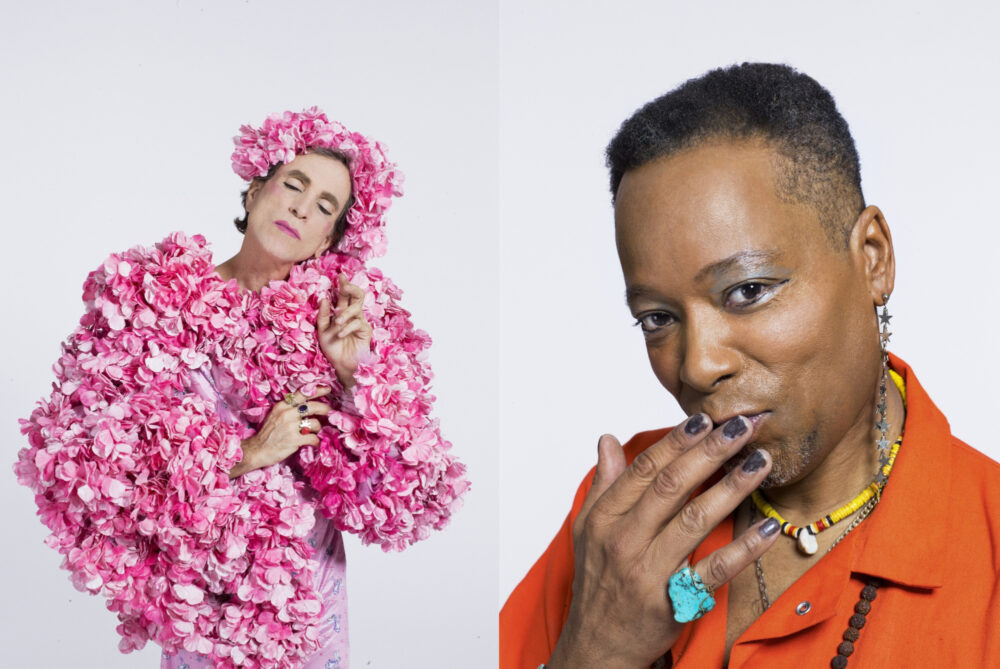 Peter Cramer and Jack Waters photographed by Mike Bailey-Gates
Visual AIDS was proud to partner with the Fire Island Artist Residency (FIAR) and the New York Performance Artists Collective (NYPAC) to present a lecture by Visual AIDS Artist Members Jack Waters & Peter Cramer as part of the FIAR lecture series. The series brought leading figures in contemporary art to share their experience with the Fire Island community and the Fire Island residency artists at the Cherry Grove Community House through a partnership with the Arts Project of Cherry Grove. Jack & Peter were also present a performance work on August 1 on Fire Island as well which attracted over 200 viewers.
Peter Cramer & Jack Waters are partners in 33 years of international collectivist culture & practice as artists, activists, administrators, archivists, teachers and mentors. Known for their experimental cross disciplinary multimedia works that encompass experimental, non-narrative, documentary and personal history strategies, Peter and Jack bring broad based knowledge and technical skills to practices of socio-political and cultural engagement responsive to issues of ethnic, sexual /gender identity, AIDS activism and archival histories using the mediums of photography, film/video, installation and performance to engage and develop ideas that seek to value the process of creation as one of the most highly regarded part of the experience rather than the end result as a final "product". Their various experiences in addition to their own multitude of works include the creation in 1981 of Allied Productions Inc, a non profit arts umbrella, serving as directors of ABC No Rio alternative art collective from 1983-1990, and founding Le Petit Versailles (1996) a community garden based in New York City. Their collaboration with artists include Barbara Hammer (Nitrate Kisses), Geoff Hendricks (Soma), Sur Rodney Sur (Percodan & Wisdom) and Inbred Hybrid Collective. Significant screenings include the Whitney Museum, New Museum, Center for Contemporary Culture Barcelona, FRISE Hamburg, Anthology Film Archives, and MIX NYC among many others. Various films have been preserved with the support of the Estate Project for Artists with AIDS and the National Film Preservation Fund. Cramer & Waters were recently featured in i-D Magazine as " radical queers creating a powerful community through progressive politics, community gardens, wild parties, and colorful performance."
Recent publications that include their histories are Alternative Histories: New York Art Spaces, 1960 – 2010 edited by Lauren Rosati and Mary Anne Staniszewski and Gentrification of the Mind: Witness to a Lost Generation by Sarah Schulman. Cramer and Waters are also subjects of an oral history conducted by Art Spaces Archives Project at the Smithsonian Institution/Archives of American Art.
As artists in residence at the Emily Harvey Foundation in Venice, Italy and Harvestworks in New York they are creating a multi-media musical opus in development titled "Pestilence". They are recipients of the 2014 Kathy Acker Award established by filmmaker/photographer Clayton Patterson.Their film works are available thru the Film Makers' Cooperative, Fales Downtown Collection and Allied Productions' archives.
Currently, Jack is featured in Jason and Shirley, a new film directed by Stephan Winter based on Shirley Clarke's 1967 film Portrait of Jason, premiering June 18th at BAM CinemaFest with West Coast premieres at Frameline and OutFest later in the months ahead. Peter plays a pivotal scene as the Matron.
---