Past Event
Actions + Reflections with Dumb Type
The Museum of Contemporary Art Tokyo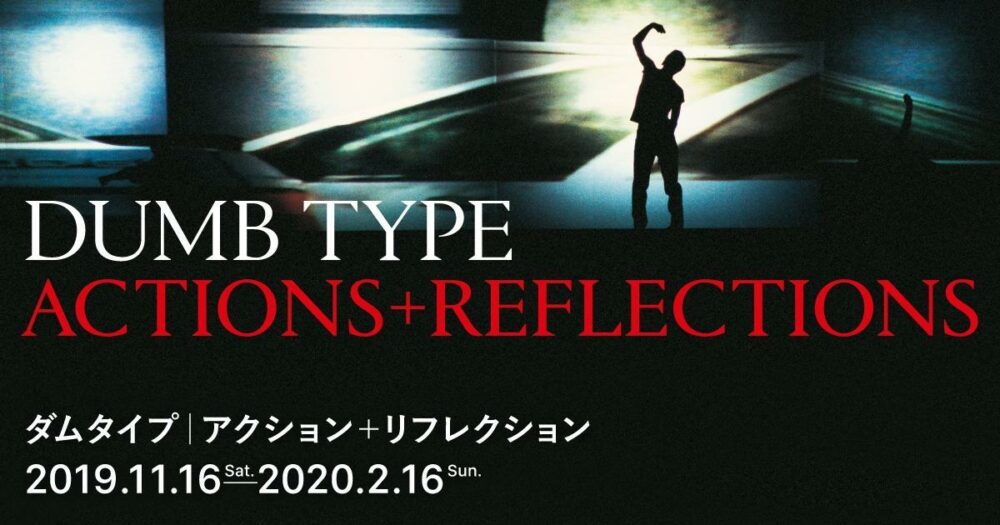 The Museum of Contemporary Art Tokyo will present an exhibition "Actions + Reflections" by leading Japanese media artist collective Dumb Type. The exhibition, which marks the 35th anniversary of the group's formation, will feature an updated version of the 2018 exhibition at the Centre Pompidou-Metz (curated by Yuko Hasegawa) with several new works as well as an extensive archive of the group's past performances.

Founded in Kyoto in 1984 by students of Kyoto City University of Arts, Dumb Type is a multi-media performance artist group centered on Teiji Furuhashi (1960–1995) which garnered attention for its highly inventive, non-hierarchic pieces which develop as collaborations between members who each pursued their own individual artistic style. Within the superficiality, despair and seduction of 1980s Bubble-era Japan, the group was highly sensitive to a societal "lack of any awareness in spite of an overabundance of information" (=dumb) and developed artworks with a sharp, critical nature. As a reaction against the textual emptiness of many language-driven performance groups, Dumb Type pursued a word-less approach (=dumb, mute) and composed works based around sound, video and installation pieces as well as the performers' reactions towards them.

Based in Japan, Dumb Type became world-wide pioneers who employed a revolutionary visual language and philosophy to express their visions of the "posthuman," born from new relations between body and technology.

Featuring several large-scale installations, this comprehensive exhibition offers an invaluable introduction to the works and artistic activities of Dumb Type, a group whose unique vision lives on after Teiji Furuhashi's death thanks to newly joined members and veterans like Shiro Takatani or Ryoji Ikeda, and which continues to influence young artists throughout the world.
Highlights
1 Critically acclaimed solo exhibition updated with new works
The exhibition at the Museum of Contemporary Art Tokyo constitutes an upgraded version of the critically acclaimed Dumb Type solo exhibition at the Centre Pompidou-Metz (2018), featuring additional new works and access to the Dumb Type performance archives. Coinciding with the 35th anniversary of Dumb Type's foundation, this exhibition provides an invaluable opportunity for audiences in Japan to experience six of the group's large-sale installations as part of a show.

2 An overwhelming spatial experience full of character
With works such as Playback, (based on Pleasure Life, performed during Teiji Furuhashi's lifetime) the piece pH, a massive recreation of the same-titled installation work from Dumb Type's early period; LOVE/SEX/DEATH/MONEY/LIFE, based on the play S/N and the exhibition "The Human Condition" from 1994; Teiji Furuhashi's LOVERS (2001/second edition) (exhibited until 19 January, 2020); as well as MEMORANDUM OR VOYAGE, which reconstructs three performances created after Furuhashi's death, this exhibition offers an incredible spatial experience with exceptional sound design.

3 An overwhelming spatial experience full of character
The exhibition presents an extensive archive created with the help of researchers, former and current members that will offer a comprehensive overlook Dumb Type's creativity and its message – preceding the advent of the internet age – both before and after the death of founding member Teiji Furuhashi. An illustrated catalogue with many photographs of the group's artworks will be published in conjunction with this exhibition.
(publisher: Kawade Shobo Shinsha / ¥3,000)

* Small modifications are scheduled to take place during the exhibition period.
The exhibition and included artworks may be subject to change.
Artist Profiles

Dumb Type
Founded in Kyoto in 1984, Dumb Type is composed of artists from diverse backgrounds — dance, theater, music, video, design, architecture, programming — all contributing to a great variety of stage and installation productions over the years. Derived from the diversity of its members and the different media employed by the group, Dumb Type's works range from art exhibitions to performances and live music concerts. Realized with a different lineup of members each time, their pieces address a variety of social issues related to contemporary society. Dumb Type toured their early multimedia works Pleasure Life (1988), pH (1990-1995) and S/N (1994-1996) worldwide before the untimely death of the group's artistic director Teiji Furuhashi, a prominent HIV/AIDS activist, in 1995. Since then, Dumb Type has continued under the direction of Shiro Takatani, creating works such as OR (1997-1999), memorandum (1999-2003) and Voyage (2002-2009).

Following the large scale solo exhibition in the Centre Pompidou-Metz from January to May 2018, the group are currently planning a new performance for the first time in eighteen years, to debut at Rohm Theater Kyoto in March, 2020.
http://dumbtype.com/
Teiji Furuhashi (1960-1995)
Born in Kyoto, Furuhashi was a founding member of Dumb Type in 1984 while studying Concept and Media Planning at Kyoto City University of Arts. In 1985, he received the encouragement award at the 1985 Tokyo International Video Biennale. Together with Dumb Type, he participated in numerous performances and exhibitions at the Osaka International Theatre Festival (1986), The First New York International Festival of the Arts (1988), ICA London (1988), The Royal Museum of Fine Arts, Copenhagen (1988), Against Nature U.S. tour (1989-1990), Wiener Festwochen (1992), Centro de Arte Reina Sofia (1992), Museum of Contemporary Art, Sydney (1992), Adelaide Festival (1994), Guggenheim Museum SoHo (1994), Musée d'art contemporain de Montréal (1994), New York Museum of Modern Art (1995), Power Plant Toronto (1995), San Francisco Museum of Modern Art (1995), Arhus Festuge (1995), Harbourfront Centre Toronto (1995), München Spiel.Art (1995) and others. Furuhashi directed a video documentary of "pH" that won the Best Stage Recording prize at IMZ-DanceScreen '92 and Premio Sole d'Oro at the 1992 Riccione TTV Festival.