Past Event
ALTERNATE ENDINGS, ACTIVIST RISINGS: Uptown Screening and Discussion
Screening in partnership with The Studio Museum in Harlem & The Sugar Hill Children's Museum of Art and Storytelling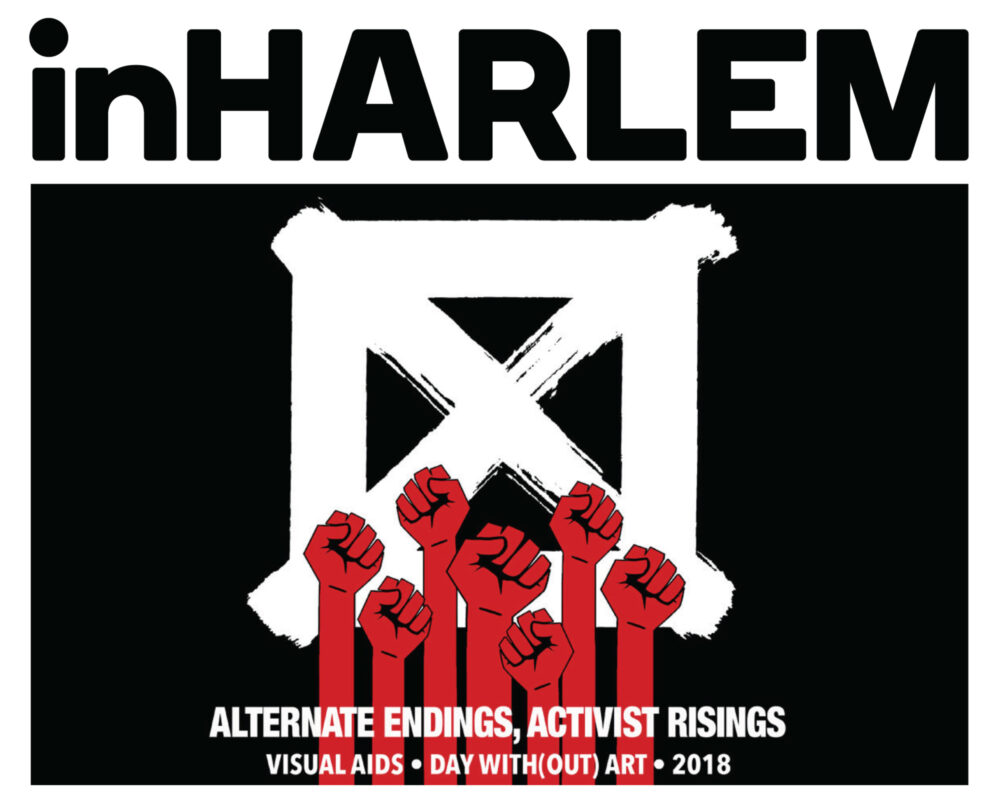 For Visual AIDS' Uptown screening of Day With(out) Art 2018, ALTERNATE ENDINGS, ACTIVIST RISINGS screened at the Sugar Hill Children's Museum of Art and Storytelling in collaboration with The Studio Museum in Harlem. The screening was followed by a discussion with Michelle Lopez (Just Kids), Cedric Sturdevant (The SPOT), and Frederick Weston (Visual AIDS Artist Member), moderated by Lauren Kelley (Director and Chief Curator of the Sugar Hill Children's Museum of Art & Storytelling). This program in Harlem highlighted the role of family and community in creative responses to AIDS in New York City and the American South.

ALTERNATE ENDINGS, ACTIVIST RISINGS highlights the impact of art in AIDS activism and advocacy today by commissioning compelling short videos from six inspiring community organizations and collectives—ACT UP NY, Positive Women's Network, Sero Project, The SPOT, Tacoma Action Collective, and VOCAL NY. The program represents a wide range of organizational strategies, from direct action to grassroots service providers to nation-wide movement building, while considering the role of creative practices in activist responses to the ongoing AIDS crisis.
ALTERNATE ENDINGS, ACTIVIST RISINGS seeks to reflect the persisting urgencies of today's HIV/AIDS epidemic by pointing to pressing political concerns. In their commissioned videos, organizations address intersecting issues including anti-Black violence, HIV criminalization, homelessness, and the disproportionate effects of HIV on marginalized communities. At a moment of growing interest in the histories of AIDS activism, ALTERNATE ENDINGS, ACTIVIST RISINGS foregrounds contemporary engagements between activists, artists, and cultural workers on the front lines.
Michelle Lopez is a peer educator and consultant providing education and community forums about sexual health and treatment options for mothers, individuals over 50, and many more. She is a manager of the ongoing Centers for Disease Control "HIV Treatment Works" campaign, which shows how people with HIV have overcome barriers to get in care and stay on treatment. For 10+ years, Michelle was centrally involved in Just Kids—a support group for mothers and children living with HIV. Her daughter Raven (b. 1990) was among the first children born with HIV to have HIV medication safely dosed on her, which made it possible for studies that identified a protease inhibitor dose to provide to children. Michelle is a proud grandmother to Raven's son, who was born HIV-negative, pointing to the developments in HIV care for mothers living with HIV.
Cedric Sturdevant is a leading advocate and HIV activist in the South, working with and training HIV-positive people to be an advocate for themselves and others. Cedric worked as a Project Manager at Jackson Medical Mall Foundation under the CARE4ME Services/The SPOT programs, as manager of The SPOT [Safe Place Over Time]. The SPOT provides services and opportunities to young men that focus on wellness, empowerment, and leadership as well as HIV prevention, education and awareness. Cedric has been featured on the documentary "Deepsouth" which focuses on individuals living with HIV in the Deep South, the New York Times Magazine and has been featured in various public service campaigns spreading knowledge and awareness of HIV. Cedric is currently working as Outreach Specialist at AIDS Services Coalition PIER Outreach in Greenville, Mississippi, providing services to people living with HIV, rapid HIV testing, and PrEP education and referrals. Cedric embodies and takes to heart his personal philosophy, the quote by Dr. Martin Luther King, Jr., "Our lives begin to end the moment we become silent about the things that matter."
Frederick Weston has been a Visual AIDS artist member since 1998. Born in Memphis, Tennessee, and raised in Detroit, Michigan, Weston moved to New York to enter the world of art and fashion in the early 1970s. His work communicates the soul of a thoughtful man feeling his way through physical realities and representation in America.
Commissioned Organizations:
AIDS Coalition to Unleash Power (ACT UP) NY (New York, NY) is a diverse, non-partisan group of individuals, united in anger and committed to direct action to end the AIDS crisis. ACT UP was formed in 1987 in response to social neglect, government negligence and the complacency of the medical establishment during the 1980s. Soon it found itself needing to fight corporate greed, lack of solidarity and various forms of stigma and discrimination at home and abroad. ACT UP fights for: sustained investment in research for new medicines and treatments for HIV/AIDS and related co-infections; equitable access to prevention and care for HIV/AIDS and healthcare, in general; tackling the structural drivers of the HIV/AIDS epidemic, such as stigma, discrimination and poverty.
Positive Women's Network – USA (PWN) is a national membership body of women living with HIV and allies that exists to strengthen the strategic power of all women living with HIV in the United States. Founded in 2008 by 28 diverse women leaders living with HIV, PWN-USA develops a leadership pipeline and policy agenda that applies a gender lens to the domestic HIV epidemic grounded in social justice and human rights. Every day, PWN-USA inspires, informs and mobilizes women living with HIV to advocate for changes that improve lives and uphold rights.
Sero Project is a national network of people with HIV and allies fighting for freedom from stigma and injustice. Sero is particularly focused on ending inappropriate criminal prosecutions of people with HIV, including for non-disclosure of their HIV status, potential or perceived HIV exposure or HIV transmission. Sero co-produces the biennial HIV is Not a Crime conference, which provides advocates from across the country with training on strategies and best practices for repealing laws that criminalize people living with HIV.
Safe Place Over Time (The SPOT) (Jackson, MS) is dedicated to providing services and opportunities for wellness, empowerment, and leadership to young men in Jackson, Mississippi. The program aims to improve health outcomes and reduce new cases of HIV among African Americans who are disproportionately affected by the epidemic. The SPOT strives to be a safe place for young men to openly discuss issues and challenges and to work to improve their quality of life and to promote the concept of self-worth. The SPOT is housed in the Jackson Medical Mall, a former shopping mall that now provides healthcare for the underserved and promotes economic and community development.
Tacoma Action Collective (Tacoma, WA) is a partnership of Black community organizers working in grassroots action and education in Washington State. TAC works to to eliminate systemic oppression and structural violence while empowering the people to build autonomous communities rooted in equity and justice. In 2015, the collective staged a die-in at the Tacoma Art Museum in response to the white-washing of the exhibition Art, AIDS, America.
VOCAL (Voices Of Community Activists & Leaders) (New York, NY) is a statewide grassroots membership organization that builds power among low-income people affected by HIV/AIDS, hepatitis C, the drug war, homelessness, and mass incarceration in order to create healthy and just communities. VOCAL accomplishes this through community organizing, leadership development, public education, direct services, participatory research and direct action.
---
| | |
| --- | --- |
| | Saturday, December 15, 2018 from 7:00pm–9:00pm |
| | Saturday, December 8, 2018 from 2:00pm–4:00pm |
| | Saturday, December 1, 2018 from 7:30pm–9:30pm |
| | Saturday, December 1, 2018 |
---
Related Projects