Past Event
An Evening with Annie Sprinkle & Beth Stephens
MoMA, Floor T1, Theater 1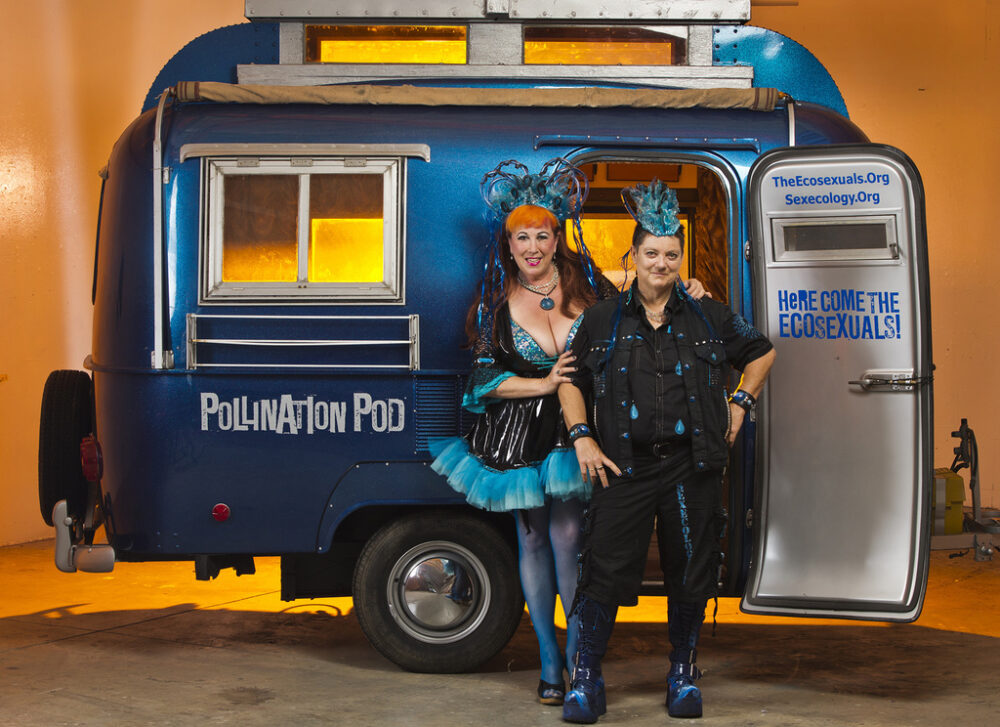 Visual AIDS DUETS book collaborators Annie Sprinkle and Beth Stephens will present their work at MoMA. The MoMA screening is followed by a live presentation by Annie Sprinkle, Beth Stephens, Keith Wilson, and a dozen of their friends: Linda M. Montano, Judy Dunaway, David Benjamin Steinberg, Joy Brooke Fairfield, Betty Grumble, Dragonfly (Robin Laverne Wilson), Veronica Vera, Ms. Ter, Barbikat, Jordan Freeman, Valentina Parez
Water Makes Us Wet—An Ecosexual Adventure. 2017. USA. Directed by Beth Stephens & Annie Sprinkle. With Sandy Stone as the voice and conscience of Lover Earth. 80 min.
In a poetic blend of curiosity, humor, sensuality, and concern, Annie Sprinkle (a former sex worker), Beth Stephens (a professor), and their dog, Butch, cruise the state of California, meeting a diverse group of people—performance artists, biologists, water-treatment plant workers, scientists, and others— who reaffirm the power of water, life, and love. The film chronicles the politics and pleasure of H2O from an ecosexual perspective.
The Tree. 2017. USA. Directed by Keith Wilson. 16 min.
The Tree provides a unique take on common critiques of our wasteful Western culture. Follow the life of a little pine tree, groomed for Christmas, from its uneventful planting to its untimely death. Wilson's short urges greater consideration, compassion, and respect for the natural world.