Past Event
Benjamin Fredrickson: Photographs
Daniel Cooney Fine Art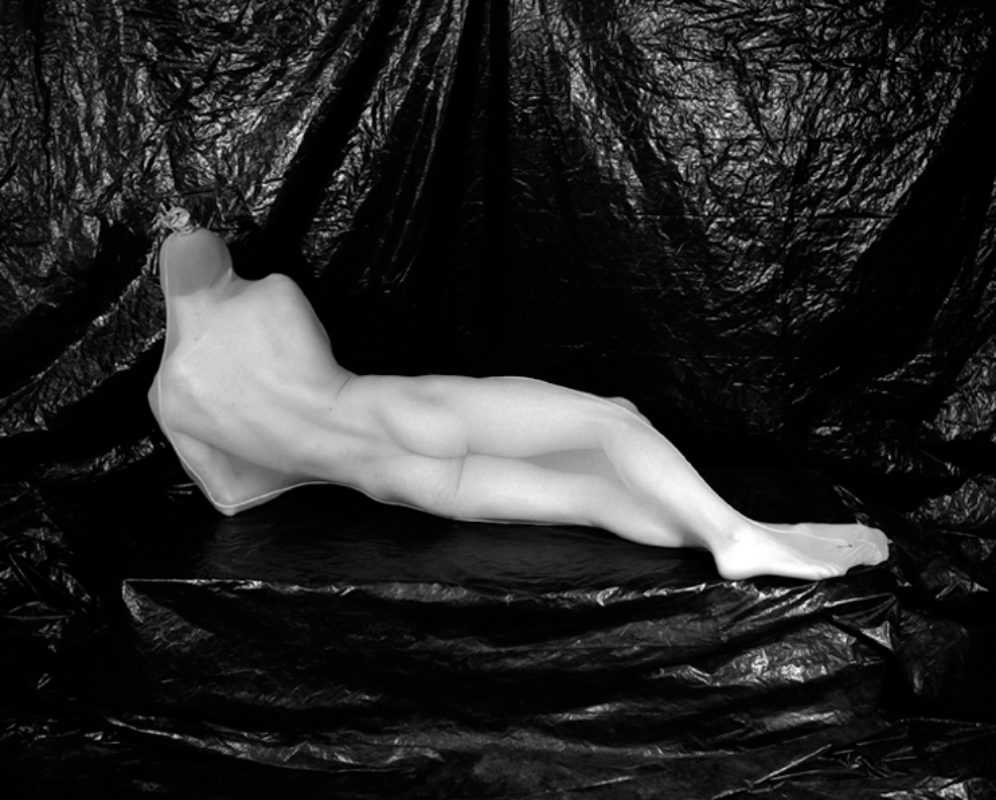 Benjamin Fredrickson, Body Stocking (Reclining), 2018, photograph. Courtesy of the artist.
Visual AIDS Artist Member Benjamin Fredrickson will exhibit his second solo, Photographs at Daniel Cooney. The exhibition will include small scale black and white and color photographs made with paper negatives and traditional large format analog film. Many of the photographs have been created in Fredrickson's basement studio with lighting alluding to his artistic ancestors George Platt Lynes, The Athletic Model Guild and Robert Mapplethorpe among others.
In this exhibition Fredrickson continues to walk the line between raunch and exquisite beauty. He expresses desire with finely tuned explicit imagery and he explores vanity, fetish, exhibitionism and photographing as an erotic act. He also implicates himself as a blissful observer and participant of erotic play. As this is Fredrickson's first exhibition since the introduction of PrEP perhaps we see he and his subjects with more emotional and physical liberty and less fear.
Fredrickson also pays homage to centuries of traditional art genres with his models unceremoniously submitting to observation by him and the gallery audience. An astute observer will see references to 19th century photographic portraiture and early European painting. The observer will also be lured to examine seductive bodies contorted and exposed for their consideration. Fredrickson graduated from the Minneapolis College of Art and Design in 2003 and moved to New York City in 2010. He has been included in the Museum of Art and Design's "New York Makers", group exhibitions at Fierman Gallery, Darkroom Gallery, La Mama Galleria in addition to collaborations with Visual AIDS and the Bureau of General Services – Queer Division. His work has been published and reviewed in The New Yorker, Apartamento, BUTT, Capricious, Dazed and Pin-Up.

Opening Reception is on November 7, 6-8PM
For more information contact: dan@danielcooneyfineart.com

---