Past Event
Caretaking Radical Legacies in the Visual AIDS Archives
Rhode Island School of Design (RISD)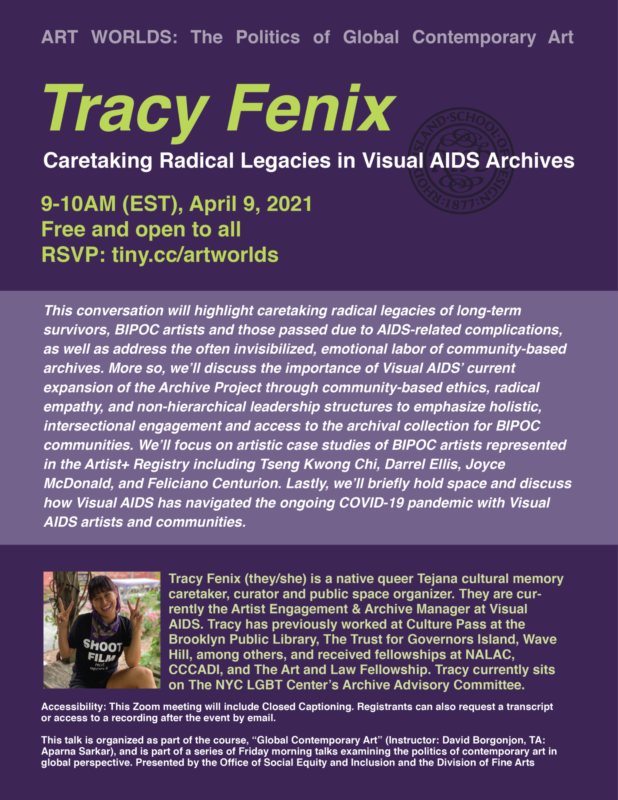 Caretaking Radical Legacies in the VA Archives
Tracy Fenix, Artist Engagement & Archive Manager at Visual AIDS will highlight caretaking radical legacies of long-term survivors, BIPOC artists and those passed due to AIDS-related complications, as well as address the often invisibilized, emotional labor of community-based archives. More so, we'll discuss the importance of Visual AIDS' current expansion of the Archive Project through community-based ethics, radical empathy, and non-hierarchical leadership structures to emphasize holistic, intersectional engagement and access to the archival collection for BIPOC communities. We'll focus on artistic case studies of BIPOC artists represented in the Artist+ Registry including Tseng Kwong Chi, Darrel Ellis, Joyce McDonald, and Feliciano Centurion. Lastly, we'll briefly hold space and discuss how Visual AIDS has navigated the ongoing COVID-19 pandemic with Visual AIDS artists and communities.
Free and open to all
RSVP: tiny.cc/artworlds


Accessibility: This Zoom meeting will include Closed Captioning. Registrants can also request a transcript or access to a recording after the event by email.
This talk is organized as part of the course, "Global Contemporary Art" (Instructor: David Borgonjon, TA: Aparna Sarkar), and is part of a series of Friday morning talks examining the politics of contemporary art in global perspective. Presented by the Office of Social Equity and Inclusion and the Division of Fine Arts.