Past Event
Ceremonial Fire & Hear Me Presentation
Presented by Kinstillatory Mappings in Light and Dark Matter and the New York AIDS Memorial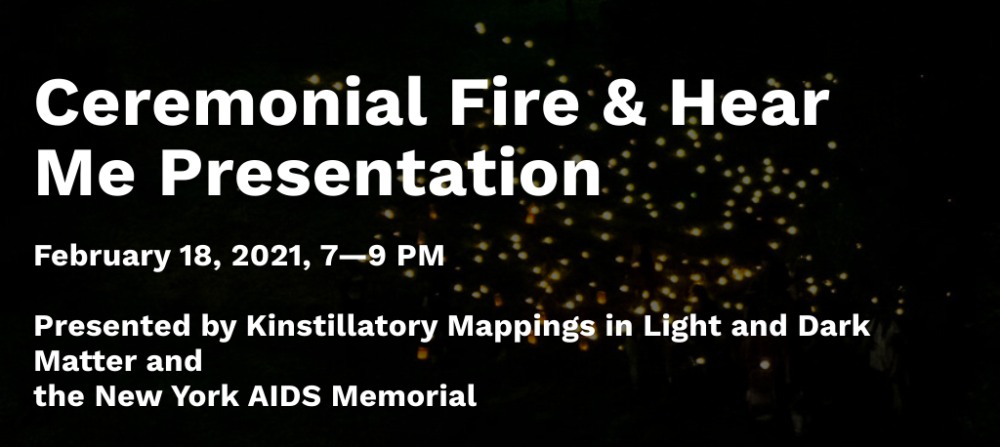 Join Kinstillatory Mappings in Light and Dark Matter and the New York AIDS Memorial for a ceremonial fire, and a presentation of HEAR ME: VOICES OF THE EPIDEMIC, an open-space sound installation composed of historical texts, poetry, speeches, music, and more that capture the history and ongoing story of HIV and AIDS in New York City. Examples include a powerful speech by Vito Russo (1946-90), a song composed by Michael Callen (1955-93), historic recordings of an ACT UP-led protest made by artist David Wojnarowicz (1954-92), personal reflections from attendees of the 1991 Native Americans, Two Spirits and HIV conference, and poems by Melvin Dixon (1950-92), Visual AIDS Artist Members, Constantine Jones, and Kia LaBeija.
Kinstillatory Mappings in Light and Dark Matter is a monthly ceremonial fire organized by Emily Johnson and Karyn Recollet centering Indigenous protocol and knowledge, with guest artists and activists engaging us through music, dance, poetry, and more. Support is provided by Abrons Arts Center.
This event is in support of LOVE POSITIVE WOMEN, a project created by AIDS activist and long term survivor, Jessica Whitbread, that uses social media to link local grassroots gestures of love and care and support for women living with HIV. To speak about LPW will be Shirlene Cooper, project director of the Women's Empowerment Art Therapy Workshops at Visual AIDS.
Also on hand will also be members of the collective What Would an HIV Doula Do? who will be presenting VINCI (Activist Self Portrait), a poster project they did in collaboration with artist Jordan Eagles, featuring the work of artist Bryn Kelly (1981-2016).
This program is free and everyone is welcome. No prior experience with fire or HIV is required. Special guests and hot beverages will be on hand.
By attending you are required to respect our Community Agreements:
Wear a mask over your mouth and nose at all times.
Maintain six feet of physical distance from others at all times.
---