Past Event
Chronicling the Queer: The films of David Weissman
Three nights of programming including The Cockettes, We Were Here and Shorts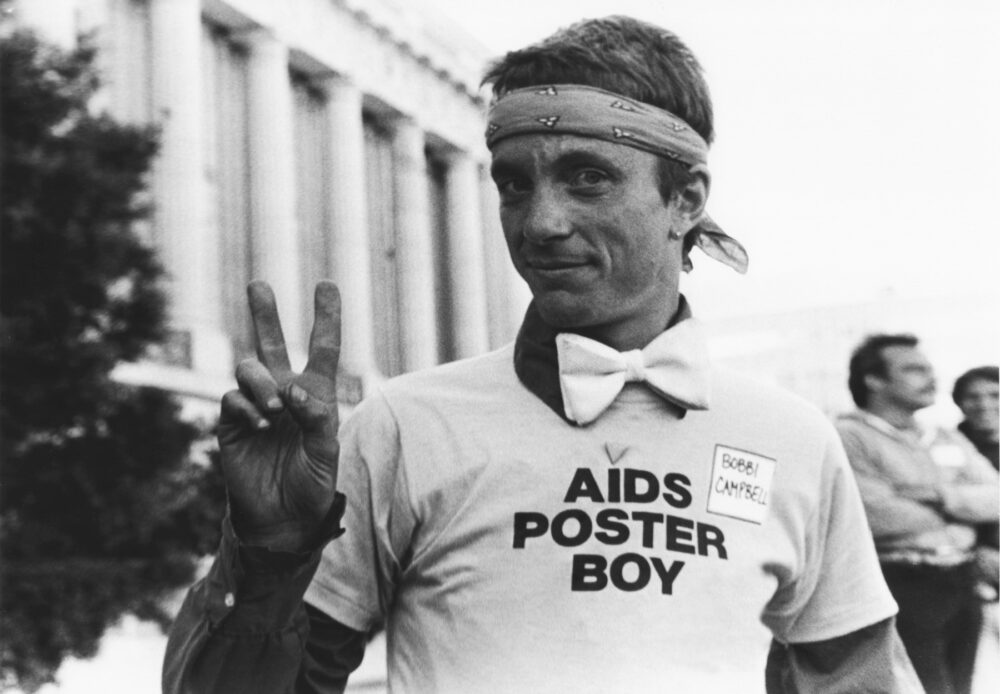 Chronicling the Queer:The films of David Weissman
October 2013
Presented by The Center for Lesbian and Gay Studies, the Leslie-Lohman Museum of Gay and Lesbian Art, the Queer New York International Arts Festival and Visual AIDS.
All events are free and open to the general public
From his earliest short films to his ground-breaking documentaries The Cockettes, and We Were Here, filmmaker David Weissman has been chronicling queer experiences for over thirty years. Over three nights in October New York audiences had the opportunity to see and engage in the films of David Weissman, with the filmmaker present and available for questions and conversation about his work.
WE WERE HERE: Screening and Talkback with Directed David Weissman
OCTOBER 3, 2013
6:30-8:30pm
Leslie Lohman Museum of Gay and Lesbian Art 26 Wooster Street
David Weissman's award winning and 2013 Emmy nominated film, We Were Here (2011) is regarded by many as the first documentary to usher in the current wave of films about the early days of the AIDS epidemic in America. Deeply touching, concentrating on the lives changed forever as witnesses to the beginning of the ongoing AIDS crisis, We Were Here is an experience of community, healing, and conversation.
The Leslie-Lohman Museum and Visual AIDS organized the screening and had a talk with David Weissman.
We Were Here, 2011, 90mins
The film documents the coming of what was called the "Gay Plague" in the early 1980s. It illuminates the profound personal and community issues raised by the AIDS epidemic as well as the broad political and social upheavals it unleashed. It offers a cathartic validation for the generation that suffered through, and responded to, the onset of AIDS. It opens a window of understanding to those who have only the vaguest notions of what transpired in those years. It provides insight into what society could, and should, offer its citizens in the way of medical care, social services, and community support.
DAVID WEISSMAN: SHORTS
Screening and Talkback
October 15, 2013, 7-9pm
Segal Theatre, The Graduate Center, CUNY, 365 Fifth Avenue
Chronicling the queer has led filmmaker David Weissman to explore diverse subjects such as what irks others, HIV/AIDS, and the experience of being queer and Jewish. The event is cosponsored by The Center for Lesbian and Gay Studies. RSVP: rsvp@clags.org
Including:
COMPLAINTS, 1991, 05:39min
Thrity-two diverse people sing about what irks them
BEAUTIES WITHOUT A CAUSE, 1985, 06:35min
Evil drag queens on a rampage
976 -, 1986, 02:34min
An alternative to safe sex
THE STEPS YEAR AND 04:30min
A revolutionary faces reality
SONG FROM AN ANGEL, 1988, 04:44min
Rodney Price's moving last song-and-dance prior to his death from AIDS
HIV: un-infected _ un-affected, 1996, 04:24min
A compilation of AIDS prevention PSAs
MOTHERS, 1987, 08:30min
A clash in the park between "decent" moms and "wild" moms;
With film festival promotions: DANCING JEWS WITH WACKY SHOES and THE SHORT, SHORT, TRAILER.
THE COCKETTES: Screening and Talkback
October 24, 2013, 3pm
Abrons Arts Center Underground
466 Grand Street
The Cockettes, 2002, 100 mins
Screening as part of the Queer Arts Festival, THE COCKETTES is a feature length documentary about the rise and fall of the legendary San Francisco theatrical troupe of hippies and drag queens, 1969-1972. Co-directed by Weissman and Bill Weber, the film has reached cult status as a must see for the queerly inclined.
ABOUT THE FILMMAKER:
Best known for the documentaries WE WERE HERE and THE COCKETTES (made with Bill Weber), David Weissman began making oddball short films in the early 1980s. His short films range in style from the ridiculous to the sublime; from rampaging drag queens and singing complainers to cutting-edge HIV prevention ads, and a remarkable final song and dance by San Francisco performer, Rodney Price, of the legendary Angels of Light. David will be presenting a selection of his short films, and discussing how his work reflects a broader social history of queer San Francisco over the decades.
ABOUT THE PRESENTERS:
The Center for Lesbian and Gay Studies provides a platform for intellectual leadership in addressing issues that affect Lesbian, Gay, Bisexual and Transgender individuals and other sexual and gender minorities.
The Leslie-Lohman Museum of Gay and Lesbian Art is the first dedicated LGBTQ art museum in the world with a mission to exhibit and preserve LGBTQ art, and foster the artists who create it.
Queer New York International Arts Festival (QNYI) is a new festival of contemporary performance and visual art that explores and broadens the concept of "queer (in) art."
Visual AIDS utilizes art to fight AIDS by provoking dialogue, supporting HIV+ artists, and preserving a legacy, because AIDS is not over.