Past Event
Clear bright edges of the horizon: new perspectives Jesse Murry
Zoom Program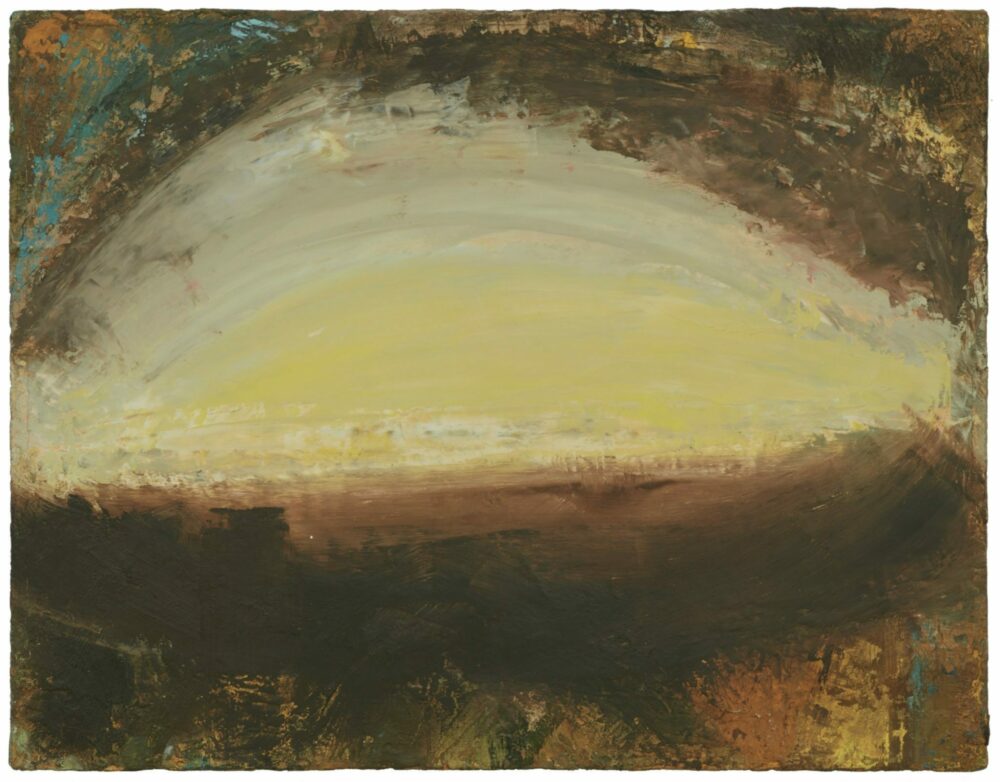 Jesse Murry, "In Ryder's Eye", 1987, Oil and wax on linen, 14" x 18.5"
Please join The New York Studio School via Zoom or YouTube Live for this panel conversation, which will be broadcast from the historic Drawing Room of the New York Studio School.
Introduced by Lisa Yuskavage, a panel of painters, poets and art historians discuss contemporary views on the art and poetry of Jesse Murry (1948-1993), moderated by Jarrett Earnest.
Panelists:
Lisa Yuskavage received her BFA from the Tyler School of Art, Temple University and her MFA from the Yale University School of Art. Yuskavage's work has been the subject of solo exhibitions at institutions worldwide and is included in numerous museum collections. She recently exhibited Lisa Yuskavage: New Paintings, as well as co-curated Jesse Murry: Rising, at David Zwirner, where she is represented. Yuskavage lives and works in New York.
Gaby Collins-Fernandez is an artist living and working in New York City. She also writes about art; is a founder and co-publisher of the annual magazine Precog with Florencia Escudero and Kellie Konapelsky, and a co-director of the artist-run art and music initiative BombPop!Up with Drea Cofield and Jonah Parzen-Johnson.
Alex Fialho (he/they) is a graduate student in Yale University's Combined Ph.D. program in the History of Art and African American Studies. As an art historian and curator, his research and writing focus on modern and contemporary art, African American art histories, Black feminist and queer theory, and AIDS cultural studies. Fialho first learned about Jesse Murry's art while working Visual AIDS, where Fialho served as Programs Director from 2014–2019, facilitating projects around the history and immediacy of the ongoing AIDS pandemic, while intervening against the widespread whitewashing of HIV/AIDS cultural narratives. Fialho wrote an essay titled "Painterly Impressions of Jesse Murry" for the catalog published on the occasion of Tibor de Nagy Gallery's exhibition "Jesse Murry – Radical Solitude" in 2020.
Jarrett Earnest is the author of What it Means to Write About Art: Interviews with Art Critics (David Zwirner Books, 2018); editor of Hot, Cold, Heavy, Light: 100 Art Writings 1988-2017 by Peter Schjeldahl (Abrams, 2019); The Young and Evil: Queer Modernism in New York, 1930-1955 (David Zwirner 2020); and Painting is a Supreme Fiction: Writings by Jesse Murry, 1980-1993 (Soberscove Press, 2021). Earnest curated the exhibitions "The Young and Evil" (2019), "Ray Johnson: WHAT A DUMP" (2021), "Jesse Murry: Rising" (with Lisa Yuskavage) (2021) all at David Zwirner, New York, and recently, the final installment of "Ways of Seeing: Three Takes of the Jack Shear Collection" at the Drawing Center, New York (2022). He is currently editing Devotion: today's archive becomes tomorrow's future, to be published by PUBLIC Books (2022).
Camille Okhio is an art and design historian and writer living and working in New York City. She is the Senior Design Writer at ELLE Decor and has published pieces in T Magazine, Vogue, Architectural Digest, W Magazine, Apartamento, PIN UP, Domino, Art in America, Wallpaper*, Surface Magazine and more.
Jason Stopa (b. 1983) is a painter and writer living in Brooklyn, NY. He received his BFA from Indiana University and his MFA from Pratt Institute. Recent solo exhibitions include Joy Labyrinth, at Morgan Lehman, NY (2021) and Hanging Gardens, at Atelier W Pantin, France (2019). Recent group exhibitions include in Wayne Thiebaud Influencer: A New Generation, UC Davis Museum, CA (2021), Miles McEnery, NYC (2021) and Jenkins Johnson Projects, Brooklyn (2021). He is represented by Diane Rosenstein Gallery, LA and Morgan Lehman, NY. Stopa teaches at Pratt Institute and is a contributing writer to Hyperallergic, Momus, Artcritical among others art journals.