Past Event
Performances by Peter Cramer & Jack Waters and Carmelita Tropicana as part of Ephemera As Evidence
LA RECHERCHE DU TEMPS TROUVÉ + CRUISING: FEAST & FLAME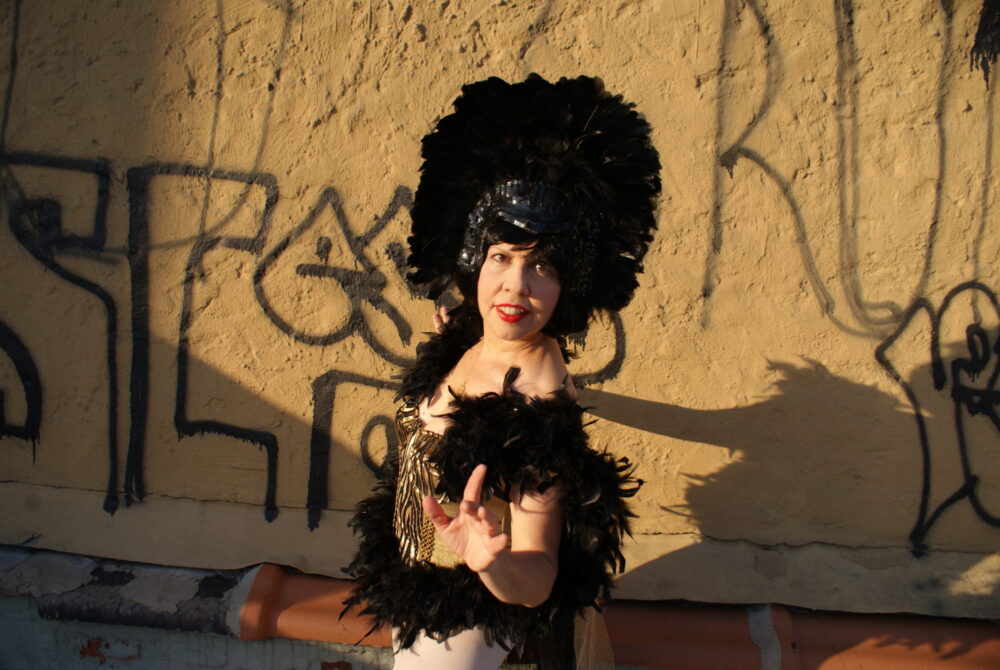 Closing Night with Peter Cramer, Carmelita Tropicana, and Jack Waters for Ephemera As Evidence
7PM – 9PM, Sunday June 29, 2014
Performances by Peter Cramer, Carmelita Tropicana, and Jack Waters celebrated the closing night of Ephemera as Evidence.
About the Performances
LA RECHERCHE DU TEMPS TROUVÉ
Peter Cramer & Jack Waters
Self-archiving as self-presentation in the manner of our DIY approach to creative practice.
CRUISING: FEAST & FLAME
Carmelita Tropicana
Come queer comrades que "La Luncha Continua." A ritual for gay pride/4th of July. (Jose Esteban Munoz was known for his subaltern 4th of July celebrations)
About the Artists
Alina Troyano (aka Carmelita Tropicana) is a Cuban-born performance artist, playwright and actor. Tropicana first burst on the New York's downtown performing arts scene in the eighties with her performance, Chicken Sushi, and the play, Memorias de la Revolucion, a collaboration with Uzi Parnes in which she performed as her alter ego, the spitfire Carmelita Tropicana and as the archetypal Latin macho, Pingalito Betancourt. Since then, she has performed as Hernando Cortez's horse, a parrot, and cockroach, in works that use humor and fantasy to rewrite history. In 1999, she received an Obie for sustained excellence in performance.
In 2012/13 Tropicana premiered Post Plastica, a theatre piece with video and art installation, that is a collaboration with Ela Troyano commissioned by Performance Space 122 and presented at El Museo del Barrio. Most recently Tropicana also wrote and performed the following pieces: Homage to Jack & Ole at the Andy Warhol Museum (Pittsburgh), Meine Box for the Camp/Anti-Camp performance conference atHebbel Am Ufer Theater (Berlin) and FeMUSEum, at the Trashing Performance Conference, Toynbee Hall (London) and presented a retrospective performance of work at the Michigan State Theatre for the Penny W. Stamps Lecture Series.
Additional highlights of Tropicana's work include: With What Ass Does the Cockroach Sit? a play produced Off-Broadway at INTAR theatre, Milk of Amnesia, her most anthologized solo that has toured since 1994 (an excerpt presented at Hemispheric Institute's Performing the Archive 2013), Chicas 2000 at The Theater Offensive, Single Wet Female, a play in collaboration with performer Marga Gomez, and the film Carmelita Tropicana: Your Kunst is Your Waffen (Art is Your Weapon), co-written and directed by Ela Troyano, which won the "Teddy Bear" award at the Berlin International Film Festival and has shown on PBS stations.
Tropicana's upcoming projects include: Schwanze-Beast, an inter disciplinary collaboration with Ela Troyano and Susanne Sachsse, and Art and Revolution/El Comandante, a solo based on her father a comandante in the Cuban revolution. She is co-editing with Holly Hughes and Jill Dolan Memories of the Revolution, a book on the WOW Café's first ten years.
Tropicana's book, I, Carmelita Tropicana: Performing Between Cultures(Beacon Press) is a compilation of scripts, stories, performance art, through 2000. Her other writings have appeared in numerous publications as well as The Drama Review.
Tropicana was honored at the 30th Anniversary of Performance Space 122 for her artistic contribution and is the recipient of fellowships and awards from Anonymous Was A Woman, the Cintas Foundation, the Cuban Arts Fund, and the New York Foundation for the Arts (for Playwright/Scriptwriting and for Performance Art). Her work has also received funding from the Independent Television Service, the Jerome Foundation, and the Rockefeller Suitcase Fund. Tropicana serves on the Board of Directors at Performance Space 122, and is a member of the New York Theater Workshops Usual Suspects, the Screen Actor's Guild (SAG), and Actors Equity Association. She served as Associate Artistic Director of INTAR from 2006 to 2009.
Peter Cramer & Jack Waters are partners in 33 years of international collectivist culture & practice as artists, activists, administrators, archivists, teachers and mentors. Known for their experimental cross disciplinary multimedia works that encompass experimental, non-narrative, documentary and personal history strategies, Peter and Jack bring broad based knowledge and technical skills to practices of socio-political and cultural engagement responsive to issues of ethnic, sexual /gender identity, AIDS activism and archival histories using the mediums of photography, film/video, installation and performance to engage and develop ideas that seek to value the process of creation as one of the most highly regarded part of the experience rather than the end result as a final "product".
Their various experiences in addition to their own multitude of works include the creation in 1981 of Allied Productions Inc, a non profit arts umbrella, serving as directors of ABC No Rio alternative art collective from 1983-1990, and founding Le Petit Versailles (1996) a community garden based in New York City. Their collaboration with artists include Barbara Hammer (Nitrate Kisses), Geoff Hendricks (Soma), Sur Rodney Sur (Percodan & Wisdom) and Inbred Hybrid Collective. Significant screenings include the Whitney Museum, New Museum, Center for Contemporary Culture Barcelona, FRISE Hamburg, Anthology Film Archives, and MIX NYC among many others. Various films have been preserved with the support of the Estate Project for Artists with AIDS and the National Film Preservation Fund.
Recent publications that include their histories are Alternative Histories: New York Art Spaces, 1960 – 2010 edited by Lauren Rosati and Mary Anne Staniszewski and Gentrification of the Mind: Witness to a Lost Generation by Sarah Schulman. Cramer and Waters are also subjects of an oral history conducted by Art Spaces Archives Project at the Smithsonian Institution/Archives Of American Art.As artists in residence at the Emily Harvey Foundation in Venice, Italy and Harvestworks in New York they are creating a multi-media musical opus in development titled "Pestilence". They are recipients of the 2014 Kathy Acker Award established by filmmaker/photographer Clayton Patterson.Their film works are available thru the Film Makers' Cooperative, Fales Downtown Collection and Allied Productions' archives.
---