Past Event
Code Switching: An Evening of Dance as part of Ephemera As Evidence
Featuring Judith Iocovozzi and Natalie Marrero. Organized by Leah Hafezi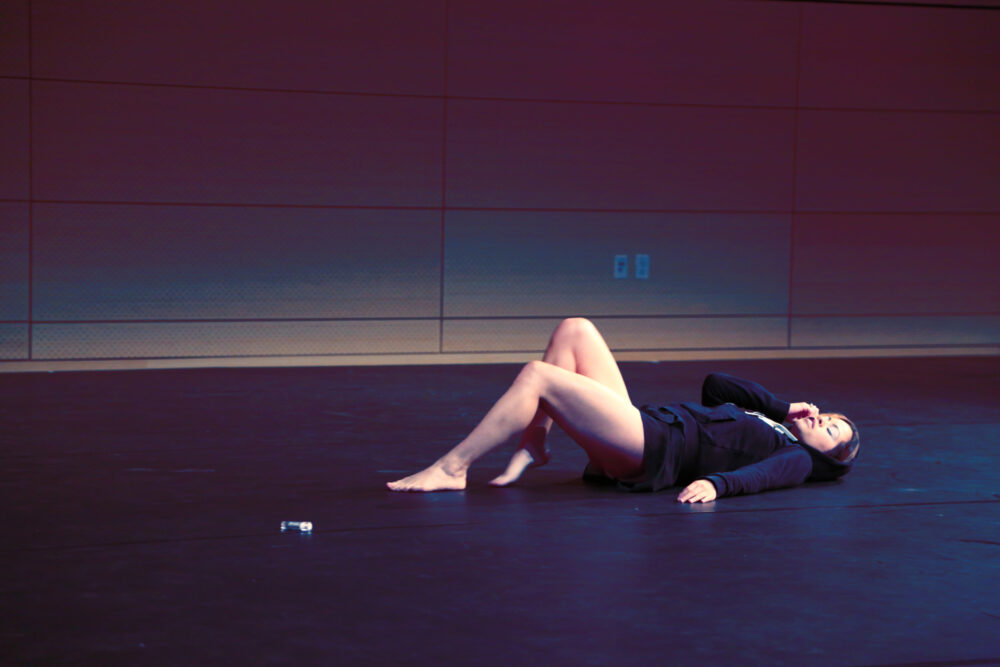 CODE SWITCHING
An Evening of Dance and Discussion
7PM – 9PM, Thursday June 19, 2014
Featuring dance works by Judith Iocovozzi and Natalie Marrero, followed by a discussion with Neil Greenberg (The New School) and Danielle Goldman (The New School)
Organized by Leah Hafezi
Part of Ephemera As Evidence, curated by Joshua Lubin-Levy and Ricardo Montez for Visual AIDS
CODE SWITCHING brought together two works of solo performance that employ disidentification as a mode of self-making. Through the use of plastic objects, sound, and salient pop culture references, alternate worlds emerge as these dances unfold. Utilizing digital media and ephemera to deal with subject and identity formation, these dances engage the performative construction of femme/female-sexed bodies by the spectator. Situated within larger conversations compelled by Ephemera As Evidence, Judith Iocovozzi's and Natalie Marrero's works conjure specters that cast and re-cast shadows of meaning (and un-meaning) onto and around the dancer's laboring body. Within the frameworks of these readings, the dancers mobilized sex and pop to code switch, fucking with the unsuspecting spectator, and creating alternative performative landscapes into which hard femme or alter ego might be read (if, of course, one knows how to read and where to look).
Iocovozzi and Marrero were joined for a post-performance discussion by Neil Greenberg (The New School) and Danielle Goldman (The New School). Together they discussed the salient strategies offered by dance to both articulate and interrogate the ways in which bodies signify, stigmatize and ultimately code our everyday social relations. It was in fact Greenberg's 1994 performance Not-About-AIDS-Dance that first invited a dance audience to wonder: what isn't about AIDS? Today, as the shifting temporality of the virus and the changing demographics of those affected by HIV/AIDS require us to reorient ourselves towards new and evolving understandings of crisis, the question raised by that work, as well as the ongoing performance and research of both Greenberg and Goldman, seems as urgent as ever.
About the performances:
In My Head Right Now
Choreographed and performed by Natalie Marrero
Visual Effects by Jordan Taylor
In My Head Right Now is an exploration of transformation of self through the process of grief and mourning in the social world. This work uses digital media, representational objects and make-up that move toward the performer's ultimate destruction of self in order to recreate the world. In My Head Right Now uses ephemera to challenge the assumptions made in spectatorship and investigate subjectivity and ultimately the manifestation of an altar ego: little QUITY.
How The Whole World Is Conspiring To Shower You With Blessings
Choreographed and performed by Judith Iocovozzi
Sound by James Krivchenia
Costumes by Maisie Schloss
How The Whole World Is Conspiring To Shower You With Blessings is a continued research project exploring femme identities and sexualities in late capitalism. This work is deals specifically with queer images and archetypes, as they relate to femme-ness. How The Whole World Is Conspiring To Shower You With Blessings endeavors to expand on narratives of sex work in the queer community, and unpack how whiteness is enacted in dialogue about sex work and femme identification.
About the discussants:
Neil Greenberg
I've been creating dances since 1979. I'm obsessed with the particular kinds of meaning that dance can provide (sensual, perceptual, ontological), and with how we construct "meanings" from the various data we receive, in dance and in life. The work for which I'm probably most known is Not-About-AIDS-Dance, which employs projected text as a layering strategy to complicate the performance moment, and to open doors for the viewer into the more abstract potencies in the dancing. Through this work, also, I became aware of how the intensely personal can contribute to the political.
My long career in dance includes working as a dancer with the Merce Cunningham Dance Company; as a teacher on the dance faculties of Purchase College, Sarah Lawrence College, and the University of California, Riverside; and as dance curator at The Kitchen, the interdisciplinary performance space in NYC. Together with my ongoing work as a choreographer these experiences all inform my teaching, though which I hope to help students find a broad understanding of what dance might be.
I undertook my own university studies relatively later in my career, at a time when I was questioning the validity of my life as a choreographer, open to the possibility of re-directing my energies. Instead, I found a reinvigorated commitment to the value of art, and to an education in the arts. I believe that an education in the arts—indeed, in dance in particular—is an especially fertile ground for the cultivation of critical thinking that is rooted in concrete practice.
Danielle Goldman
In my research, I analyze the social, cultural, and historical conditions that affect how people move. I'm fascinated by critical theories of the body, and I tend to think about dance as an arena for experimental relations between self and other. These interests are informed by my experience as a dancer – taking class, rehearsing, and performing (most recently for the choreographers DD Dorvillier and Beth Gill). Persistent shuttling between dance practice and academic work – two worlds that I've been trying to bridge for as long as I can remember – has shown me that dance and critical theory inform each other in significant ways, revealing much about embodiment, subjectivity, and notions of identity. I hope to make these relations apparent in my classes.
About the Organizer:
l.n. Hafezi is an undergraduate student at The New School where they are privileged to study with Danielle Goldman, Neil Greenberg, and Ricardo Montez (wherein José Esteban Muñoz's "Ephemera as Evidence" has served as an important guide for their experience with/in the Academy). They have recently performed with Katy Pyle and Miguel Gutierrez. They are a student organizer with The New School Feminist Collective and Students for Justice in Palestine, and in the past with grassroots organization Queerocracy. Some of their writing on dance and performance for the Helix Queer Performance Network can be found at helixqpn.tumblr.com.