Past Event
"Even there, there are stars" exhibition
CUE Arts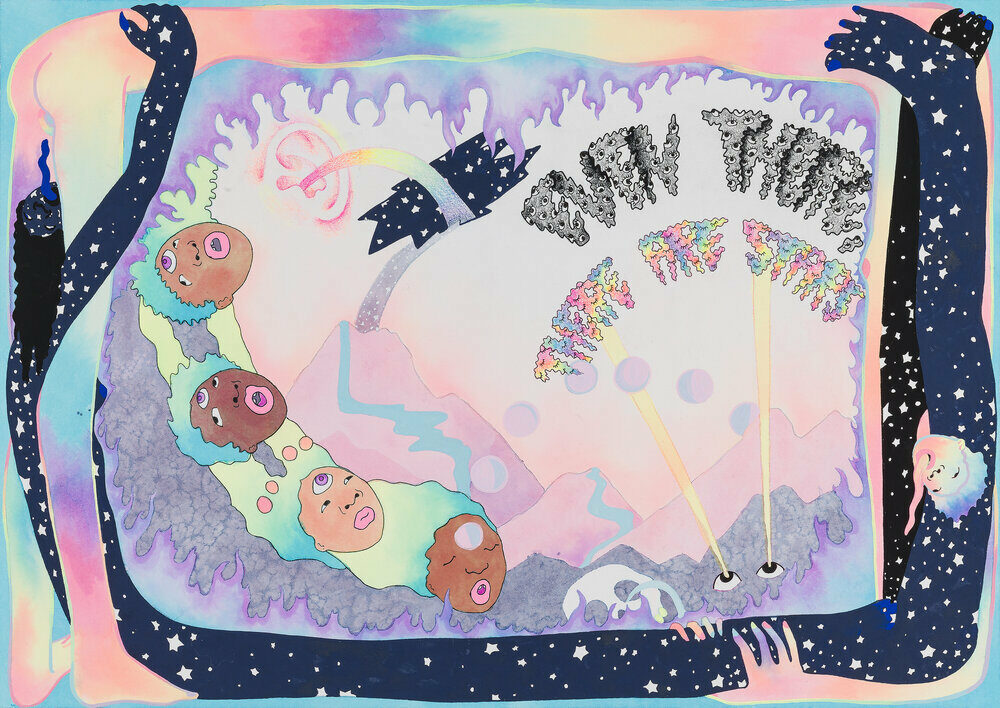 Amaryllis DeJesus Moleski, Even there, there are stars, 2020. Watercolor, gouache, color pencil, and marker on paper, 15 3/8 x 21 5/8 inches.
CUE Art Foundation is pleased to present Even there, there are stars, a group exhibition featuring Chitra Ganesh, Amaryllis DeJesus Moleski, Emily Oliveira, and Tuesday Smillie, organized by Allie/A.L. Rickard. Even there, there are stars celebrates visions and dreams of possible, and more just, futures arising in dialogue with visionary fiction, and explores pathways that might help us get there. These futurities are generated by and sustain queer and trans people, femmes, and people of color: those of us who have learned to live by and through our longings; those of us who were never meant to survive and do, by our collective resilience and our collective dreams.

The work included in this exhibition, and the thoughts in the accompanying publication, take up these tactics to help us be bold, center pleasure, and stay connected and interdependent so as to be able to live guided by our wildest dreams of liberation. The exhibition features more than 25 works ranging from large-scale textiles and works on paper to prints, video, and sculpture. New works include a 25-foot site-specific mural by Emily Oliveira, an archival digital print by Chitra Ganesh, and a newly commissioned illustration by Amaryllis DeJesus Moleski featured in the accompanying exhibition catalogue.

Even there, there are stars follows the work of Walidah Imarisha in Octavia's Brood: Science Fiction Stories from Social Justice Movements (2015) in understanding visionary fiction as that which has "relevance toward building new, freer worlds [rather than] the mainstream strain of science fiction, which often reinforces dominant narratives of power," and that which "encompass[es] all of the fantastic, with the arc always bending toward justice." Sometimes, bringing more just and free worlds into our imaginations is a process of visioning something new, something utterly different than what and where we find ourselves to be now. And, sometimes it's a process of remixing, of starting where we are, even if that is within a narrative that reinforces dominant powers, and fucking that shit up! In any case, it's a creative, radical imaging that is as much about helping us see pathways to our futures as it also helps us reflect on our present realities and multiple pasts. We invite you to get with us and bring your wildest imaginings for the future into dialogue with Amaryllis, Chitra, Emily, and Tuesday.

Curated by: Allie/A.L. Rickard (she/her/hers; they/them/theirs) curates and organizes in the arts. Their recent projects include co-curating Nobody Promised You Tomorrow: Art 50 Years After Stonewall with Margo Cohen Ristorucci, Lindsay C. Harris, Carmen Hermo, and Lauren A. Zelaya; organizing around sexual harassment, wage equity, and labor rights at the Brooklyn Museum; and co-hosting Queer Art Radio on KPISS FM with Zelaya. They have also recently contributed to publications for the 2019 Whitney Biennial; We Wanted a Revolution: Black Radical Women, 1965-85; and Lorraine O'Grady: Both/And. They are currently completing graduate work at the Center for Curatorial Studies, Bard College, where they continue to organize around racial justice, accessibility, and wage equity. Their thesis, Cripping Curatorial Studies, practices accessibility as a constitutive part of, and interference with, curatorial practice and study.