Past Event
Darrel Ellis: A Curatorial Conversation
Carpenter Center for the Visual Arts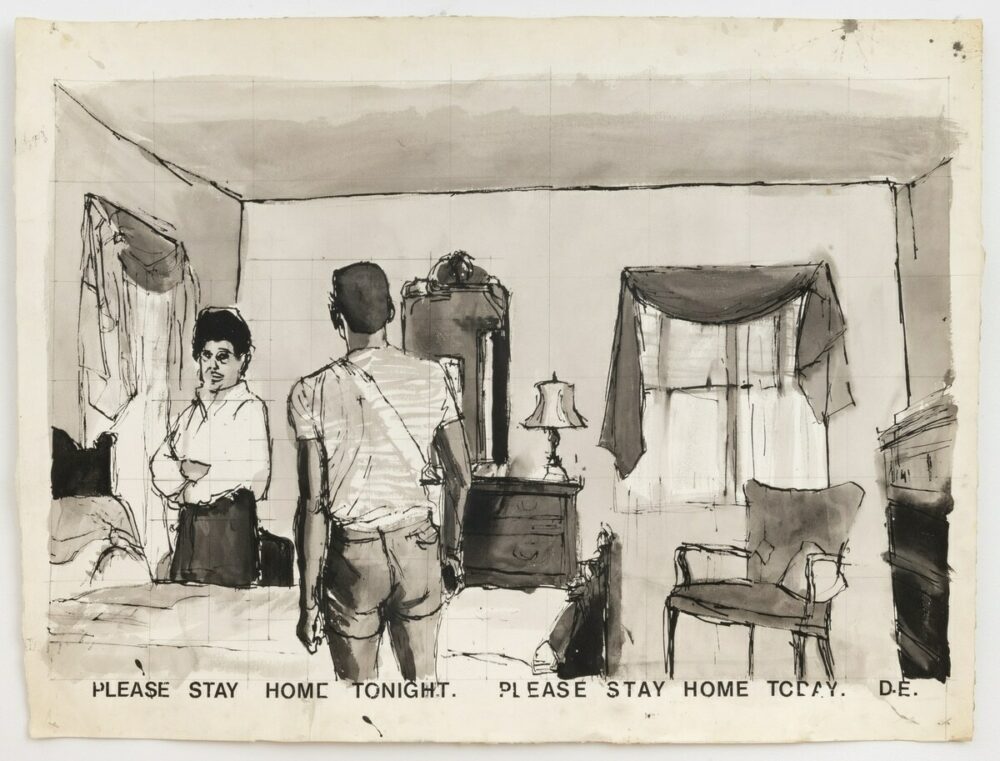 Darrel Ellis, Untitled (Please Stay Home Tonight, Please Stay Home Today), ca. 1981-1985. Graphite, pen, ink, and ink wash on paper. 30 x 50 inches. Courtesy of Candice Madey, New York. Photo: Adam Reich.
The Carpenter Center for the Visual Arts will host a conversation with Antonio Sergio Bessa, Chief Curator Emeritus at the Bronx Museum of the Arts; Leslie Cozzi, Curator of Prints, Drawings and Photographs at the Baltimore Museum of Art; Kyle Croft, Programs Director at Visual AIDS; and Allen Frame, artist, writer, and curator, on the occasion of the Carpenter Center's exhibition, Please Stay Home: Darrel Ellis in Dialogue with Leslie Hewitt and Wardell Milan. The conversation will be moderated by Makeda Best, Richard L. Menschel Curator of Photography at the Harvard Art Museums
Antonio Sergio Bessa is chief curator emeritus at The Bronx Museum, where he has organized numerous exhibitions including Joan Semmel: The Lucid Eye (2013); Paulo Bruscky: Art is our Last Hope (2013); Martin Wong: Human Instamatic (2015, in collaboration with Yasmin Ramirez); Gordon Matta-Clark: Anarchitect (2017, in collaboration with Jessamyn Fiore); and Sanford Biggers: Codeswitch (2020, in collaboration with Andrea Andersson). A concrete poetry scholar, Bessa is the author of Oyvind Fahlstrom: The Art of Writing (Northwestern, Evanston, 2008), and John Ashbery: The Construction of Fiction (Pratt, New York, 2018). He is the editor of Mary Ellen Solt: Toward a Theory of Concrete Poetry (OEI, Stockholm, 2010), and Novas: Selected Writings of Haroldo de Campos (Northwestern, Evanston, 2007, in collaboration with Odile Cisneros).
Dr. Leslie Cozzi, FAAR'18, is the Curator of Prints, Drawings & Photographs at The Baltimore Museum of Art, where she is responsible for the museum's post-1900 collection of works on paper. She was a 2017-2018 Rome Prize Winner at the American Academy in Rome. Between 2013 and 2017, Dr. Cozzi served as the Curatorial Associate at the Grunwald Center for the Graphic Arts at the Hammer Museum. In that capacity, she oversaw research and daily management of various collections the museum oversees, including the Armand Hammer Permanent Collection, the Franklin D. Murphy Sculpture Garden, and the Grunwald's extensive collection of works on paper. Dr. Cozzi received her PH.D. from the University of Virginia in 2012 and her B.A. from Yale University in 2003.
Kyle Croft is the Programs Director of Visual AIDS. He co-edited Visual AIDS' recent monograph on Darrel Ellis and is the curatorial fellow for the Bronx Museum's presentation of Darrel Ellis: Regeneration. He holds an MA in art history from Hunter College and has published writing in Art in America, Bookforum, Sleek Magazine, and Hyperallergic.
Allen Frame is a photographer and writer, based in New York and represented by Gitterman Gallery in New York, which recently presented an exhibition of his black and white work from 1978-1992; this work will be published as a book called Whereupon in 2023. His recent book Fever, previously unpublished color photographs made in New York in 1981, was published by Matte Editions in 2021. Meteoro Editions will also publish a book of his work from Italy, Innamorato, in 2023. Detour, a compilation of his photographs over the 1990's, was published by Kehrer Verlag Heidelberg in 2001. Frame is a winner of the 2017/2018 Rome Prize from the American Academy in Rome and CECArtslink's Back Apartment Residency in St. Petersburg, Russia, from CECArtslink in 2019. In 2021, he was invited to be a Director's Guest at Civitella Ranieri Foundation in Italy. His work was included in the exhibition Clandestine at the Cobra Museum in Amsterdam in 2021. Frame has been the curator of numerous exhibitions, including, most recently, Love and Jump Back, the Photography of Charles Henri Ford, at Mitchell Algus Gallery in New York, and Shohei Miyachi and Context at Matte HQ in Brooklyn. In 1996 he curated the first retrospective of the work of Darrel Ellis at Art in General in New York. He is an Adjunct Professor of Photography at Pratt Institute (MFA) and also teaches at the School of Visual Arts (BFA), the International Center of Photography in New York, and for Strudelmedia. He graduated from Harvard University and grew up in Mississippi.


---
---
Related Artists