Past Event
Did I Ever Have a Chance? exhibition featuring Martin Wong & Joyce McDonald
Gordon Robichaux and Marc Selwyn Fine Art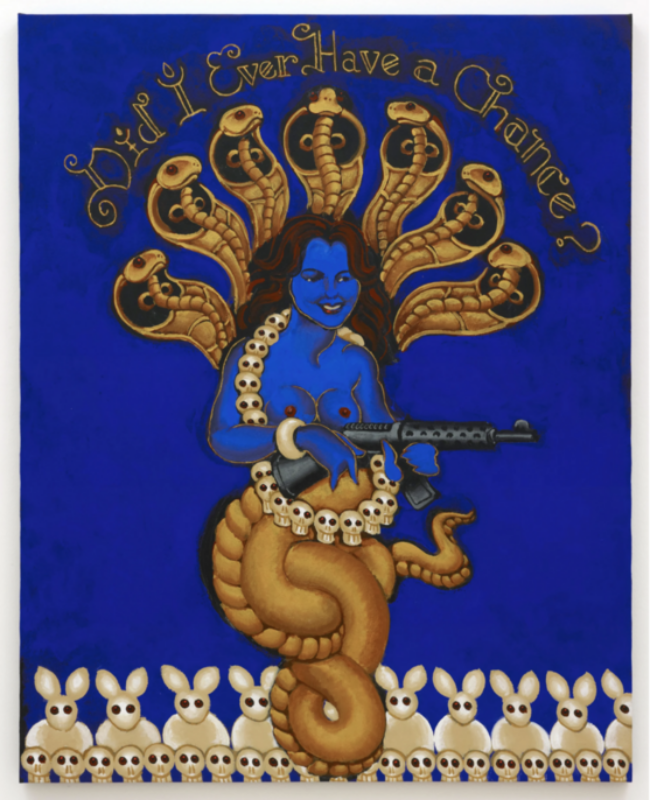 Martin Wong, Did I Ever Have a Chance ?, 1999, Acrylic on canvas, 61 x 48 inches, Courtesy of the Estate of Martin Wong and P.P.O.W. Gallery, New York
Featured artists include Visual AIDS Artist Members Martin Wong, David Wojnarowicz, Reverend Joyce McDonald and other artists, Helène Aylon, Leilah Babirye, Jenny Holzer, Otis Houston, Jr., Corita Kent, Clifford Prince King, Lorraine O'Grady, Martha Rosler, and Hannah Wilke.
Gordon Robichaux and Marc Selwyn Fine Art are pleased to present Did I Ever Have a Chance?, an exhibition organized in collaboration and on view at Marc Selwyn Fine Art from August 15 through September 19, 2020. The exhibition is viewable by appointment and in an online viewing room.

Included are contemporary and historical works by multigenerational artists who confront and challenge entrenched systemic inequities: racism, misogyny, homophobia, poverty, endless war, and ecological injustice. Using varied strategies rooted in the relationship between personal and social experience: activist, didactic, performative, poetic, declarative—all political—these artists agitate for visibility, agency, justice, and empowerment.

The title of the exhibition is taken from Martin Wong's final work, which he created in his hospital bed in the days leading up to his death from complications related to AIDS. In the painting, Wong wrangles with the systems of oppression he faced throughout his life, and responds to his titular question with a transgressive image of Patty Hearst as Kali, the Hindu goddess of death and time, and a fearless fighter and mother-figure of feminine energy, creativity, and fertility. Wong's painting, like the other works in the exhibition, is a rallying cry and affirmation of resilience, defiance, faith, resistance, and liberation.

A percentage of the proceeds from the exhibition will be donated to Fair Fight to combat voter suppression, and to Visual AIDS, which supports HIV+ artists and uses art to fight AIDS by provoking dialogue.

To view the exhibition by appointment and for additional information, please contact andy@marcselwynfineart.com or 310-600-4813.
---