Past Event
Digital Surveillance, Privacy, and Preservation in Community-based Archives
Online Zoom Event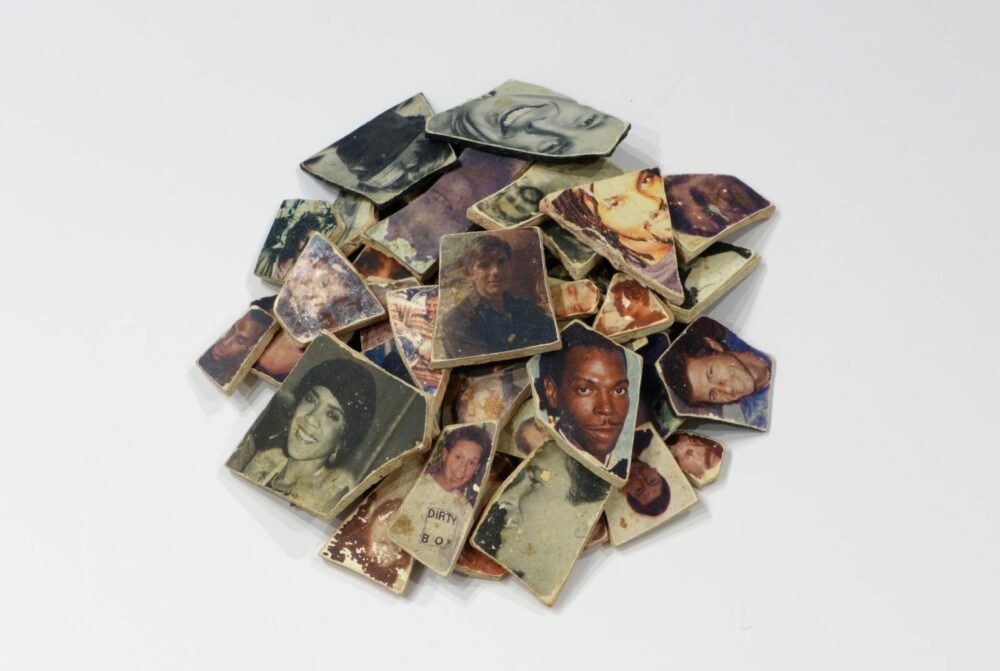 Barton Lidice Beneš (1942-2012), "Shards," 1989 – 2012. Bisque clay and fifty photographs, dimensions variable. Courtesy of the estate of Barton Lidice Beneš and Pavel Zoubok Gallery
A conversation and interactive workshop considering the ethics of digital archiving, with Steven Booth & Stacie Williams, Marika Cifor, Yo-Yo Lin & J. Soto, and Yvette Ramírez, moderated by Tracy Fenix.
In this interactive program, archivists and audience members critically examined how concerns around surveillance and privacy intersect with archival practices, and discussed how living, community-based digital archives can build caring policies that best serve BIPOC and marginalized communities.

The event began with a panel discussion, followed by breakout sessions where attendees were invited to collectively reimagine and rescript digital preservation policies for the Visual AIDS' Artist+ Registry. See below for a recording of the event. Click here to view the presenters' slides.
Update: As we continue to finalize the digital preservation guidelines we encourage both Artist Members and community members to respond to our ongoing digital preservation conversation.

Your feedback better supports us with our community-based collection development process. Head to this questionnaire link to provide additional feedback.

Please check back in early 2021 to access the digital preservation policy for the Visual AIDS Artist+ Registry and Archive Project.


Panelists:
Steven D. Booth & Stacie Williams, co-founders of The Blackivists Collective
Marika Cifor, Assistant Professor, University of Washington
Yvette Ramírez, archivist and MSI student, University of Michigan
Yo-Yo Lin & J. Soto, Project Collaborators, "Towards an NYC Disability Artist Registry"

moderated by Tracy Fenix, Artist Engagement & Archive Associate at Visual AIDS
For more information about the panelists, see the "Biographies" tab above.
Visual AIDS actively works to expand the Archive Project and digital Artist+ Registry, which honors and supports the work and legacy of over 900 artists living with HIV and estates both locally, nationally, and internationally. Through our website, public programs, publications, and other projects, we aim to foreground the voices of artists living with HIV and to activate the legacies of those who have been lost to the epidemic.
Steven D. Booth (he/him) is an archivist with the U.S. National Archives where he manages the audiovisual collection for the Obama Presidential Library. Throughout his career and professional service, he has worked to empower, serve, educate, and advocate for the communities he lives in and are a part of through archival means. Steven holds a B.A. in Music from Morehouse College and an M.S. in archives management from Simmons College. He currently serves on the governing board of the Society of American Archivists.
Dr. Marika Cifor (she/her) is a feminist scholar of archival and digital studies, and Assistant Professor in the Information School at the University of Washington. Her forthcoming book, Viral Cultures, examines the ways that AIDS activists documented their work during the 1980s and 1990s and how those records are used by artists, activists, and archivists in their work now. She is interested in how archives and digital technologies shape identities, lived experiences, and social movements. Cifor is co-editor with Cait McKinney of the First Monday special issue on HIV/AIDS and Digital Media (October 2020).
Tracy Fenix (they/she) is a native queer nonbinary Tejana cultural memory caretaker and public space organizer born and raised in El Paso, Texas and currently based in Brooklyn, NYC. Tracy is currently the Artist Engagement & Archive Associate at Visual AIDS. Tracy supports local, national and international Artist+ Members and estates with their physical archives and digital collections represented in the Artist+ Registry and the Archive Project. In January 2020, Tracy organized Visual AIDS' first community-based Archive Committee to collectively develop and re-envision the strategic planning, BIPOC racial justice frameworks, collections development and digital preservation policies and management of the Archive Project & Registry.
Yo-Yo Lin (she/her) is a Taiwanese-American, interdisciplinary media artist who explores the possibilities of self-knowledge in the context of emerging, embodied technologies. Her current work reveals and re-values the complex realities of living with chronic illness. Through researching and developing methodologies in reclaiming chronic health trauma, she investigates the generative nature of the ill/ disabled bodymind and facilitates sites for community-centered abundance. She was a 2019 'Access' Artist in Residence at Eyebeam and has shown her work at SXSW, NYFF, and the Allied Media Conference.
Yvette Ramírez (she/her) is an arts administrator, oral-historian, and archivist from Queens, NY. She is inspired by the power of community-centered archives to further explore the complexities of information access and memory within Latinx/Andean diasporic communities in the United States. With nearly a decade of experience as a cultural producer, Yvette has worked alongside community-based and cultural organizations such as The Laundromat Project, PEN America, Make The Road New York and New Immigrant Community Empowerment. Currently, she is an MSI candidate in Digital Curation and Archives at the School of Information at The University of Michigan.
J. Soto (he/him) is an arts administrator, artist, and consultant. His work comes from a place of generosity, and he works in a variety of media, most recently through writing about dance. He is invested in the intersectional community histories and present of queer people of color and disabled people and how to create more equitable practices and access to resources in the arts and dance field. He identifies as a non-disabled ally. His work is deeply influenced by experiences as a queer transgender Chicano who grew up in the Bay Area with roots in Southern Arizona and the borderlands. He currently works as the Programs and Inclusion Manager at Eyebeam, and also serves on the Visual AIDS Archive Committee.
Stacie Williams (she/her) is a member of The Blackivists Collective and director of the Center for Digital Scholarship at the University of Chicago Libraries. Through her work, she focuses on ethical labor and cultural production, and long-term sustainability of digital infrastructure. She holds a B.A. in Journalism from the University of Wisconsin at Madison and an M.S. in Library Science with a concentration in Archives and Manuscripts Management from Simmons College. She serves on the advisory board for the international Digital Library Federation and the Library of Congress' National Digital Strategy Roundtable.

---