Past Event
Dismantling HIV Criminalization: A Panel Discussion
La MaMa Galleria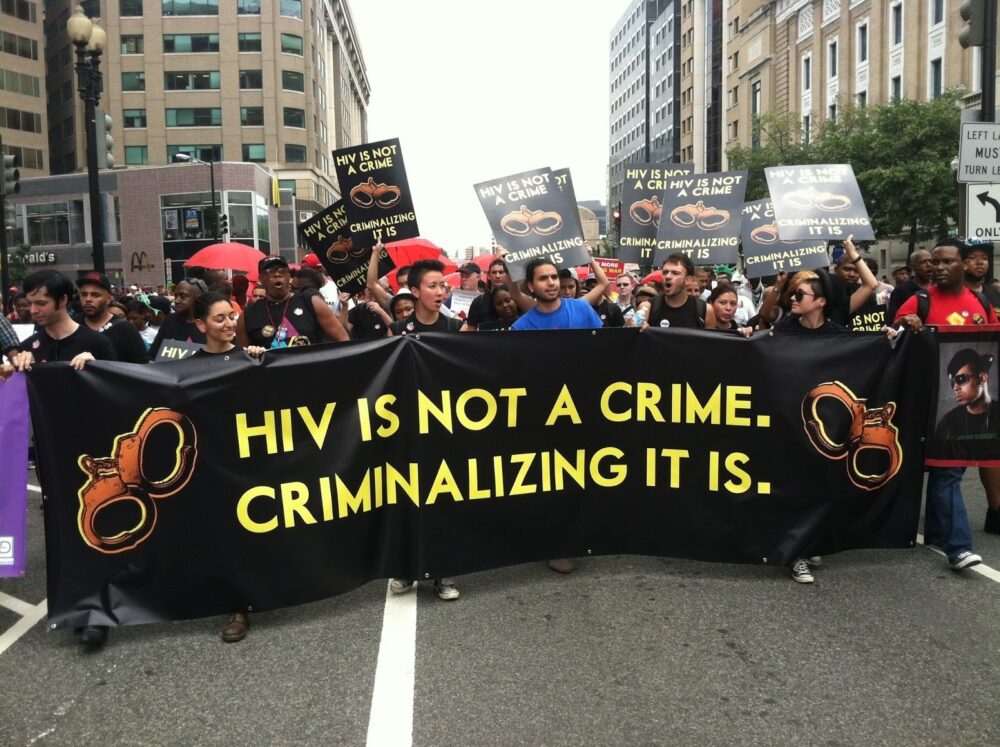 Members of ACT UP New York, GMAD, QUEEROCRACY, and VOCAL-NY participating in the We Can End AIDS Mobilization on July 24, 2012 in Washington, D.C. during the International AIDS Conference. Courtesy of QUEEROCRACY.
Dismantling HIV Criminalization brought together activists and advocates working to end practices that punish and incarcerate people living with HIV, linking Visual AIDS' summer exhibition Cell Count to the ongoing movement against HIV criminalization.
The panel featured a discussion between Kate Boulton of the Center for HIV Law and Policy, Kenyon Farrow of TheBody.com, Abdul-Aliy Muhammad of the Black and Brown Workers Collective, and Robert Suttle of the Sero Project.
Kate, Kenyon and Robert had just returned from the 2018 HIV is Not a Crime Conference in Indianapolis, where activists from around the country gathered to build a national movement against HIV criminalization.
Dismantling HIV Criminalization was dedicated to David Plunkett, a survivor of HIV criminalization who passed away in 2018. After five years in prison, David's successful appeal in 2012 set a legal precedent in New York that the saliva of a person with HIV could not be characterized as a deadly weapon. David contributed an essay to the catalog for Cell Count, reflecting on his experience facing HIV criminalization. The catalog is available for purchase at the Visual AIDS store.

---