Past Event
Dispatches on Temporality: AIDS & COVID-19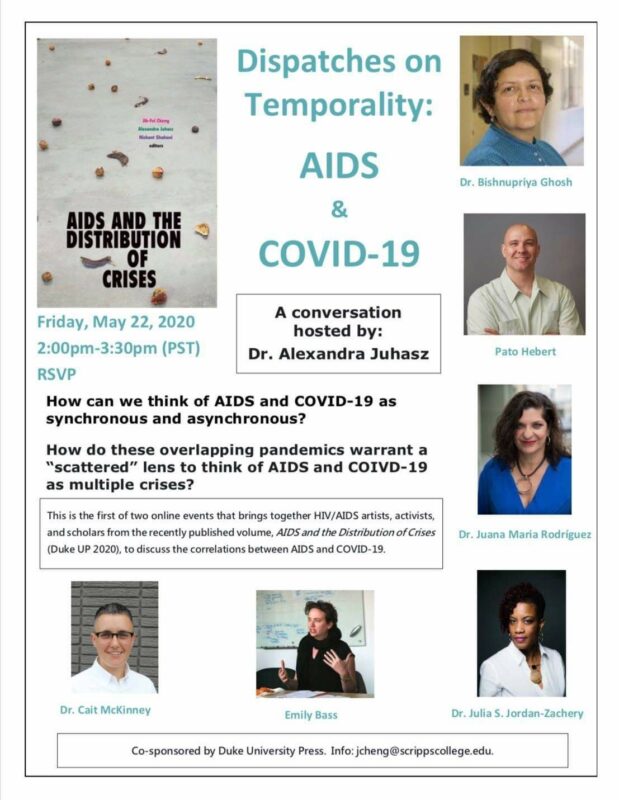 How can we think of AIDS and COVID-19 as synchronous and asynchronous?

How might these overlapping pandemics warrant a "scattered" lens to think of AIDS and COIVD-19 as multiple crises, including issues of housing, water, migration, incarceration, and the racialized and gendered structures of labor?

RSVP to receive the link to the videoconference.
This is the first of two online events that brings together HIV/AIDS artists, activists, and scholars from the recently published volume, AIDS and the Distribution of Crises (Duke UP 2020), co-edited by Jih-Fei Cheng, Alexandra Juhasz, and Nishant Shahanit, to discuss the correlations between AIDS and COVID-19.

Featuring
•Emily Bass, writer, activist, scholar
•Bishnupriya Ghosh, Professor of English, UC Santa Barbara
•Pato Hebert, artist, teacher, activist
•Julia S. Jordan-Zachery, Professor of Public and Community Service and Director of the Black Studies Program, Providence College
•Cait McKinney, Assistant Professor of Communication, Simon Fraser University
•Juana María Rodríguez, Professor of Ethnic Studies, Gender and Women's Studies, and Performance Studies, UC Berkeley

Moderated by Dr. Alexandra Juhasz, Distinguished Professor of Film, Brooklyn College.

Co-sponsored by Duke University Press. Info: jcheng@scrippscollege.edu