Past Event
ERIC RHEIN: LIFELINES: Art, intimacy, and HIV.
The Bureau of General Services— Queer Division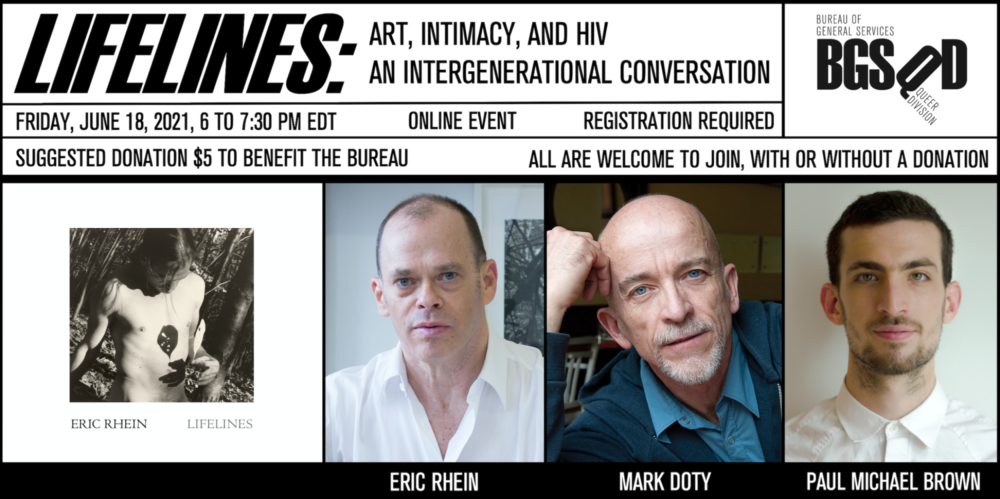 Artist Eric Rhein, poet Mark Doty, and writer and curator Paul Michael Brown discuss the monograph-memoir ERIC RHEIN: LIFELINES
Visual AIDS Artist Member Eric Rhein, will be in conversation with Mark Doty and Paul Michael Brown as they celebrate and reflect upon the themes that run through Eric's first monograph-memoir, ERIC RHEIN: LIFELINES —to which Mark and Paul contributed key essays.
They'll discuss the overlapping contexts in which they came of-age—and how they emerged, matured, and created within an era of crisis.
Eric will show artworks and intimate photographs from LIFELINES; and Mark and John will read from their essays, showing the richness of thought, heart, and history which make the book both an artistic expression and an historic document.
The discussion will be opened to questions from the audience.
"These images affirm the desiring self at a moment when the desire had become dangerous…"
—Mark Doty
Registration on this page is required in order to receive the Zoom link on the day of the event.
Closed-captioning will be available.
Suggested donation to benefit the Bureau: $5.
All are welcome to join, with or without a donation.
You can make a donation when you register on this page.
Purchase ERIC RHEIN: LIFELINES on or before Friday, June 18th, 2021, and receive 25% off: $30 (regularly $40)
Thank you for supporting the Bureau by purchasing books from us!
About the participants:
Eric Rhein has gained international recognition as an artist whose work embodies themes of love, sexuality, and identity as explored through his ever-evolving experience with HIV. In 1996 Rhein began his ongoing project Leaves, a memorial honoring the lives of over 300 individuals he knew who died of complications from AIDS. Rhein's work has been exhibited widely in the United States and abroad. Reviews have appeared in the New York Times, Huffington Post, ARTnews, Vanity Fair, and Art in America. He is included in the Smithsonian Archives of American Art's Visual Arts and the AIDS Epidemic: An Oral History Project. Rhein currently lives in the Chelsea neighborhood of New York City.
Mark Doty won the National Book Award for Poetry in 2008 for FIRE TO FIRE: New and Selected Poems. He's published ten books of poetry and five of nonfiction prose, most recently WHAT IS THE GRASS: Walt Whitman in My Life, which NPR called "a celebration of gay masculinity, queerness, and the power and elasticity of poetry." His book STILL LIFE WITH OYSTERS AND LEMON appears on arts curricula around the country, and he can currently be heard on audio guides at the Met. He teaches at Rutgers and lives in New York City.
Paul Michael Brown is a writer and curator based in Lexington, Kentucky. He is the former direc-tor of Institute 193 and was the recipient of the 2020 Arts Writer's Grant. His research and writ-ing has included a focus on queer and self-taught practitioners from the American South. Brown curated the 2019 exhibition ERIC RHEIN: LIFELINES at Institute 193 and 21c Lexington, which served as the inspiration for this book.
---