Past Event
Forces of Nature: The Art and Activism of Frank Moore
A PANEL DISCUSSION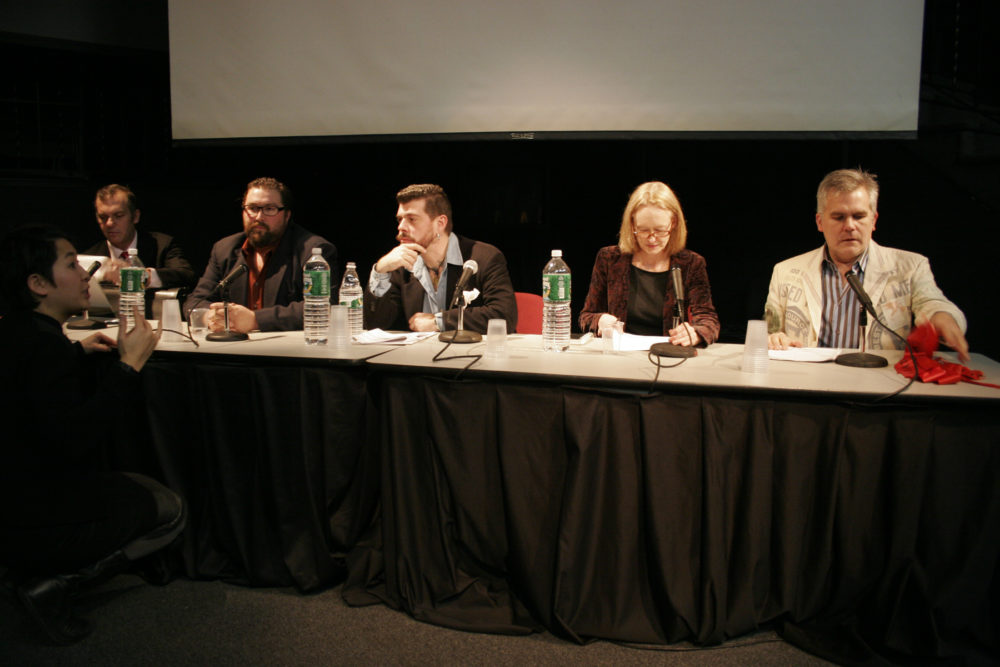 Forces of Nature: The Art and Activism of Frank Moore," a special panel discussion focusing on the legacy of the late artist and advocate who died of AIDS at age 48 in 2002.
The event included a presentation on Moore's works by Nick Debs, followed by a discussion moderated bv Amy Sadao, director of Visual AIDS, along with Michael Combs, Marc Happel, Mary Jo Vath, a painter and SVA faculty member, and Tom Woodruff.
Panelists:
Michael Combs, a sculptor who worked as Frank Moore's studio assistant.
Nick Debs, Director Emeritus of Visual AIDS and principal of Debs & Co.
Marc Happel, a designer who has created costumes for Kiki & Herb, among other theater and performance artists.
Mary Jo Vath, a painter and faculty member in the BFA Illustration and Cartooning Department at SVA.
Thomas Woodruff, a painter and illustrator, and Chair of SVA's BFA Illustration and Cartooning Department.
Founded in 1988 by arts professionals as a response to the effects of AIDS on the arts community and as a way of organizing artists, arts institutions and arts audiences towards direct action, Visual AIDS has evolved into an arts organization with a two-pronged mission. 1) Through the Frank Moore Archive Project, the largest slide library of work by artists living with HIV and the estates of artists who have died of AIDS, Visual AIDS historicizes the contributions of visual artists with HIV while supporting their ability to continue making art and furthering their professional careers. 2) In collaboration with museums, galleries, artists, schools and AIDS service organizations, Visual AIDS produces exhibitions, publications and events utilizing visual art to spread the message "AIDS IS NOT OVER."
The Gesso Foundation was established by the estate of acclaimed artist Frank Moore, who died in 2002. Moore's work dealt with AIDS and the environment and the connection between them. He was an AIDS activist and a founding member of Visual AIDS, and was instrumental in the creation of the Red Ribbon. Frank Moore wished the proceeds from his estate and the future sales of his work to be directed toward helping artists and organizations dealing with the continuing AIDS crisis, the environment and social justice issues. Visual AIDS is a Gesso Foundation grant recipient.