Past Event
Forget Burial Book Launch
Bureau Of General Services—Queer Division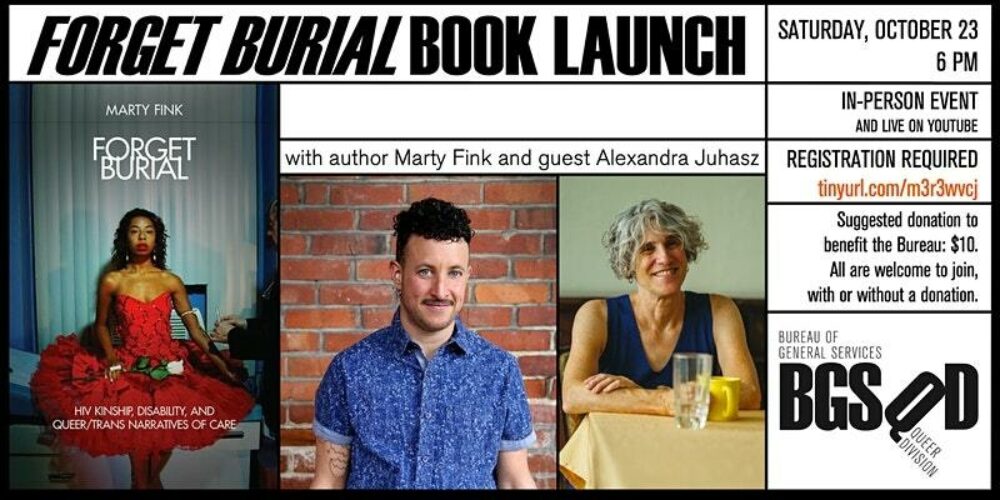 Join Marty Fink and Alex Juhasz for an intergenerational conversation about the ongoing legacy of HIV caregiving to celebrate the launch of Forget Burial: HIV Kinship, Disability, and Queer/Trans Narratives of Care.
Queer and trans people in the 1980s and early '90s were dying of AIDS and the government failed to care. Lovers, strangers, artists, and community activists came together to take care of each other in the face of state violence. This book uncovers how early HIV care-giving narratives actually shape how we continue to understand our genders and our disabilities today.
Safety protocol:
In an effort to prevent the spread of COVID-19, we are limiting the number of attendees to 20. Registration on this page is required in order to attend.
If you have any symptoms associated with COVID-19 in the days leading up to the event, we ask you to please cancel your reservation so that others can attend. If all 20 reservations have been claimed and you would like to be placed on a wait list, please write to us at contact@bgsqd.com.
Please note that masks are required at all times inside The LGBT Community Center, where the Bureau is located.
If you're unable to join in person, please join us online as we livestream this event on the Bureau's YouTube channel.
Suggested donation of $10 to benefit the Bureau's work. We will pass a bag at the start of the event. But you are more than welcome to make a donation here when you register. Thank you for supporting the Bureau's work!
All are welcome to join, with or without a donation.
Marty Fink is an Associate Professor of Professional Communication at X University. They are the author of Forget Burial: HIV Kinships, Disability, and Queer/Trans Narratives of Care (Lambda finalist in LGBTQ non-fiction, 2020) which investigates HIV activism past and present through the lens of caregiving. Fink's work has appeared in journals including Television and New Media Studies, The Journal of Medical Humanities, Transgender Quarterly, and Jump Cut. Fink's work draws on homo archives and trans literature toward prison abolition and defunding the police.

Dr. Alexandra Juhasz is Distinguished Professor of Film at Brooklyn College, CUNY. She makes and studies committed media practices that contribute to political change and individual and community growth. Author and/or editor since 1995 of scholarly books on activist media in light of AIDS (AIDS TV, 1995 and AIDS and the Distribution of Crises, 2020, Duke), black lesbian and queer representation (Sisters in the Life, Duke, 2018), feminism (Women of Vision, UMN, 2001), and digital culture (Learning from YouTube, MIT, 2011, Really Fake, with Nishant Shah, 2021, U MN Press), Dr. Juhasz also makes videotapes on feminist issues from AIDS to teen pregnancy as well as producing the feature fakes The Watermelon Woman (Cheryl Dunye, 1997) and The Owls (Dunye, 2010). Her current work is on and about fake news and radical digital media literacy (fakenews-poetry.org).