Past Event
Frederick Weston: Blue Bedroom Blues
The Gallery at Ace Hotel, NYC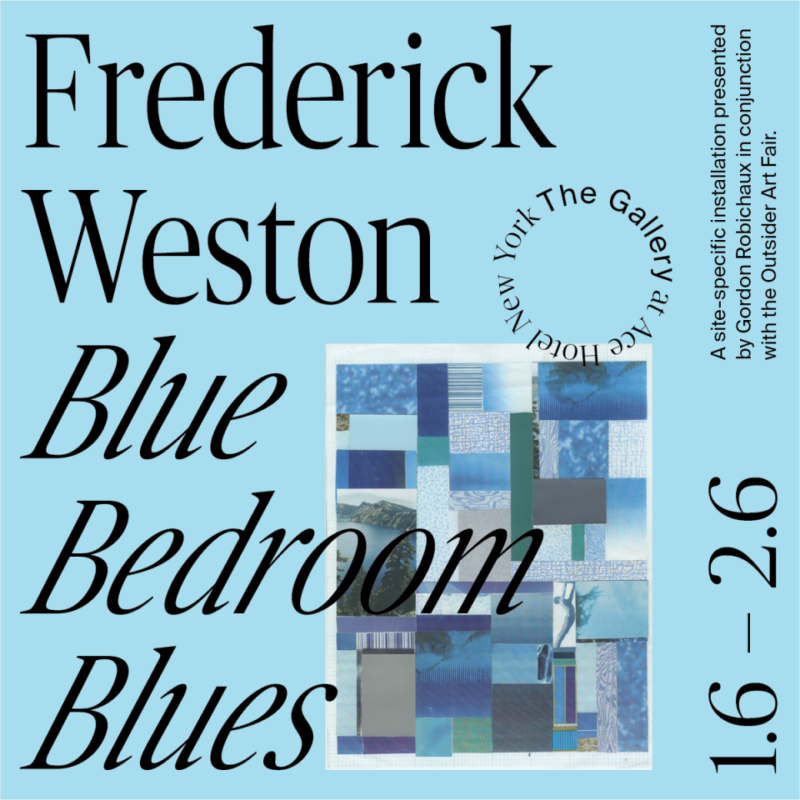 Frederick Weston, Blue Bathroom Blues #13, 1999, Collage on color photocopy, 8.5 x 11 in; courtesy Gordon Robichaux, NY.
A site-specific installation by Visual AIDS Artist Member and poet Frederick Weston titled Frederick Weston: Blue Bedroom Blues will be on view at Ace Hotel New York from January 15 through February 5, 2020. The exhibition is presented in conjunction with the Outsider Art Fair and is curated by Gordon Robichaux, NY.
For Weston's immersive installation, the walls of the gallery are painted entirely in the artist's signature blue, within which he has installed a series of his intimate paper collages from 1999 and a large multi-panel artwork created specifically for the exhibition. In the center of the gallery, Weston transforms a bench with a fabric cover that suggests a bed. Weston previously lived in the Breslin, which is now the site of Ace Hotel New York. Weston's Blue Bedroom Blues brings his life and work full circle. The Blue Bedroom Ballads/Blue Bathroom Blues series is inspired by Weston's experience living with HIV. This exhibition coincides with another that includes Weston's work, titled Souls Grown Diaspora at apexart in New York, opening January 10, curated by Sam Gordon.
Gordon Robichaux is a gallery and curatorial agency founded by Sam Gordon and Jacob Robichaux in 2017.
---