Past Event
HIV/AIDS: Activism & Posters
Online Event with Poster House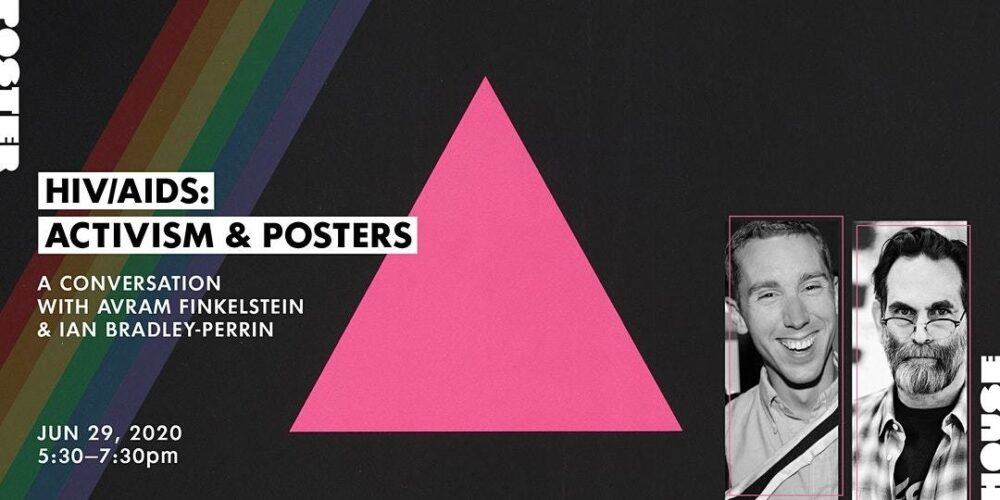 No other crisis in modern American history has had the same visual impact as that of the HIV/AIDS epidemic and the myriad posters that were created in its wake. Raw, brutal, harrowing, and direct, these images were a call to action to a society that was ignoring the deaths of countless queer people.
As part of their ongoing Pride Month programming, Poster House is proud to offer a talk between Avram Finkelstein, one of the creators of the iconic Silence=Death poster, and the AIDS historian Ian Bradley-Perrin.
Following a brief historical introduction to the role of posters in HIV/AIDS activism, Avram and Ian will discuss the significance of iconic HIV/AIDS posters, the evolving place of HIV/AIDS iconography in American History, and the place of the HIV/AIDS image canon in our contemporary experience with COVID-19.
Ian Bradley-Perrin is an historian of AIDS, a community activist, and is currently completing his PhD in Sociomedical Sciences at Columbia University. He is former co-ordinator of the Concordia University Lecture Series on HIV/AIDS in Montreal, co-creator of the AIDS Action Now! PosterVIRUS work, "Your Nostalgia is Killing Me!," POZ100 honoree, former Pedro Zamora Public Policy Fellow at AIDS United, as well as a Social Science Research Council of Canada Fellow. He is a contributor and section editor for the forthcoming book, Up Against the Wall: Art Activism and the AIDS Poster accompanying an exhibition of the University of Rochester's collection of more than 8,000 AIDS education posters from around the world. As co-founder of SeroSyndicat and projects like PosterVIRUS, he has worked to translate debates and discussions within the HIV community to images, video, music, and performance to evolve and transform discourse itself.
Avram Finkelstein is an artist, writer, and activist, and a founding member of the Silence=Death and Gran Fury collectives. His work has shown at MoMA, the Whitney Museum, the Hirschhorn, the Shed, and the Metropolitan Museum, and is in the permanent collections of MoMA, the Whitney, the New Museum, the Metropolitan, the Victoria and Albert Museum, and the Brooklyn Museum. He is featured in the artist oral history project at the Smithsonian's Archives of American Art, and his book for UC Press, After Silence: A History of AIDS Through its Images, was nominated for an International Center Of Photography Infinity Award in Critical Writing And Research, and is now available in paperback. He has written for Frieze, Art21, and OnCurating, been interviewed by The New York Times, Artforum, NPR, Slate, and Interview, and spoken at Harvard, Yale, Princeton, Columbia, and NYU.