Past Event
Hunter Reynolds: Fire Island Artist Residency Lecture Series
Part of the 2013 VISITING ARTIST LECTURE SERIES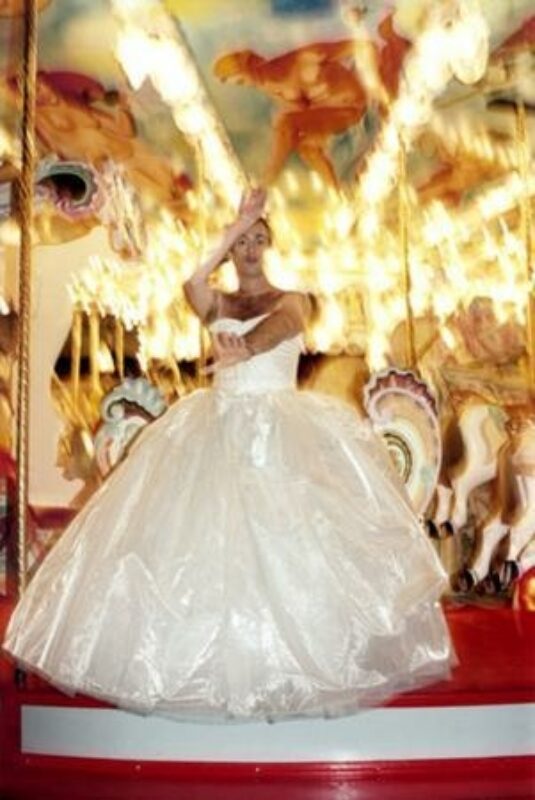 "Carousel" I-Dea the Goddess Within 1994, Hunter Reynolds, Digital c-print mounted on centra 60 x 40 inches, photographed by Maxine Henryson.
Hunter Reynolds
2013 VISITING ARTIST LECTURE SERIES
Fire Island Artist Residency
Wednesday August 7, 2013
7-9pm
Cherry Grove Community House
Visual AIDS is proud to have worked with the Fire Island Artists Residency, and Arts Project of Cherry Grove to present a lecture from esteemed artist Hunter Reynolds.
Using several mediums, including performance, photography, installation and collage, Hunter Reynolds has been making work for over 30 years. He is a Visual AIDS artist member, a founding member of Art Positive and an early member of ACT UP. Recently collateral work related to Patina du Prey's Memorial Dress—a long term performance by Reynolds—was part of NOT OVER at La MaMa Gallerie. Reynolds is represented by P.P.O.W in New York.
Fire Island Artist Residency (FIAR) is an organization founded in 2011 which brings lesbian, gay, bisexual, transgendered, and queer identifying emerging artists to Fire Island, a place long-steeped in LGBTQ history, to create, commune, and contribute to the location's rich artistic history.
FIAR provides free live/work space to five selected artist residents who work, research, relax, and immerse themselves in the Fire Island community, during which time they are visited by a handful of renowned visiting artists, curators, and art professionals who commune with residents through intimate visits, dinners, and discussions, providing support and feedback.
As part of the experience, FIAR invites leading figures in contemporary art to share their experiences with the community through public lectures and discussions at the Cherry Grove Community House through a special partnership with the Arts Project of Cherry Grove. FIAR brings together new creative perspectives and prestigious art professionals in an extraordinary location to foster the creation — and preservation — of LGBTQ art-making in contemporary art.
---