Past Event
Jimmy DeSana The Dungeon Series, 1978-79
PPOW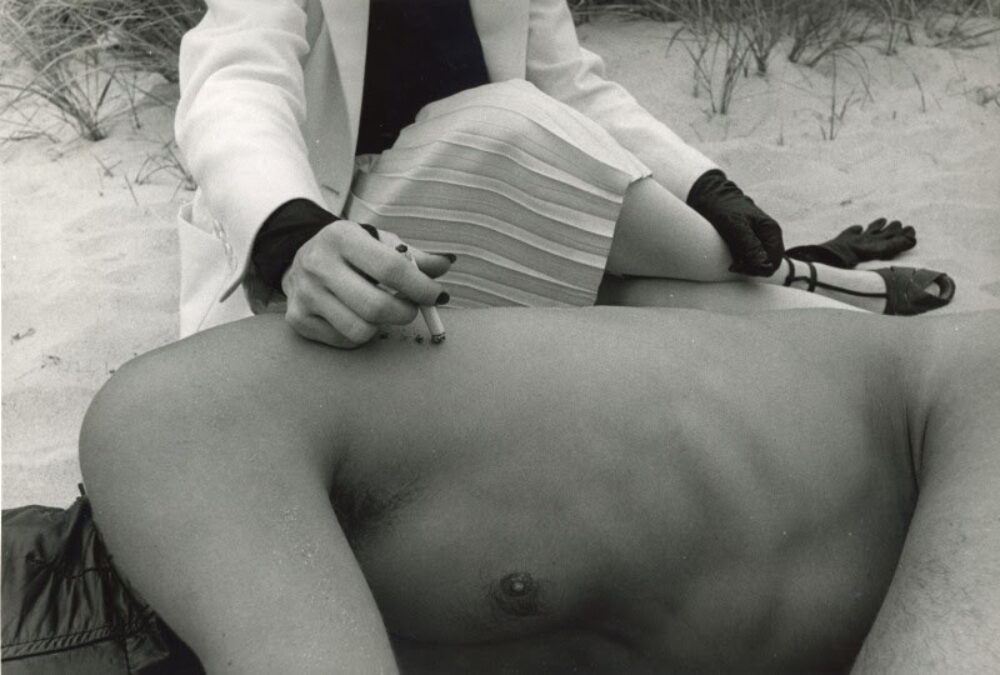 Jimmy DeSana, "Untitled, from 'The Dungeon' series", 1978-79, Estate stamped verso, Gelatin silver print with Terence Sellers, Image: 6 5/8 x 9 5/8 ins. (16.8 x 24.4 cm), Sheet: 8 x 9 7/8 ins. (20.3 x 25.1 cm)
P·P·O·W is pleased to present Jimmy DeSana: The Dungeon Series, 1978-79, an exhibition showcasing one of the artist's earliest bodies of work, conceived and executed in close collaboration with the author and dominatrix Terence Sellers. This show marks the gallery's first exhibition of DeSana's photography since taking on representation of the artist's estate in 2022, and coincides with Jimmy DeSana: Submission, the first major institutional retrospective of DeSana's work, currently on view at the Brooklyn Museum.
After his move to New York City in 1973, DeSana quickly fell in with several burgeoning downtown social circles, most notably the mail art network championed by Ray Johnson, and the then-nascent punk and New Wave music scenes. It was through these connections that DeSana not only found odd jobs as an editor and photographer, but also formed a close friendship with Sellers, who was dating DeSana's friend Duncan Hannah during this time. Working out of her "Dungeon," a condominium on East 51st Street in Manhattan, Sellers would invite DeSana to photograph her clients, allowing the subject matter of each shoot to be determined by the sitter's often-sadomasochistic wants and fetishes.
While DeSana and Sellers worked collaboratively—Desana controlling the lighting and angle; Sellers overseeing the styling of herself and her client—their aims differed. For DeSana, these shoots used tropes of Americana to continue a formal and conceptual inquiry into the idiosyncrasies of queer subcultures that the artist began investigating with his 1972 portfolio 101 Nudes. For Sellers, DeSana's images were meant to be visual accompaniments to chapters of her then-in-progress manuscript The Correct Sadist: The Memoirs of Angel Stern, a quasi-manual for sadomasochistic practices. Even though DeSana's photographs were ultimately not used in this context, the body of work that emerged from these Dungeon sessions is radical, portraying a relationship between pleasure and pain that celebrates an aestheticized view of the human body and sexual practices free of reproductive and economic considerations.
DeSana's The Dungeon Series also illustrates a number of compositional motifs that the artist would use throughout his career, from the early 101 Nudes portfolio to his most famous body of work Suburban (1979-85). A single light source, contorted faceless subjects, and the transposition of prosaic household items into fetish are all staples of DeSana's photographic practice. Now givens within the zeitgeist of commercial fashion photography—in which a flash bulb and modicum of sexual aberrance set off scenes of luxury retail—DeSana employed these devices to showcase the power dynamics at play within sex acts of all stripes, giving creative voice to both the dominant and the submissive.
DeSana (1949-1990) grew up in Atlanta, GA, and received his bachelor's degree from the Georgia State University in 1972 before relocating to New York's East Village in the early 1970s. Recent solo and two-person exhibitions include The Sodomite Invasion: Experimentation, Politics and Sexuality in the work of Jimmy DeSana and Marlon T. Riggs, Griffin Art Projects, Vancouver, Canada, 2020; and Remainders, Pioneer Works, Brooklyn, NY, 2016. DeSana's work can be found in numerous public collections including the Institute of Contemporary Art, Boston, MA; Metropolitan Museum of Art, New York, NY; Museum of Contemporary Art, Chicago, IL; Museum of Fine Arts, Houston, TX; Museum of Modern Art, New York, NY; and the Whitney Museum of American Art, New York, NY. The Jimmy DeSana Trust is executed by Laurie Simmons, and a retrospective of DeSana's work is now on view at the Brooklyn Museum, New York, through April 16, 2023, accompanied by a catalogue co-published by the Brooklyn Museum and DelMonico Books.

---