Past Event
Justin Allen and Pamela Sneed in Conversation
Leslie-Lohman Museum of Art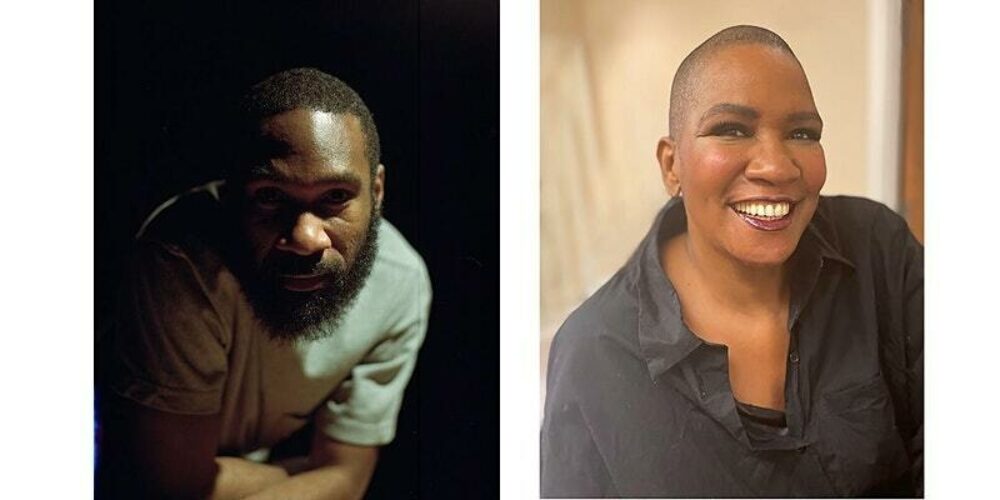 left: Justin Allen, photo courtesy the artist right: Pamela Sneed, photo courtesy the artist
Join The Leslie-Lohman Museum of Art Friday, Oct 1st for a conversation between artists Justin Allen and Pamela Sneed.
About this event
OMNISCIENT: Queer Documentation in an Image Culture, curated by Avram Finkelstein is accompanied by a series of one-on-one conversations between artists in the exhibition. Each artist pair will discuss their works on view and the intersections of their practices.
Justin Allen makes performances and writes poems and essays to understand our relationships to time, social environments, and geography. He has shared his work at The Poetry Project, Brooklyn Museum, BAAD! Bronx Academy of Arts and Dance, and ISSUE Project Room, among other venues. He has received support from Franklin Furnace, Foundation for Contemporary Arts, and the Jerome Foundation.
Pamela Sneed is a New York-based poet, writer, performer and visual artist, author of Imagine Being More Afraid of Freedom than Slavery, KONG and Other Works, Sweet Dreams and two chaplets, Gift by Belladonna and Black Panther. In 2021, She published a chapbook If The Capitol Rioters Had Been Black with F magazine and Motherbox Gallery. She has been featured in the New York Times Magazine, The New Yorker, Hyperallergic and on the cover of New York Magazine. She is online faculty in SAIC's low res MFA teaching Human Rights and Writing Art and has also been a Visiting Artist at SAIC in the program for 5 consecutive years. In 2020,she was the Commencement Speaker for the low-res MFA program at SAIC. She also teaches new genres in Columbia Universities' School of the Arts. She has performed at the Whitney Museum, Brooklyn Museum, Poetry Project, MCA, The High Line, New Museum, MOMA, Broad Museum and the Toronto Biennale. She delivered the closing keynote for Artist, Designers, Citizens Conference/a North American component of the Venice Biennale at SAIC. She appears in Nikki Giovanni's "The 100 Best African American Poems." In 2018, she was nominated for two Push Cart Prizes in poetry. She is widely published in journals such as The Brooklyn Rail, Art Forum Magazine, The Paris Review., and Frieze Magazine. She recently published an article for Harpers Bazaar U.S. and has upcoming work in The New York Times. She is the author of a poetry and prose manuscript Funeral Diva published by City Lights in Oct 2020 featured in the New York Times and Publishers Weekly. Funeral Diva won the 2021 Lambda Lesbian Poetry Award. Additionally in 2021, She was a finalist for New York Theater Workshops Golden Harris Award and received a monetary award. In 2021, she was a panelist for The David Zwirner Gallery's More Life exhibit, and has spoken at Bard Center for Humanities, The Ford Foundation, The Gordon Parks Foundation, Columbia University, The New School and NYU's Center For Humanities. She currently has work on view at Leslie Lohman.
Proof of vaccination is required and masks must be worn at all times.
Space is limited, so please arrive promptly to secure your spot.
OMNISCIENT presents a group of more than forty artists navigating these rapidly evolving visual languages through various strategies. They excavate and reclaim archives of Hollywood and popular culture; propose forms of queer monumentality and intergenerational memorialization; imagine alternatives to capitalist logics; and even sidestep representation in favor of sensory citations of the body, including sound and touch. These artists' works mark the legacy of twentieth-century visual histories while negotiating the accelerating image cultures of the present—mapping queer cultural identity with a particular affection, skepticism, and prescience arrived at from the social margins.