Past Event
Larry Stanton: It Doesn't Thunder Every Day
Daniel Cooney Fine Art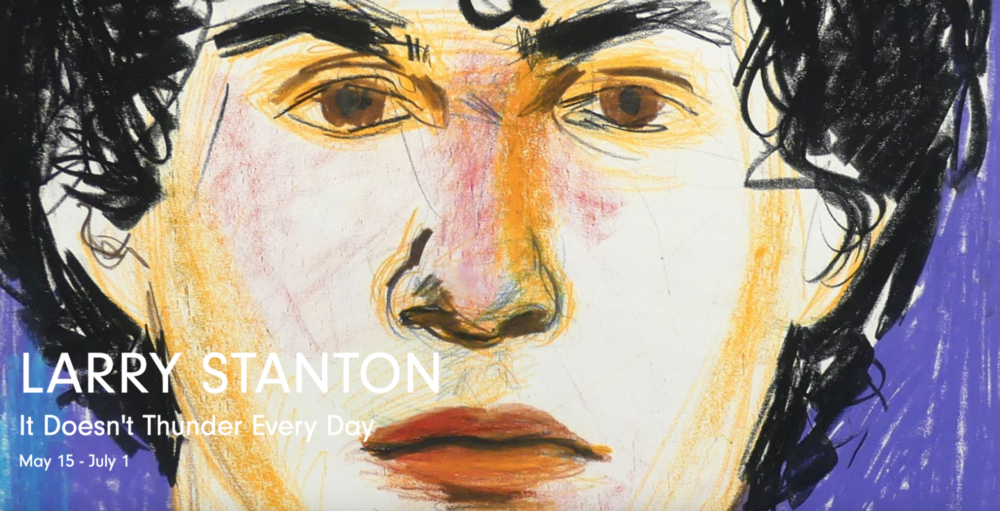 "Larry Stanton was a portraitist. Skill in portraiture is an instinct, it cannot be taught…. Place didn't seem to matter to Larry and so most of the time he stayed put, following Rembrandt's advice to his students: 'Do not travel…not even to Italy.' So Larry stayed in New York." ~David Hockney
Daniel Cooney Fine Art is pleased to announce a solo exhibition by Larry Stanton titled It Doesn't Thunder Every Day from May 15–July 1, 2021. Featuring never before exhibited drawings made by the artist during his brief but significant career, It Doesn't Thunder Every Day features about 20 works on paper in colored pencil and pastel that capture the face of a lost generation just as the AIDS epidemic was in it's early stages.
Raised on a farm in New York's Catskill Mountains before relocating to Manhattan, Larry Stanton (1947-1984) was encouraged to pursue his love of art from a young age. He studied at The Cooper Union on scholarship before dropping out after one semester to work at the mailroom of an advertising agency. Soon thereafter he quit, took a job at an ice cream parlor popular on the gay scene, came out, and quickly became the toast of New York, his beauty the stuff of legend.
In 1967, Stanton met Arthur Lambert, who was to become his partner and mentor, and enrolled in the Art Center College of Design in Pasadena, CA, where he met lifelong friends David Hockney and Alice Sulit. While visiting Hockney in London during fall 1968, Stanton was introduced to Henry Geldzahler, then Curator of Contemporary Art at the Metropolitan Museum of Art in New York. They forged a friendship that continued throughout Stanton's life, with Geldzahler introducing him to leading artists including Ellsworth Kelly and Barnett Newman.
Upon his return to New York, Stanton received a scholarship to the New School, where he studied in drawing and printmaking. In January 1970, he had his first exhibition of drawings at Gotham Gallery. The following year he secured a studio in a basement space in the Village, where he could paint.
In 1976, Stanton's mother was diagnosed with cancer; two years later she died. Her suffering caused him anguish, and he felt he didn't live up to her expectation for him. The stress, combined with his excessive alcohol use, resulted in a psychotic episode that required hospitalization in November 1978. He quit drinking, fought to recover, and emerged with determination to realize his full potential as an artist.
In the following years, Stanton would create a series of portraits in charcoal, oil crayon, pencil, and pen, as well as paint, drawing friends, familial relations, and people he met while wandering the streets of New York. "It seemed as if he would draw anyone who would sit still long enough to be drawn, and when there was no one else around, he drew himself," Lambert wrote in an essay published in Larry Stanton Painting and Drawing (Twelvetrees Press, 1986).
David Hockney wrote in the same monograph, "The portraitist is an observer of people, his attitudes and feelings will be reflected in his observations and usually the interest in personality makes one study faces, other aspects of personality show in the body; posture, ways of moving, etc., but most is revealed in the face. People make their own faces and Larry knew this instinctively."
Stanton moved to a new studio, which became a hub for young writers, poets and artists who sought his company. "Once [Stanton] hit Manhattan at age eighteen, there was no looking back. It was in the urban setting that he found his subject matter, the heads and torsos of young men, often large-featured and always seated in an attitude of repose that emanated an attractive energy," Geldzahler wrote in Larry Stanton Painting and Drawing. "He had found a way of combining his subject matter with a new formal strength and psychological energy. The result, his monumental portraits of friends and artists, give strong testimony to his love of life and his skills as an artist."
Stanton's reputation grew among the downtown scene, attracting prominent art dealer Holly Solomon, who commissioned two portraits in 1983. She then organized an exhibition in her gallery. In April 1984, Stanton's work was included in a major group exhibition at PS 1 in Queens, which introduced his work to a wider audience. Stanton's reputation and profile grew, just as he began to experience symptoms related to HIV — although there was no test available at the time to confirm a diagnosis, nor medication to treat it.
Soon thereafter, Stanton was hospitalized for pneumonia. He spent the first ten days drawing with whatever strength he had. "One of the first proclaimed his hope in giant, bright capital letters set against the sky: 'I'm going to make it,'" Lambert wrote. But Stanton's willpower, which helped him battle alcoholism, was not enough to fight the disease. As his condition deteriorated, he drew pictures expressing anger, fear, pain, and hope. Four weeks after entering the hospital, he died at 37.
Like Stanton, his subjects were among the earliest victims of the AIDS pandemic. His intimate portraits of young men in their prime are laced with a solemnity that underscores the fact that many knew they were living on borrowed time. One subject realized he was infected the day before sitting for a portrait, the weight heavy upon his soul. In many of his subjects eyes lies a horrifying truth: the knowledge that they and many of their loved ones were not long for this world.
Please contact the gallery for more information at 212 255 8258 or dan@danielcooneyfineart.com
---