Past Event
Life Between Buildings
MoMA PS1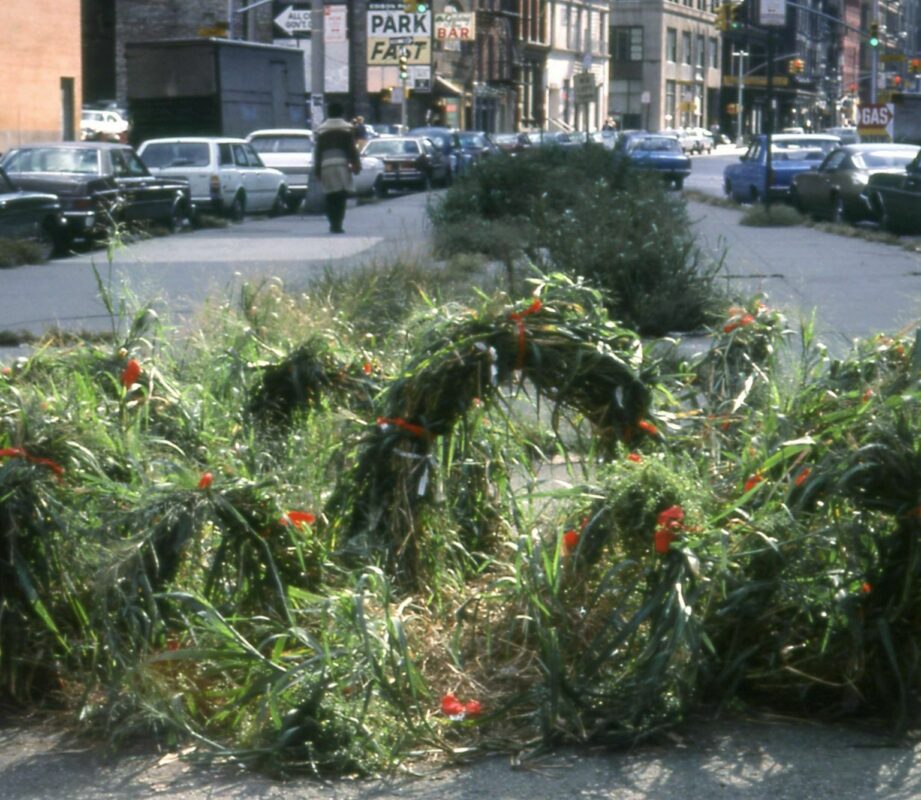 Becky Howland, Tied Grass, 1977. Photograph by Howland of site-specific installation on traffic island bounded by Franklin Street, Varick Street, and West Broadway. Courtesy the artist. © 1977 Becky Howland
Visual AIDS Artist Members Jack Waters and Peter Cramer, founding members of POOL (Performance On One Leg), will be included in the exhibition Life Between Buildings at MoMA PS1.
Inspired by the history of community gardens in New York City, Life Between Buildings explores how artists have engaged the city's interstitial spaces—"vacant" lots, sidewalk cracks, traffic islands, and parks, among others—to consider the politics of public space through an ecological lens. Bringing together select archival materials and artworks from the 1970s through the present day, the exhibition looks beyond a history of artists transforming buildings (such as MoMA PS1) to how they have engaged the spaces in between, turning negative spaces into sites for common life: gardens, installations, performances, and gatherings.
Beginning in the 1970s, at a moment when New York City faced a severe fiscal crisis, grassroots groups across New York City began converting lots into community gardens. This coincided with artists' efforts to think beyond the confines of the studio, gallery, and museum as sites for their work. At certain moments, these histories intertwined: artists made work in conversation with, and sometimes directly joining, community efforts to rethink the cityscape, recovering space towards creative, communal, and ecological ends. By repurposing liminal and overlooked sites, these groups and artists ask us to rethink how life—human and non-human—can grow in a city where space has become increasingly scarce and nature progressively imperiled.
Artists: Tom Burr (b. 1963), Mel Chin (b. 1951), Danielle De Jesus (b. 1987), Niloufar Emamifar, Becky Howland (b. 1951), David L. Johnson (b. 1993), Gordon Matta-Clark (b. 1943, d. 1978), Margaret Morton (b. 1948, d. 2020), Aki Onda (b. 1967), Poncili Creación (est. 2012), POOL (Performance On One Leg) (est. 1981), Matthew Schrader (b. 1984), jackie sumell (b. 1973) & The Lower Eastside Girls Club (est. 1996), Cecilia Vicuña (b. 1948).
A number of programs, performances, and collaborations accompany the exhibition:
---