Past Event
Life Chances: HIV Criminalization and Trans Politics
In Conversation with Che Gossett, Dean Spade, Mitchyll Mora, and Sean Strub. Hosted by Laverne Cox.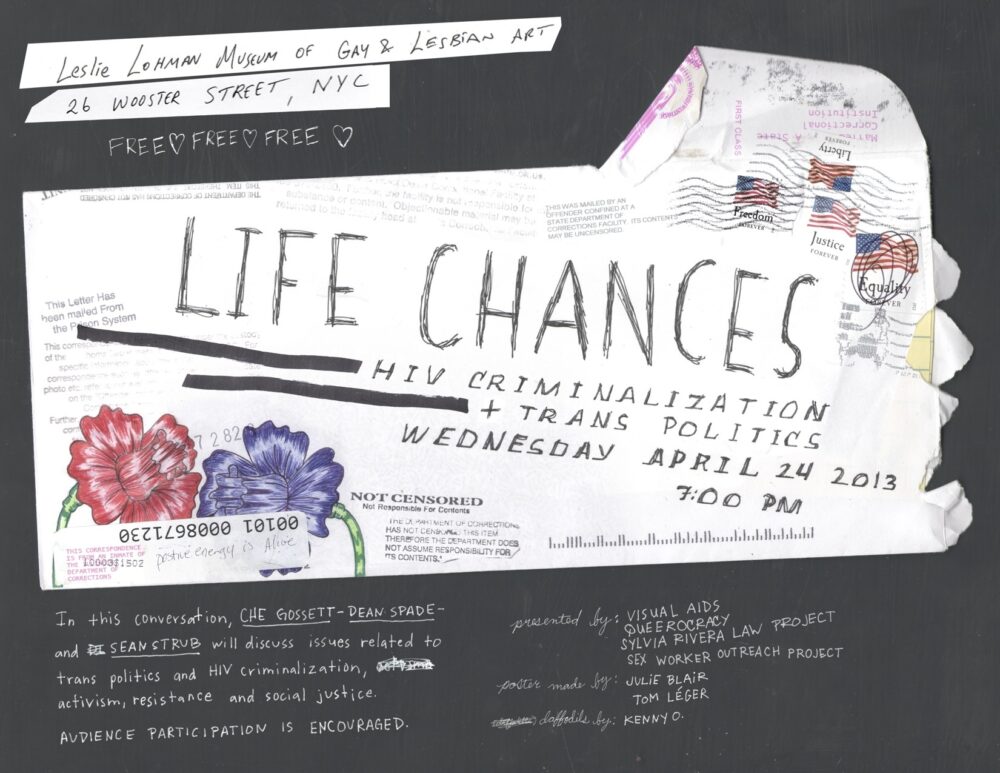 Artwork by Julie Blair, Tom Léger, and Kenny O
"How can we build real safety in communities and achieve universal access to material well being?" - Dean Spade
Life Changes, examined discriminatory laws and regulations such as "stop and frisk" and "condoms as evidence", disclosure, and other rules, systems and norms that reduce life chances for trans people and/or people who are living with HIV.

In this conversation, Che Gossett, Dean Spade, Mitchyll Mora and Sean Strub discussed issues related to trans politics and HIV criminalization, activism, resistance and social justice. The conversation is hosted by Laverne Cox and audience participation is encouraged.
BIOS:
Laverne Cox is an actress, producer and transgender advocate. She is the first African American transgender woman to produce and star in her own television show, VH1's critically acclaimed "TRANSForm Me" and the first African American transgender woman to appear on a reality television program, VH1's "I Wanna Work for Diddy" in 2008, which garnered her a GLAAD media award.She has appeared in the television shows, "Law and Order", "Bored to Death", and the films, "Carla", "36 Saints", "The Exhibitionists" and "Musical Chairs" which is nominated for a 2013 GLAAD Media Award. She can next be seen in the Netflix original series "Orange Is The New Black" premiering summer 2013.
Che Gossett is a genderqueer activist and writer and is a contributor to Captive Genders: Trans Embodiment and the Prison Industrial Complex (AK Press, 2011) and A New Queer Agenda (Scholar and Feminist Online, 2012). A member of the HIV Prevention Justice Alliance steering committee and a past Leeway Foundation Art and Change grantee, Gossett curated the 10-year anniversary exhibit commemorating the history of the Philadelphia Trans Health Conference at the William Way LGBTQ Center. Gossett was selected as a Lambda Literary Writer Retreat Fellow and is currently working on a biography of Kiyoshi Kuromiya.
Mitchyll Mora is a youth leader and researcher at Streetwise & Safe (SAS), an organization that focuses on the policing and criminalization of LGBTQ youth of color.
Dean Spade is a lawyer, activist, writer and Associate Professor of Law at Seattle University School of Law. "Life Chances," the title for the talk, comes from Spade's book, Normal Life: Administrative Violence, Critical Trans Politics and the Limits of the Law in which he articulates an urgent call for justice, trans liberation, and the radical transformations required, drawing attention to administrative and bureaucratic violence experienced by people whose genders are not recognized.

Sean Strub is a writer, activist, founder of POZ magazine and executive director of SERO Project, which promotes the empowerment of people with HIV and combats HIV-related stigma, discrimination and criminalizaiton. He has lived with HIV for more than 30 years. His forthcoming book, Body Counts, will be published by Scribner in December 2013.


Presented by Visual AIDS, QUEEROCRACY, Sylvia Rivera Law Project, and the Sex Workers Outreach Project.
---