Past Event
LJ Roberts — Carry You With Me: Ten Years of Portraits
Pioneer Works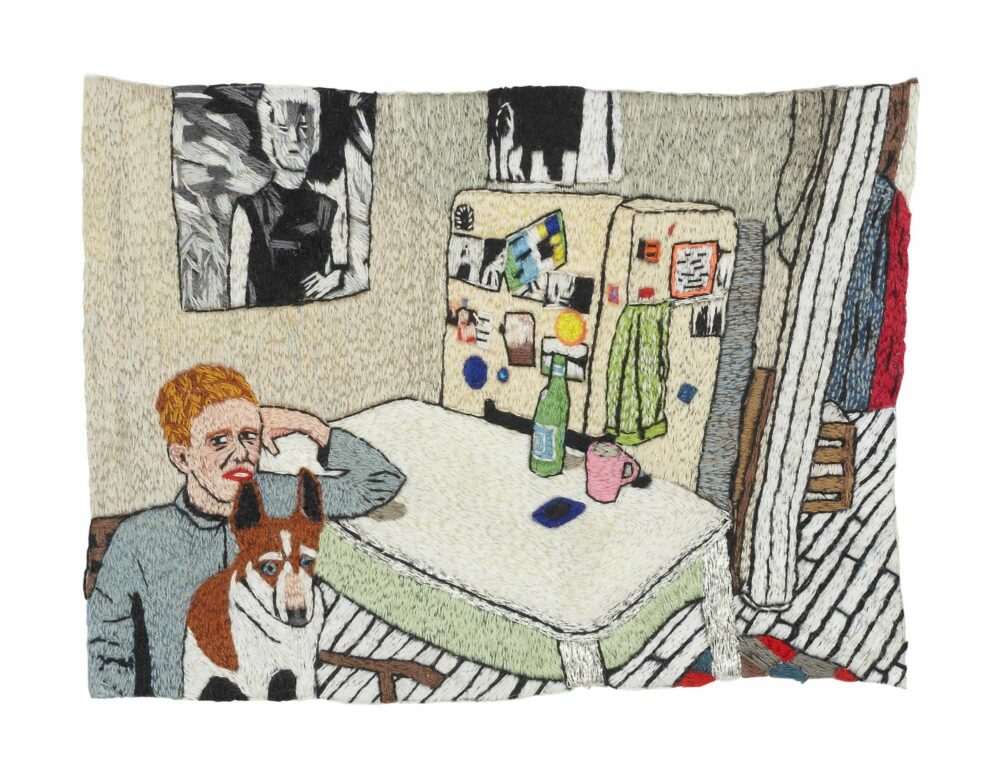 Carry You With Me: Ten Years of Portraits, LJ Roberts's first solo exhibition in New York City as well as first publication, is the result of a long-term, ongoing project, consisting of 26 six-by-four-inch embroidered portraits of the artist's friends, collaborators, and lovers within New York City's queer and trans communities. Stitched entirely by hand and typically completed during transit on subway trains, these embroideries illustrate how politics, culture, and identity manifest in both visible and subtle ways through encounters in daily life.
An artist perhaps best known for large-scale, collaged, textile works, Roberts spends up to one year stitching each portrait within the series, taking inspiration from both photographs and memory. As much a tribute to the subjects as they are to the public and private places that provide safe spaces for vital exchange, the images hone in on meticulously stitched details—from the letters that make up Zoe Leonard's critically important I want a president mural along the High Line, to the book covers and refrigerator magnets that distinguish a person's home. Roberts also regards the backs of each embroidery—abstract networks of colorful threads layered atop one another, created entirely by happenstance—as integral to the works as the front images themselves. The artist considers the series as a way of dismantling the heteronormative tendencies of portraiture, and also of subverting conventional ideas of representation and abstraction by making each dependent on the other.
The exhibition will open in tandem with the publication of a companion book, wherein each illustration is paired with an anecdotal passage written by Roberts. These texts reflect on their deeply personal encounters and companionships with the depicted subjects, speaking to shared moments that are both mundane and significant. The book, which takes its name from the exhibition, includes a foreword by Sur Rodney (Sur), essays by Carmen Hermo and Theodore (ted) Kerr, and a conversation between the artist, Tirza True Latimer, and TT Takemoto. Together, these contributions further contextualize the series within Roberts's practice and the histories that it was borne out of.
As Roberts notes within the book, "The embroideries are a ten-year record of my friendships and relationships, the politics that marked the decade, the fun I had with friends, the everyday action and resistance that these people practice, those who influence and inspire me, the elders who have mentored me, people who have collaborated with me."
About the Artist
LJ Roberts is an artist working in installation, textiles, collage, and text. Their practice addresses queer and trans politics, material deviance, alternative kinship structures, archives, and narrative. Based in Brooklyn, the artist has exhibited work at institutions such as the Smithsonian Museum of American Art, Brooklyn Museum, Toledo Museum of Art, The 8th Floor, Leslie-Lohman Museum of Art, Museum of the City of New York, Victoria and Albert Museum, Yerba Buena Center for the Arts, Spring/Break Art Show, La Mama Galleria, and Anthology Film Archives. Roberts is a 2021 Socrates Sculpture Park Artist Fellow, and has been an artist-in-residence at IASPIS, Ox-Bow School of Art, Queenslab, Textile Arts Center, Pioneer Works, and MacDowell. They were one of nine recipients of The White House Champions of Change Award for LGBTQI+ artists in 2015, and received the Women's Caucus for Art President's Award for Art and Activism in 2019.