Past Event
Making Sense of Paper, Glitter & Life
Curator's Talk and Publication Launch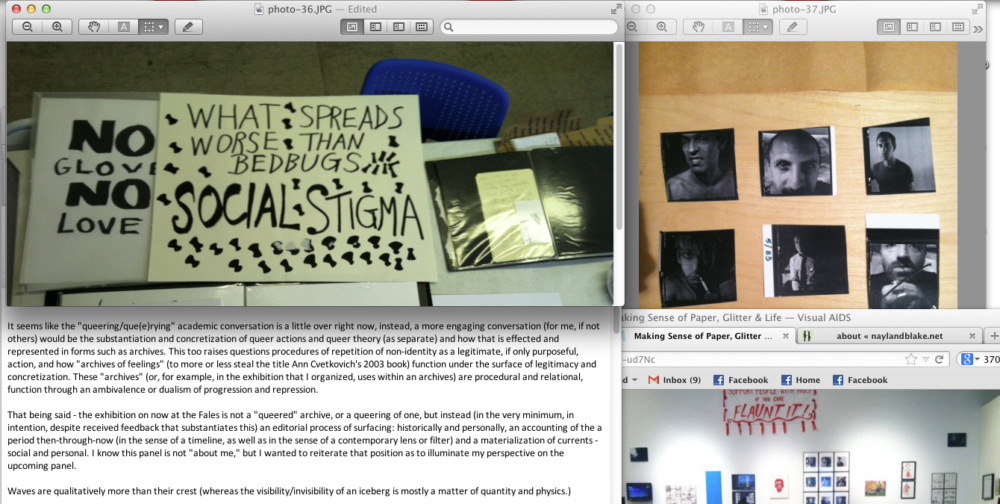 Backward is forward, Fabulousness can lead to sadness, Writing letters to the dead can be cathartic, Letting one's self be overwhelmed can save time...
These are the experiences of curators of the NOT OVER exhibition series. Visual AIDS and Residency Unlimited meditated a conversation with Sur Rodney (Sur) and Kris Nuzzi (curators of NOT OVER: 25 Years of Visual AIDS), and Andrew Blackley (curator of Not only this, but 'New language beckons us.'), moderated by Nayland Blake. Hear the curators shared initial exhibition ideas, the process of working with artists from different generations, backgrounds and point of views, and what they learned along the way.
This program was made possible through a grant from the New York Council for the Humanities.
Making Sense of Paper, Glitter & Life
Sunday, June 30, 3-5pm
La MaMa Galleria
6 E 1st Street
New York, NY
A reception celebrated the launch of our publication, NOT OVER: 25 Years of Visual AIDS, edited by Nelson Santos, designed by John Chaich.
NOT OVER: 25 Years of Visual AIDS book launch
Sunday, June 30, 5-7pm
Andrew Blackley lives in New York where he works with artists, writers, and archives.
Nayland Blake is an artist, writer and educator. Born in New York Hospital in 1960, he currently resides in Brooklyn. He is represented by Matthew Marks Gallery, New York, Fred, London and Fallery Paule Anglim, San Francisco, and his work is included in the collections of The Museum of Modern Art, The Whitney Museum, The Studio Museum of Harlem, LA MoCa, The Museum of Fine Arts Boston, The San Francisco Museum of Modern Art, and the DeYoung Museum, among others. He has exhibited through out the United States and Europe. As a writer his work has appeared in Interview Magazine, Artforum, Out, and OutLook. He is the author of numerous catalog essays. In 1994 he co-curated, with Lawrence Rinder the exhibition In a Different Light, the first major museum exhibition to examine the impact of queer artists on contemporary art.Three years ago he finally paid off his student loans.He is currently employed as the Chair of the ICP/Bard Masters program in Advanced Photographic Studies at the International Center of Photography.
Kris Nuzzi is a Brooklyn based independent curator and currently works as an art advisor. She received her BA in art history from Pratt Institute in Brooklyn and her MA in the art market from the Fashion Institute of Technology in New York, where her focus was site-specific installation art. She is the 2011-2012 recipient of the Lori Ledis Curatorial Fellowship, where she had the opportunity to curate the exhibition Figured and organize the public program Embody at the BRIC Rotunda Gallery. Kris started working with Visual AIDS in 2006 as an intern, notably working with the Frank Moore Archive and copy editing the Robert Blanchon (1965-1999) catalog. Most recently, she worked as Project Manager for their archive, which entailed helping digitize their slide archive and develop and launch their new online Visual AIDS Artist Registry. She also served as a guest curator for Residency Unlimited this past year. As an independent curator, she has recently curated shows at The Childs School, BRIC Rotunda Gallery, Alice's Arbor, Radiator Gallery and Terminal Warehouse.
With the ultimate goal of fostering the creation and dissemination of contemporary art, Residency Unlimited provides a unique, multifaceted residency experience. By incorporating presentation opportunities, production and technical assistance, networking opportunities and institutional partnerships, RU addresses both the creative and practical needs of artists and curators at all stages of their practice.
Sur Rodney (Sur) is a graduate of the Montreal Museum of Fine Arts School of Art & Design (1976), Sur moved to New York to pursue his interest with intermedia and organizing exhibitions of undiscovered and under-recognized artists. He is most renowned for his pioneering efforts with the East Village art scene as co-director of the Gracie Mansion Gallery (1983-88) with his partner Gracie Mansion.