Past Event
Metanoia: Transformation Through AIDS Archives and Activism
The Center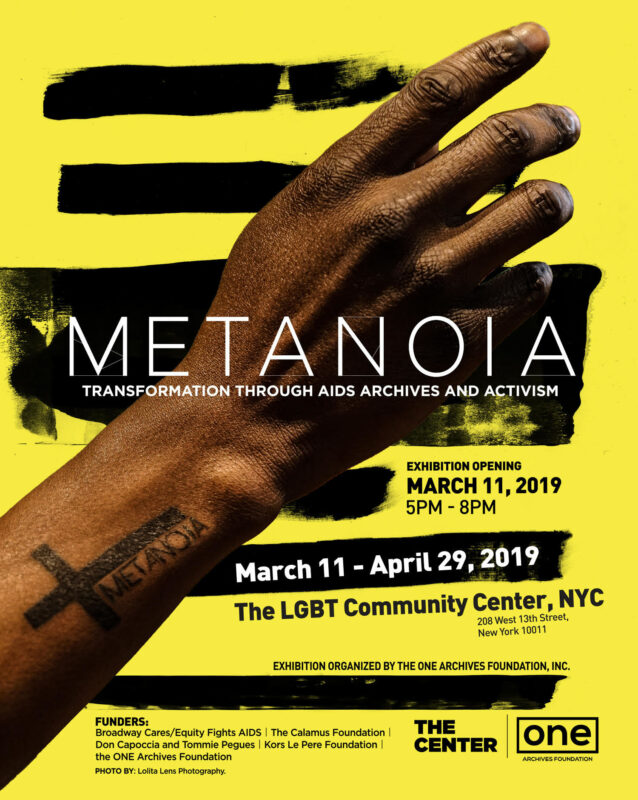 Opening Reception
Monday, March 11, 2019
5-7:30 p.m.

"Metanoia" is an archival examination of community-based responses to the ongoing AIDS crisis in the USA. The exhibition's title is of Greek origin and expresses the possibility of change through transformation. "Metanoia" demonstrates that HIV/AIDS is a powerful agent of change and that transformation happens through community, activism, words, sex, care and the materials that document these human efforts.

"Metanoia" is displayed over three floors of The Center and was curated from The Center Archive's holdings, as well as those of the ONE National Gay & Lesbian Archives at USC Libraries (ONE Archives). The show centers primarily on the contributions and experiences of Black cis and trans women, and cis and trans women of color who have always been at the forefront of movement work, but who are often found at the margins of AIDS archives, art shows and histories. Locating their words, images, stories and histories in these archives has been transformational for the curators and will be for audiences concerned with the ongoing impact of the AIDS crisis.
Metanoia is curated by Katherine Cheairs, Alexandra Juhasz, Theodore Kerr, and Jawanza James Williams for What Would An HIV Doula Do? (WWHIVDD) a collective comprised of artists, filmmakers, writers and activists committed to ensuring that community plays a key role in the current AIDS response.