Past Event
Neil Greenberg: The Disco Project Remix
NYC AIDS Memorial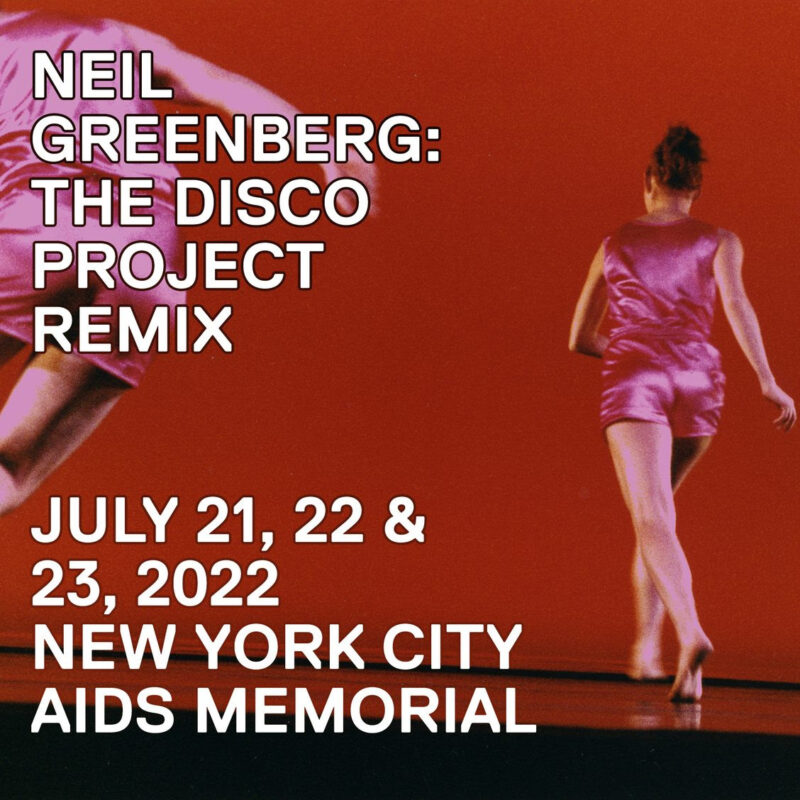 The New York City AIDS Memorial presents a new performance by award-winning choreographer, artist, and performer Neil Greenberg. Adapted from The Disco Project (1995), Greenberg's recollection of lives lost to AIDS and an acceptance of his own HIV+ status, this updated remix stages elements of its original choreography in a response to the site's current exhibition, Songs for a Memorial by Steven Evans. Both works open up shared experiences of liberation, trauma, and survival through a transvisual inquiry into the power of LGBTQIA vocal anthems. We, the audience, hear instantly-recognizable earworms of RuPaul, Sylvester, and Jimmy Somerville, while witnessing post-modern dance that subverts our expectations of their embodiment. These movements are executed within Evans' sculptural installation of classic song titles such as "It's Raining Men" and "You Make Me Feel (Mighty Real)," rendered in glowing neon. The writer Jaime Shearn Coan cites this juxtaposition as a way in which "camp and disco dancing provide necessary levity in the midst of tragedy."

The Disco Project Remix
Thurs July 21 & Fri July 22 at 7:30pm
Sat. July 23 at 4pm and 5pm
New York City AIDS Memorial - Greenwich Avenue and West 12th St
FREE! Open to the public.

Choreography: Neil Greenberg
Performed by: Daniela Garcia-Arce, Lily Gold, Neil Greenberg, Opal Ingle, Carlo Antonio Villaneuva

The Disco Project Remix is curated by musician and artist Nick Hallett, as the launch of an ongoing series of unique live art events at the New York City AIDS Memorial.
Neil Greenberg has been making dances since 1979. He came to New York from Minnesota in 1976 and danced with the Merce Cunningham Dance Company from 1979-1986. He is known especially for his Not-About-AIDS-Dance, which employs his signature use of projected words as a layering strategy that provides doors into "meanings" in the dance, while also raising questions about the nature of meaning-making. His more recent projects – To the things themselves! (2018), This (2014), (like a vase) (2010), and Really Queer Dance With Harps (2008) - continue his interest in moving away from representation toward an experience of the performance moment in and of itself. Most recently he created "The Disco Project" Installation, recontextualizing documentation of that 1995 work with a 3-channel installation for exhibition at Greene Naftali (2021, NYC), and in Looking Back / The 12th White Columns Annual - Selected By Mary Manning (2022, NYC).
He has received a Guggenheim Fellowship and two New York Dance and Performance "Bessie" Awards, as well as repeated fellowships from the NEA and NYFA, a fellowship from the Foundation for Contemporary Arts, a National Dance Project Production grant, a Doris Duke Charitable Foundation Creative Exploration Award, and repeated support from the MAP Fund and NYSCA. He has created two commissioned works for Mikhail Baryshnikov's White Oak Dance Project and two works for Ricochet Dance Company of London. His works have twice been cited as among the Ten High Points of the Year in The New York Times: his dance/video work Two in 2003 and Not-About-AIDS-Dance in 1994.
Greenberg is currently Professor of Choreography at Eugene Lang College of Liberal Arts, The New School and has previously taught at Purchase College, Sarah Lawrence College, and UC Riverside. He served as dance curator at The Kitchen from 1995-1999.