Past Event
PARTY PICKS and LOVE STORIES: An Archive Salon
FEATURING: DAVID DEITCHER, JOY EPISALLA, BRYN KELLY, LAURIE SIMMONS, JACK WATERS, CARRIE YAMAOKA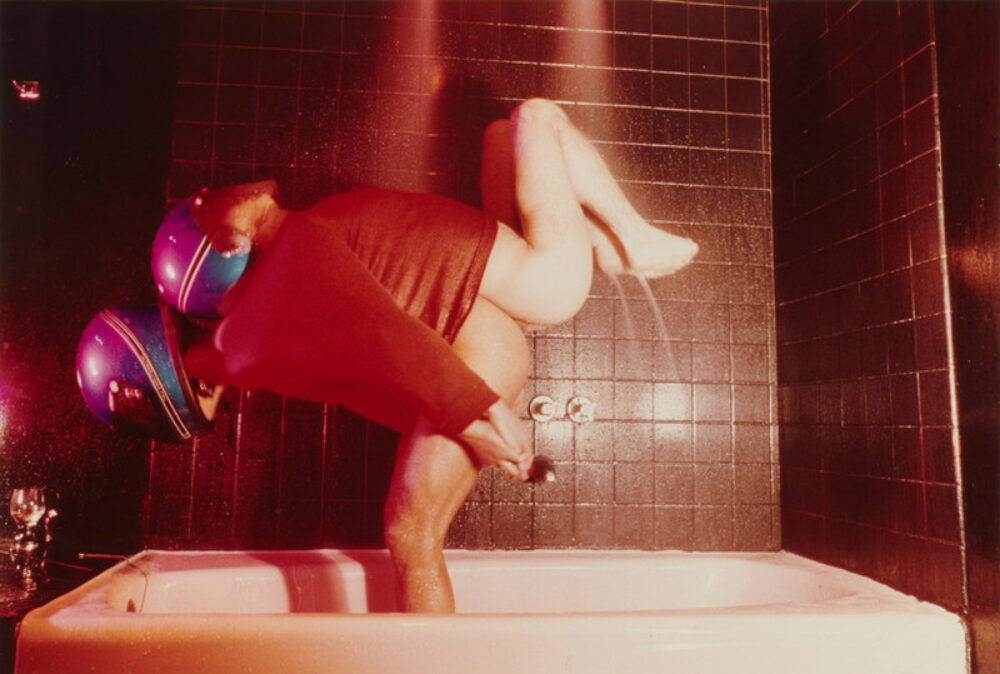 Jimmy DeSana, Sweatshirt, c.1980-82, Courtesy of the Estate of Jimmy DeSana
Visual AIDS is proud to have teamed up with Salon 94 for an archive salon as part of our NOT OVER series...
PARTY PICKS and LOVE STORIES
An Archive Salon
Thursday, July 25, 2013 @7pm
Salon 94 Bowery
243 Bowery, New York
Free
Set among Visual AIDS artist member, Jimmy DeSana's Party Picks exhibition (at Salon 94 Bowery through to Aug. 9th, 2013), this archive salon brought together David Deitcher, Joy Episalla, Bryn Kelly, Laurie Simmons, Jack Waters, Carrie Yamaoka and guests sharing memories, and histories of artists lost to AIDS and discussing the contemporary impact of the ongoing AIDS crisis.
David Deitcher is an independent art historian, critic and curator whose essays have appeared in numerous periodicals, as well as in anthologies and monographs on such artists as Roy Lichtenstein, Felix Gonzalez-Torres, Wolfgang Tillmans, and Isaac Julien. His award-winning book, Dear Friends: American Photographs of Men Together, 1840-1918 (2001), corresponded with the exhibition of the same name at the International Center of Photography. His exhibition Alan B. Stone and the Senses of Place appeared at the ICP in 2010. Deitcher is core faculty at the International Center of Photography/Bard College Program in Advanced Photographic Studies. A recipient of a Creative Capital/Warhol Foundation Arts Writers grant, he is currently working on Once More, with Feeling, a book about memory, forgetting, and emotion within the cultural and political context of the AIDS crisis from mid-to-late 1980s through the mid-1990s.
Joy Episalla is a multi-disciplinary artist and long-time AIDS activist. Working in the interstices of photography, video and sculpture, Episalla is interested in the mutability of still and moving images as they play out through time, and in the manipulation of spatial volume, while engaging a queer/feminist perspective. She is a founding member of fierce pussy. Currently she serves on the boards of TAG Treatment Action Group and the Gesso Foundation. Episalla lives and works in NYC.
Bryn Kelly has shared her written work at NYC-based performance series Gayety!, Low Standards, and Queer Memoir; in Original Plumbing magazine; as a regular columnist at the digital literary magazine PrettyQueer.com; and in the anthology, Trans/Love: Radical Sex, Love and Relationships Beyond the Gender Binary, edited by Morty Diamond. She was a cofounder of Theater Transgression, a transgender multimedia performance collective, and was a co-creator of the Fully Functional Cabaret, the capstone performance of the 2012 National Queer Arts Festival. She was recently named a 2013 Lambda Literary Fellow. She lives in Brooklyn, New York.
Laurie Simmons is an internationally recognized artist. Since the mid-70's, Simmons has staged scenes for her camera with dolls, ventriloquist dummies, mannequins and people to create images with intensely psychological subtexts. Her photographic works are collected by many institutions including The Metropolitan Museum of Art, The Museum of Modern Art, The Whitney Museum of American Art and the Guggenheim as well as The Museum of Contemporary Art, Los Angeles, Walker Art Center and the Hara Museum, Tokyo. In 2006 she produced and directed her first film titled "The Music of Regret", starring Meryl Streep and Adam Guettel with cinematography by Ed Lachman. The film premiered at The Museum of Modern Art, New York, and has been screened at many international museums and film festivals. Recent solo exhibitions include Salon 94, New York; Wilkinson Gallery, London; Baldwin Gallery, Aspen; The Gothenburg Museum, Sweden, Koyama Gallery, Tokyo and the 55th Venice Biennale. Simmons lives and works in New York City and Cornwall, Connecticut with her husband, the painter Carroll Dunham.
Jack Waters is a multiple Yaddo Fellow who works in all forms of visual, performance and media art. He is a BFA graduate in dance of the Juilliard School. He is a co-founder of Allied Productions, Inc and a founding member of POOL, a choreographer's collective that was the resident dance company of the Pyramid Club. Jack's films have shown on Sundance Channel, and PBS as well as at The Whitney Museum of American Art. His film/Video work is viewable at the Film Makers' Cooperative, at the Donell Media Center of the NYC Public Library at Lincoln Center, and archived at NYU's Fales Library and Special Collections. From 2002 – 20004 he was Assistant Professor of Video at Hampshire College where he taught Film, Video, and Media. Waters and partner Peter Cramer, former co-directors of Abc No Rio, are co founders of Le Petit Versailles, a Green Thumb garden presenting screenings, music, performance, visual art exhibitions, and new media.
Carrie Yamaoka is a New York-based artist who has shown her work both nationally and internationally since the 80s. Her most recent solo exhibitions took place at Studio 1.1 in London, Aeroplastics Contemporary in Brussels and Galerie Lange + Pult in Zurich. Yamaoka's work has been reviewed in The New York Times, Art in America, L'Express, Time Out, Bomb and The New Yorker, among other publications. Her work can be found in the public collections of The Victoria & Albert Museum, London and The Albright-Knox Art Gallery, Buffalo. She is a founding member of fierce pussy.
Salon 94 has been exhibiting the work of emerging and renowned artists alike since 2002. www.salon94.com

This event was made possible thanks to the New York Council for the Humanities.
---
| | |
| --- | --- |
| | Thursday, May 23, 2013 |
| | Saturday, June 1, 2013 |