Past Event
Play Smart Werrrqshop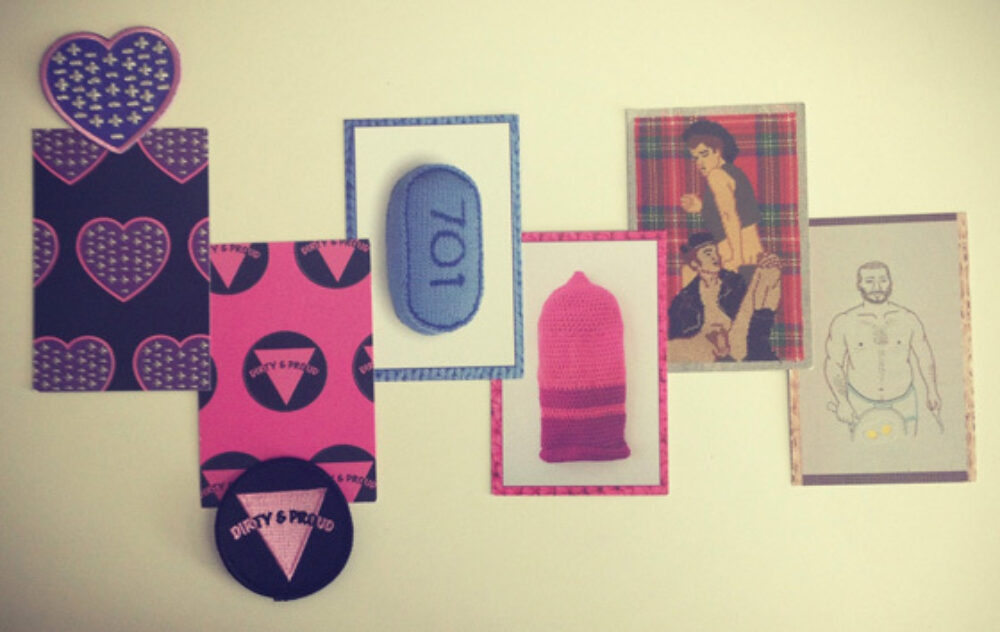 Play Smart cards and patches by (left to right) L.J. Roberts, Charles Long, Ben Cuevas, Nathan Vincent, Maria Piñeres, and Rebecca Levi.
Visual AIDS is thrilled to announce our fifth edition of Play Smart cards. Inspired by the exhibition Queer Threads, Play Smart V is curated and designed by John Chaich and features original artwork by Ben Cuevas, Rebecca Levi, Charles Long, Maria Piñeres, L.J. Roberts and Nathan Vincent. Play Smart trading cards are an honest and straightforward approach to promote harm reduction, HIV testing, pre and post exposure prophylaxis and raise awareness around HIV/AIDS. Play Smart features fun, sexy and creative trading cards, packaged with clothing patches, condoms and lube. The back of each trading card features information to help you play smart. Learn more: Play Smart.
We are partnering for a Play Smart packing event with the Werrrqshop of Quito Ziegler and Ethan Shoshan at the Joan Mitchell Foundation. Conversation and refreshments will be part of a fun evening co-organized by Ted Kerr that includes supporting youth and stuffing Play Smart condom packs for national distribution. Werrrqshop is a weekly art salon that meets Friday for political discussions over crafts, drag making, sign-making for demos, last-minute accessories, painting, drawing, hot glue insanity, etc. This is a new program intended to provide support for queer young people (ages 16–28) who are surviving NYC's shelter systems. It is also an art hub for queer movement-building, offering supplies and resources for demos or other socially-minded projects. If you are into crafting, drag, visual arts, or just need a safe space to relax with a sympathetic community -- please join us!
Play Smart is a part of our Print+ Edition series and are available in bulk (at the cost of shipping and handling) for free distribution—while supplies last. Contact afialho@visualaids.org to place an order.
---