Past Event
Play Smart Together: HIV Criminalization Teach-in // Condom Packing II
Visual AIDS, QUEEROCRACY and Sero Project come together with GLOBE to learn and volunteer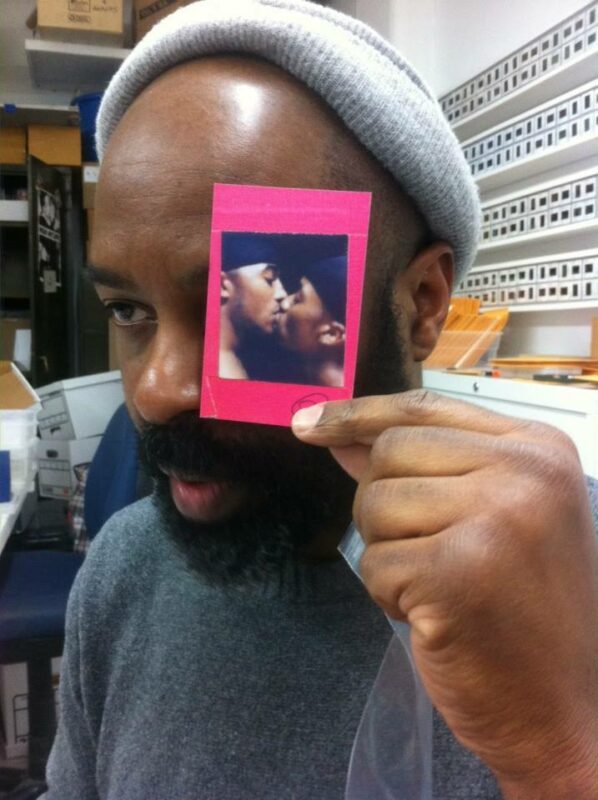 Play Smart Artist Jayson Keeling, with his artwork
Do you know about HIV Criminalization? Want to learn more? Need help talking about HIV Criminalization with your friends and family?
At the invitation and with the participation of GLOBE (the Brooklyn LGBTQ Justice Project of Make the Road NY), Visual AIDS, QUEEROCRACY, and the Sero Project are coming together to make Play Smart condom packs and discuss HIV Criminalization with front line experts. Join Reed Vreeland, Robert Suttle, and Cassidy Gardner for an informal and informative fun night.
Together we will put together condoms, lube and Play Smart trading cards by artist Benjamin Fredrickson, Silvia Prada, Jayson Keeling and Carmine Santaniello as we discuss the ways in which state governments criminalize HIV, and what it means to those across the HIV spectrum, specifically those living with HIV.

About:
Play Smart trading cards are an honest and straightforward approach to promote harm reduction, HIV testing, pre and post exposure prophylaxis and raise awareness around HIV/AIDS. Play Smart features fun, sexy and creative trading cards, packaged with condoms and lube. The back of each trading card features information to help you play smart. This round of Play Smart looks at playing smart together. Learn more on the Play Smart IV webpage.
Founded in 1998, GLOBE (the Brooklyn LGBTQ Justice Project of Make the Road NY) is a racially and economically diverse group of folks age 12-51+ who meet every Friday at 6:30pm at 301 Grove st. to enjoy (free) dinner, talk, play, learn and organize for a better city and better world. GLOBE also goes to protests, hosts parties, gives workshops to high school students, publishes research, and has tons of services (legal, immigration, housing, employment, gender transition, resume help, and more)!
QUEEROCRACY is an activist organization cultivating the leadership of queer folks and people living with HIV/AIDS in NYC. Through direct action organizing, membership lead advocacy campaigns, educational training and political art and media we challenge and fight back against the existing structures that thrive on the punishment of positive and queer folks.

Sero Project is a network of people with HIV and allies fighting for freedom from stigma and injustice.

Visual AIDS utilizes art to fight AIDS by provoking dialogue, supporting HIV+ artists, and preserving a legacy, because AIDS is not over.