Past Event
Postcards from the Edge 2020 - Call for Submissions
Postmark deadline for artworks - Monday November 25, 2019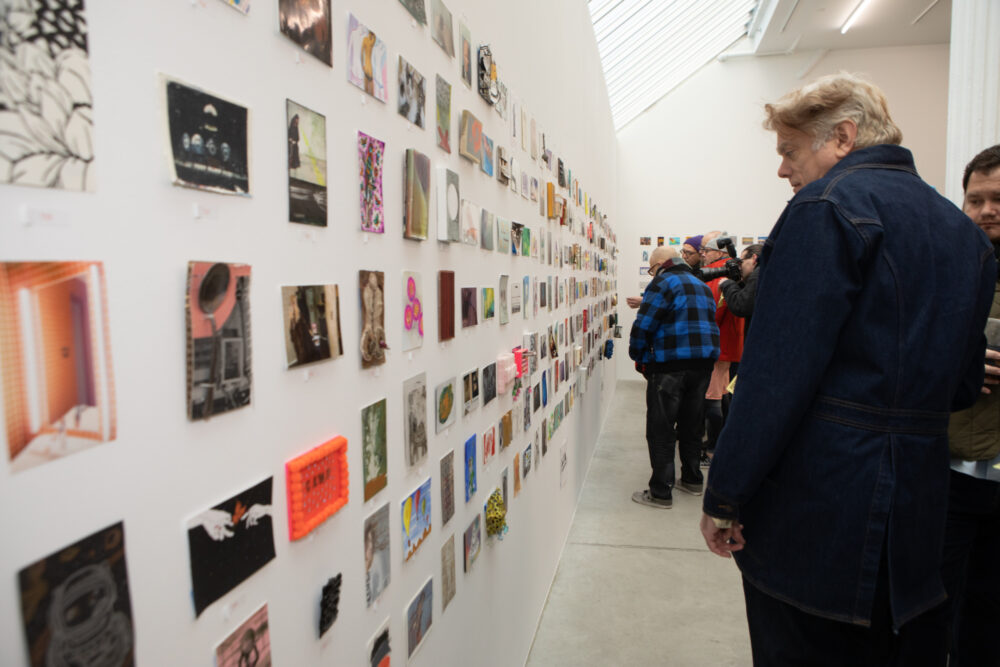 Photo by Steven Rosen Photography
Postcards from the Edge 2020 - Call for Submissions
Postmark Deadline for Artwork: Monday, November 25, 2019
2020 will mark the 22nd year of Visual AIDS' benefit art sale and we hope that you will participate.
The 2020 event will be held January 3-5 at BORTOLAMI, 39 WALKER STREET, TRIBECA
GUIDELINES:
1. Create or attach an original artwork on a postcard or any 4x6" heavy weight paper. Drawings, photographs, paintings, printmaking, and mixed media are welcome. ONE ENTRY per artist.
2. Sign and Print Name on BACK ONLY. Also, indicate the top with an arrow.
3. Complete Submission Forms for Collector and Visual AIDS. (Forms can be downloaded at the bottom of this page)
4. Carefully package artwork. Recommended: wrap artwork in wax paper and place between cardboard. Do not submit charcoal or pastel pieces without fixing them. Do not wrap wet or sticky artwork.
5. If you need confirmation that we received your artwork, include a self-addressed, stamped postcard.
6. If you would like your unsold work returned, please include a 6x9" self-addressed, stamped envelope with proper postage. Unsold artwork will NOT be returned unless an SASE is enclosed. Visual AIDS is not responsible for artwork lost or damaged in the mail.
7. Mail your artwork and forms by POSTMARK DEADLINE Monday, November 25, 2019
Mailing address: Visual AIDS, 526 West 26th Street, #510, New York, NY 10001
PFTE is one of our most important fundraisers of the year, and its success will allow us to produce important art activism projects in 2020. By participating, artists support our mission, enabling us to produce AIDS-focused contemporary art programs and provide supplies and assistance to artists living with HIV/AIDS, many of whom are unable to continue producing work without such support.
THANK YOU - The support of artists makes this event a success each year. We couldn't do it without you!
Photo by Steven Rosen Photography, 2019

---