Past Event
Queer Communion: Ron Athey
Participant INC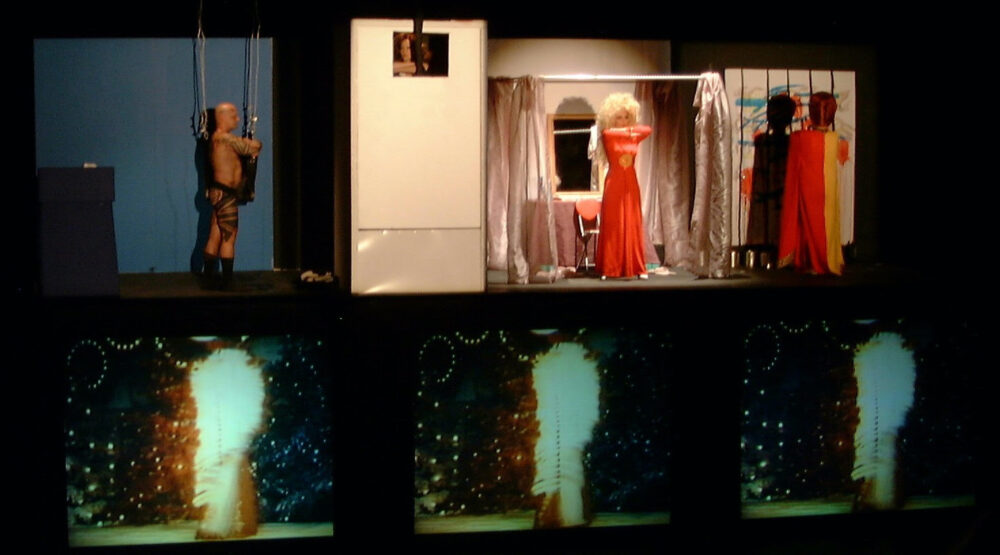 Image: Ron Athey, Joyce, 2002, Kampnagel, Hamburg, Germany; video screenshot. Video: Cyril Kuhn. [A horizontal video screenshot shows a live theatrical production with four performers on top of a 3-screen video back, in this sequence showing 1970s footage from an illustrated sermon of Miss Velma.] Image courtesy of Participant INC.
Queer Communion: Ron Athey, curated by art historian and performance studies scholar Amelia Jones, offers the first retrospective of the work of Los Angeles-based performance artist Ron Athey. The exhibition and related publication explore Athey's practice as paradigmatic of a radically alternative mode of art-making as queer communion — the generous extension of self into the world through a mode of open embodiment that enacts creativity in the social sphere through collective engagement as art. Athey, through his significant and generative work as a performance artist, is a singular example of a lived creativity that is at complete odds with the art worlds and marketplaces that have increasingly dominated contemporary art over his largely undervalued career. Having been the focus of a homophobic, AIDS-phobic, and sensationalized political attack during the U.S. culture wars of the 1990s, in which a conservative leader denounced a partially government funded Athey troupe performance as depraved, Athey's practice remains a challenge to the politics of today's renewed culture wars. Athey's work is organized in relation to thematic intensities and overlapping communities spanning religion, queer subcultures, music, literature, performance, film, and theater, and displayed via photographic, archival, and video documentation as well as artworks and props from the original performances and Athey's personal collection. The exhibition will travel to ICA Los Angeles in summer 2021.

A catalogue is available which accompanies the exhibition and includes extensive original never-before-published writings by Athey as well as an illustrated checklist and essays by a range of contributors on Athey's work and impact. Queer Communion: Ron Athey (Intellect Press, 2020), is co-edited by Amelia Jones and Andy Campbell; the catalogue was listed among "Best Art Books 2020" in the New York Times. https://www.intellectbooks.com/queer-communion

Appointments are required.