Past Event
Reading Ross Laycock: When Private Documents Go Public, How Might We Honor Their Intimacy?
Creative Time Summit X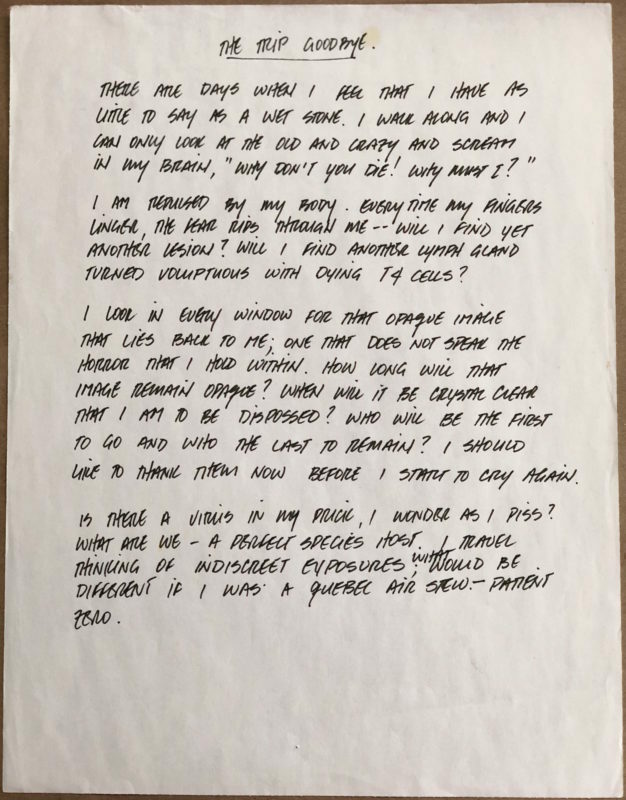 Ross Laycock, The Trip Goodbye, poem from a notebook, 1989-90.

Led by Shane Aslan Selzer from the Social Action Archive Committee, Kyle Croft, Tracy Fenix from Visual AIDS. During this recorded session, participants will be asked to read aloud and discuss personal documents from the Carl George, Felix Gonzalez-Torres & Ross Laycock Archive at Visual AIDS. The selected letters document Ross Laycock's response to his HIV diagnosis in the late 1980s, amidst a climate of extreme fear, misinformation, and homophobia. Participants will be filmed, adding their voices to a developing video project that mixes archival footage with group discussions and individual readings, reflecting on what we can learn from and relate to in Laycock's experience, and the role of public-facing archives, like Visual AIDS, in caring for private and intimate materials.

Shane Aslan Selzer is an artist and the founder of The Social Action Archive Committee, an artist network leading the development of a new project with the Carl George, Felix Gonzalez-Torres & Ross Laycock Archive at Visual AIDS.

Kyle Croft is the Programs Manager at Visual AIDS and an MA candidate in Art History at Hunter College.

Tracy Fenix is the Artist+ Registry & Archive Associate at Visual AIDS, where they support artists living with HIV and the estates of artists who were lost due to AIDS-related complications.

Note: This session will be recorded. No advance registration required. Sessions will be filled on a first-come, first-served basis.

---
---
Related Artists