Past Event
REMEMBER – An AIDS Memorial Retrospective
Orange County Center for Contemporary Art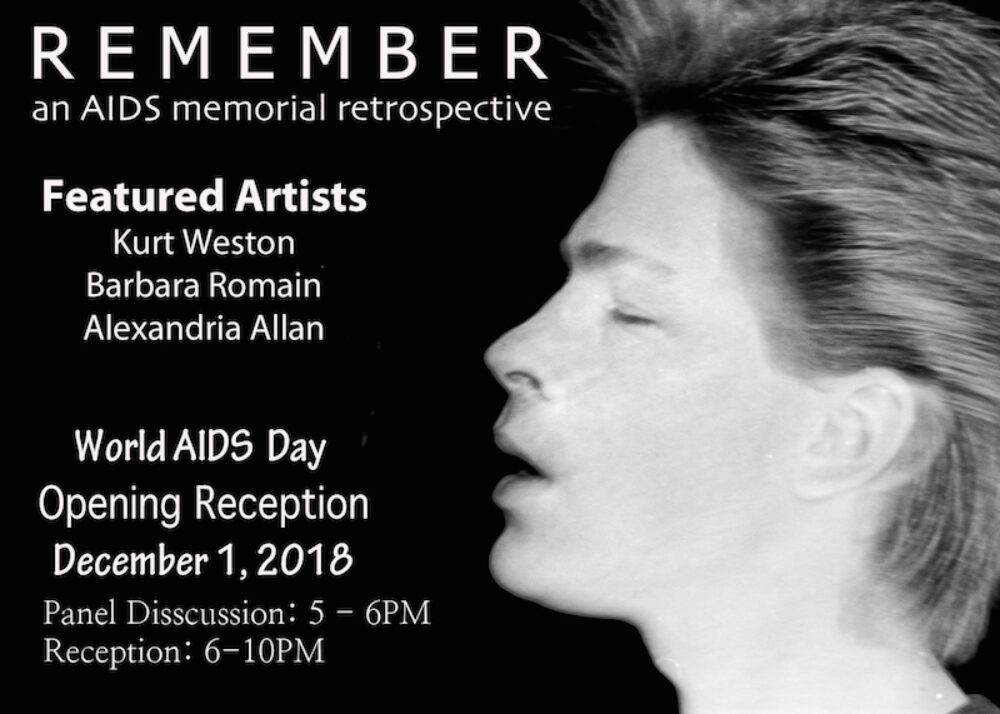 Kurt Weston, REMEMBER- An AIDS Memorial Retrospective, 2018.
Opening Reception December 1st. (World AIDS Day) 5-10pm
Visual AIDS Artist Member Kurt Weston will be featured in REMEMBER- An AIDS Memorial Retrospective alongside Barbara Romain and Alexandria Allan at the Orange County Center for Contemporary Art. The history of AIDS activism and the losses of the ongoing AIDS crisis continue to resonate with multiple generations. Remember is a memorial retrospective exhibition commemorating those lost to AIDS while they were still in their prime before the symptoms of the virus took hold. The exhibit offers a snapshot of the 1980's underground, rife with counter culture indignation, sexual exploration and a resistance to the socio-political systems which marginalized alternative, queer lifestyles.
AIDS Then & Now - a panel discussion 5 – 6PM
Since the beginning of the HIV/AIDS epidemic in the 1980's the underlying causes of HIV/AIDS such as poverty, homophobia, racism and stigma are still rampant. The panelist will focus on the impact and status of the epidemic then and now.
The Panelist:
Dr. William Thompson IV – Infectious Disease & HIV specialist.
Philip Yeager – Executive Director/CEO at Radiant Health Centers
Alina Oswald – Author and Editor for A&U - America's AIDS Magazine
Kurt Weston – Artist, Educator and Advocate