Past Event
Reverend Joyce McDonald: Solo Exhibition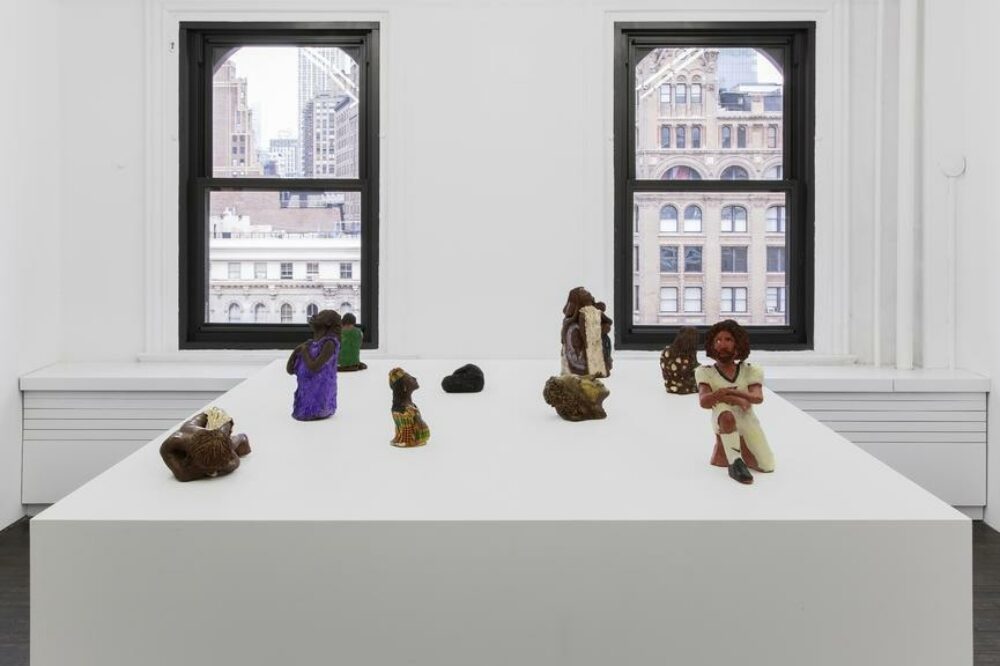 Exhibition image courtesy of Gordon Robichaux.
Visual AIDS Artist Member Reverend Joyce McDonald's (b. 1951 in Brooklyn, NY; lives and works in Brooklyn, NY is presenting her first solo exhibition at the Gordon Robichaux Gallery. A self-taught, visionary, multidisciplinary artist, activist, and minister, McDonald fuses experience with strength, hope, and power.

In the center of the gallery, on a large pedestal, the viewer is greeted by a group of ten small figurative works made of humble materials—air dry clay, nail polish, paper towels, fake eyelashes, Wite-Out, fabric, glitter, seashells, and Mod Podge. The "testimonial sculptures"—which the artist created in her apartment using her kitchen table, sink, and improvised tools such as an electric nail file—memorialize specific events in both her personal life and the broader world. GLORY (A Taste of Sweetness after Near Death), 2001, a female figure with an ecstatic gaze directed up to the heavens and wearing a luminous purple cloak, is a self-portrait that describes McDonald's survival after a near-death surgery. A kneeling figure—Colin Kaepernick, 2020—celebrates the sports star's activism for racial justice. Nearby, on two walls of the gallery surrounding the pedestal, a group of recent portraits from her series—Our Lives Mattered—honor African-American individuals who lost their lives to systemic racism and police violence. Throughout, these tender sculptural works enshrine McDonald's own life stories and wider cultural experiences of family, love, loss, illness, healing, transformation, and transcendence.

Reverend Joyce McDonald was born in 1951 in Brooklyn, NY, where she continues to live and work. As a teenager, she performed at the Apollo Theater in the girl group The Primetts. After her HIV diagnosis in 1985, the result of a long battle with addiction, McDonald was ordained as a minister at the Church of the Open Door in 2009. She uses her own struggles to drive her work as an artist, activist, advocate, and "spiritual nurse." Through her art and ministry, McDonald shares her contagious joy and love and inspires women to get in touch with their inner beauty and dignity. She uses sculptures, painting, poetry, and song to help people find healing. Her work as an activist and advocate includes founding an HIV awareness and creative arts group for young girls and teens, working with women in shelters and hospitals, writing letters to incarcerated women, coordinating her church's AIDS ministry, and serving as assistant director of its children's choir. She is also an active artist-member of Visual AIDS. McDonald is the proud mother of two daughters, and has two sons-in-law, eleven grandchildren, and three great-grandchildren.

McDonald's art has been celebrated in The New York Times on two occasions. She has participated in numerous group exhibitions including in Los Angeles at Marc Selwyn Gallery and Parker Gallery; in New York in Souls Grown Diaspora at apexart (organized by Sam Gordon), AIDS at Home (Art and Everyday Activism) at the Museum of the City of New York, Everyday at La Mama Galleria, PERSONS OF INTEREST at the Bureau of General Services–Queer Division (organized by Sam Gordon), Curated at Museum of Contemporary African Diasporan Arts, and taken-up at Judson Memorial Church; and in New Jersey as part of HIV+WOMEN+ART at Puffin Foundation Gallery.
---